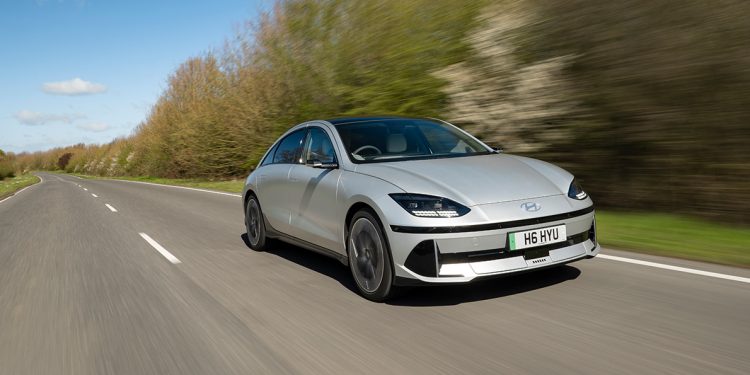 By Liam Bird
There's winning awards, and then I suppose, there's totally sweeping the floor with the competition. In the time it's taken me to get my hands on a Hyundai Ioniq 6 it has been voted… wait for it… you might need to take a deep breath for this… World Car of the Year, World Electric Vehicle of the Year, and World Car Design of the Year. The Hyundai Ioniq 6 also won Best Company Car at the 2023 Autocar Awards; was crowned Best EV Compact Executive Car at the Great British Fleet Awards; was named 'Saloon of the Year' at the 2023 GQ Car Awards; and picked up the 'New Car of the Year' gong at a no-doubt very prestigious event hosted by Le Guide de l'auto.
Auto Trader's Editorial Director, Erin Baker, also selected the Ioniq 6 as the winner of the snappily entitled Erin Baker Award, recognising the sustainable credentials of Hyundai's new all-electric stream liner, plus its striking design.
And this is not a first for Hyundai. In 2022 their all-electric crossover Ioniq 5 also cleaned-up the World Car Awards. It too won the big 3: World Car of the Year, World Electric Vehicle of the Year and World Car Design of the Year.
And to think we once viewed Hyundais as little more than cheap, funny-looking, little run-arounds from Korea… How wrong could we be?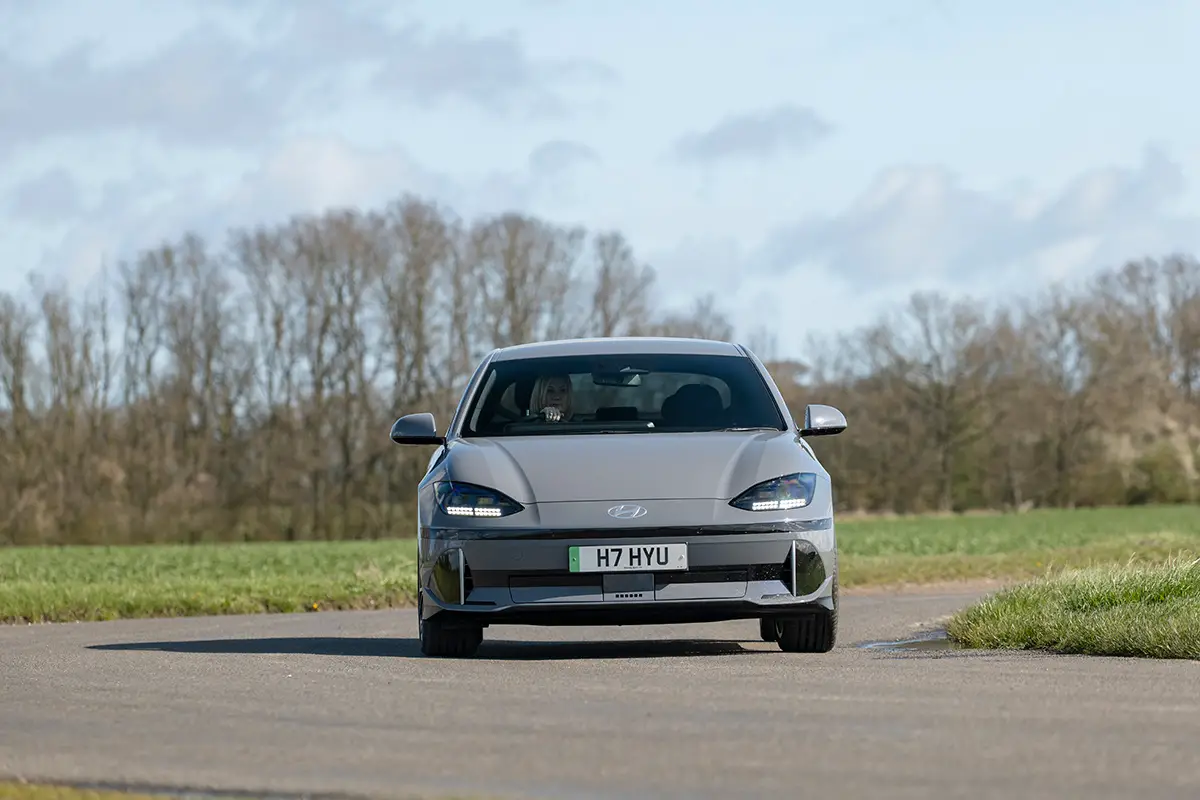 "An imposing car"
Beneath that oh-so slippery bodywork – the 0.21 drag coefficient of which helps the Ioniq 6 cut through the air much more efficiently, simultaneously reducing drag and all-important energy consumption – sits the same E-GMP underpinnings as the Ioniq 5. The Ioniq 6 however, is more than 8 inches longer than the Ioniq 5, with longer overhangs, yet its roofline is 4 ¾ inches lower. In the metal, it's an imposing car; simply put, park the Ioniq 6 alongside nearly everything else and it looks big. Personally, I think there's more than a hint of Jowett Javelin, many-an-early SAAB, or a Tatra 77 in its design, whereas friends of mine said it reminded them of Porsche's Taycan, Panamera, and 911. There wasn't time to explain that the Tatra 77 is said to have more-than-just inspired Porsche's early work… Still, you know what they say about great minds.
Whichever way you look at it, the Ioniq 6 looks quite unlike anything else on the road, and serves perhaps as further proof of the Hyundai's relentless desire to move upmarket. Prices start at £46,745, thus the Ioniq 6 will inevitably become a rival to both the Polestar 2, and Tesla's Model 3.
Quite whether or not the Ioniq 6's interior is as impressive as its exterior is a matter of debate. Because the battery pack sits beneath the floor, occupant space has effectively moved upwards, add a sloping, drag-defying roofline into the mix, and if you're six feet or more tall, you may find you can't quite get your seat to go low enough. It all feels a bit bar-stooly. At least there's plenty of steering column adjustment, and legroom, thanks to the Ioniq 6's lengthy wheelbase, is plentiful both front and rear. The boot is enormous too.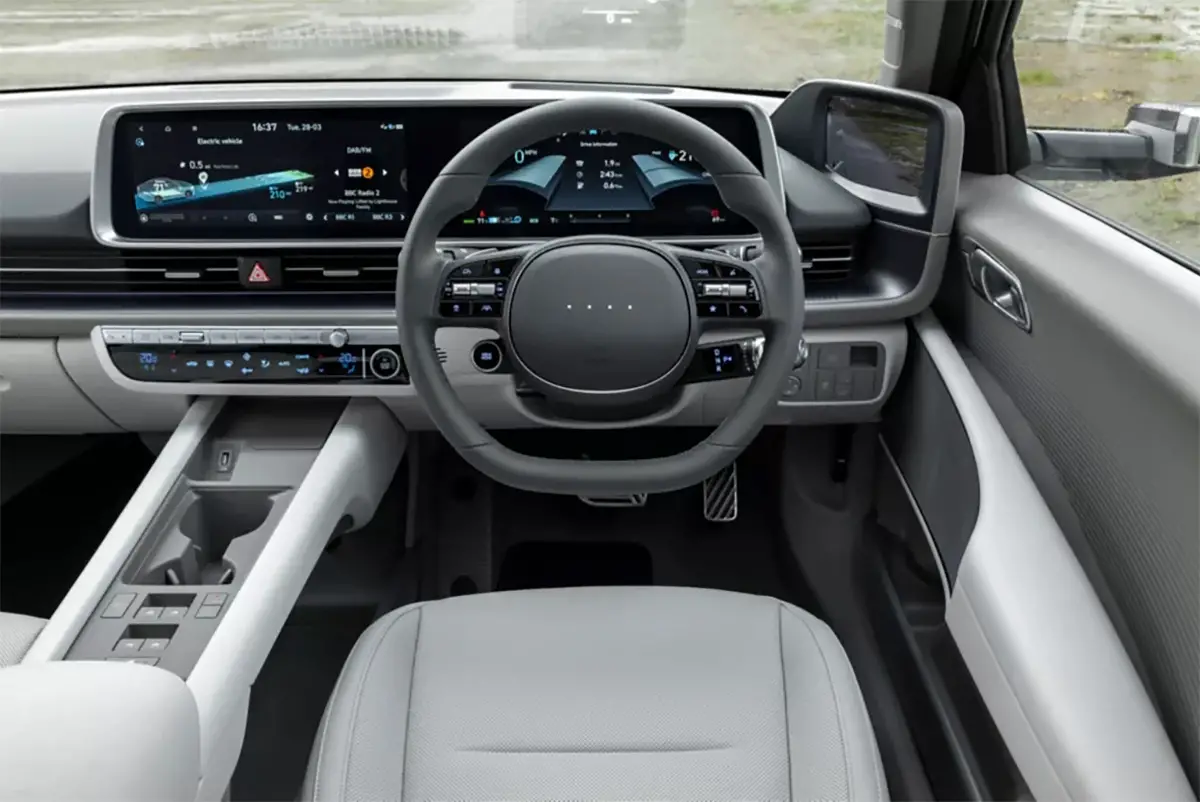 "Driving experience"
Storage space inside is also generous, thanks in part to the flat floor, and absence of any gearbox or transmission tunnel. Materials feel nicely solid on the whole, and all the switchgear moves with well-oiled precision, there are a few scratchy plastics here and there, especially-so lower down in the cabin – a Hyundai legacy leftover from the past perhaps? – But there's nothing particularly nasty. Dashboard displays, and multimedia screens – of which there are plenty – are superbly clear, and thankfully, there are separate controls for heating and ventilation, and volume control.
What really takes some getting used to is, the absence of any door mirrors. Instead, in a bid to reduce drag ever further, the Ioniq 6 employs cameras on the outside, which then project live images on screens at either end of the dashboard on the inside. I'm not entirely convinced this particular application of new technology offers anything more than that of the gold old-fashioned, tried-and-tested, rear-view mirror. And how many electrically powered devices does an electrically powered car really need? Apparently, the £995 optional cameras increase the range by one whole mile.
The driving experience on the other hand offers more or less everything we've now become accustomed to in an electric car: Instant torque, snappy acceleration, near silent cruising, a slightly firmer ride than could be called truly comfortable, and alas, direct but ultimately numb feeling steering. It grips well, and it goes well, but ultimately, the Ioniq 6 doesn't really entertain. Despite those wind-cheating looks, think easy-going GT rather than sports car.

"The build quality here is good"
Where once we'd talk of performance, we now discuss range. Fully-charged, the 77.4 kWh battery should deliver something in the region of 300 miles before requiring another electric top-up. If you can find one – on Saturday afternoon out here in The Provinces it took me three attempts, in three different counties – a fast charger should have you back up to 80% in approximately 35 minutes. If you can't find anything higher than a 32kw charger, you're more than likely looking at, at best, a working day's charge; at worst, an overnight one. Don't even think about trying the 13Amp three-pin plug option – you'll be stuck wherever you are for days.
Needless to say, as with all electric vehicles currently, the Hyundai Ioniq 6 is only really as good as the charging network you have access to. In areas where fast chargers are readily available, the Ioniq 6 really does standout from the crowd. Where chargers aren't as quick, ultimately it's as hobbled by the infrastructure as the rest/best of them.  The build quality here is as good, if not better than the competition (think specifically, Tesla), performance is definitely on par, and styling-wise the Ioniq 6 is in a different class altogether.
It's quite easy to see why the Inoiq 6 was voted World Car of the Year, Conversely, it's just as easy to see that certain parts of the World are alas still not quite ready for such things.
Hyundai Ioniq 6 Ultimate
Engine: 77.4 kWh battery, dual e-motors.
Transmission: Single-speed transmission, all-wheel drive.
Paddle Shift – Regenerative Braking
Power: 321bhp
Torque: 446 lbft
0-62mph: 5.1 sec
Max Speed: 115 mph
Range: 325 miles
CO2: 0g/km
Weight: 2096 kg
Price: From £46,745