Porsche Taycan Turbo S – Review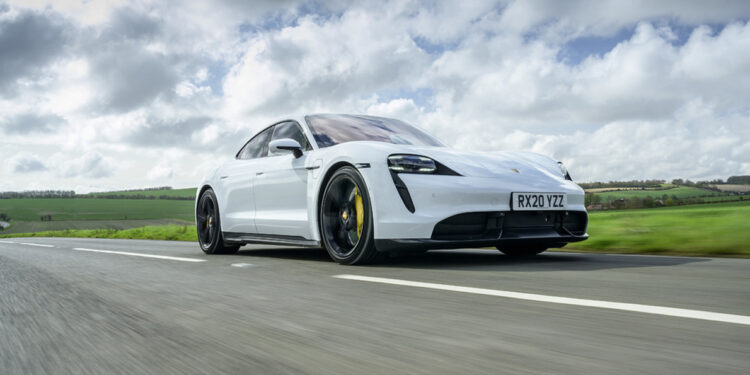 By Liam Bird
Porsche have a reputation of getting things right. Either by sheer ingenuity; between them the Porsche family designed the VW Beetle, the all conquering pre-war Auto Unions, many a forklift truck, and a petrol-powered tractor for coffee growers – so the diesel fumes wouldn't affect the flavour of the beans – or by continually honing something to the nth degree and then honing it some more – see their Le Mans winning record, also the history of the 911 – the Stuttgart based manufacturer is responsible for far more than its rightful share of automotive icons. But I bet you didn't know that Ferdinand Porsche, the eponymous founder of the company, made the world's first hybrid electric vehicle… in 1899.
The Lohner-Porsche used its internal combustion engine to generate electricity that then powered four individual motors: one in each wheel. It was also the first car with brakes on all four wheels. Very clever, those Porsches.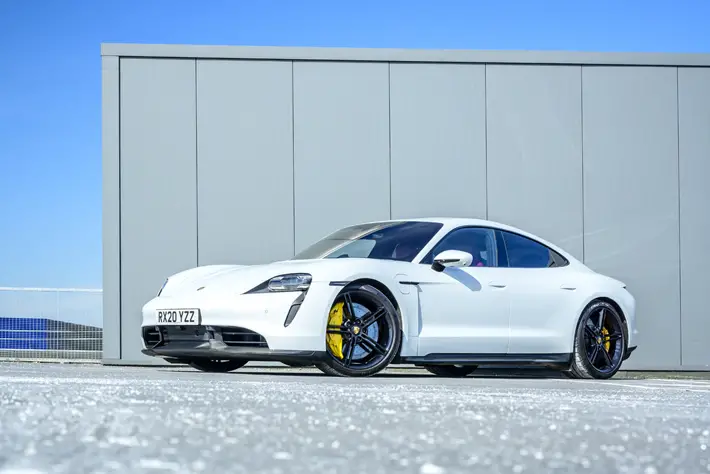 "Benchmark"
However, Porsche have never built a fully electric car that bears their own famous badge. Until now, that is. It's called the Taycan (pronounced Tie-Cahn), and if my recent all-too short recent experience of driving it is anything to go by, it too, I believe, is set to become another benchmark: the electric car by which all others are judged.
The Taycan sits on the same skateboard-like J4 platform as Audi's (a fellow VW group member) new e-tron GT, and can be specced with various drive and power options. Entry level Taycans are single-motor, two-wheel drive; next comes the Taycan 4S which gains another motor, thus becoming four-wheel drive (hence the 4 nomenclature); then there's the Turbo with its bigger battery, and at the top comes the Turbo S.
Porsche's press office kindly lent me the range-topper.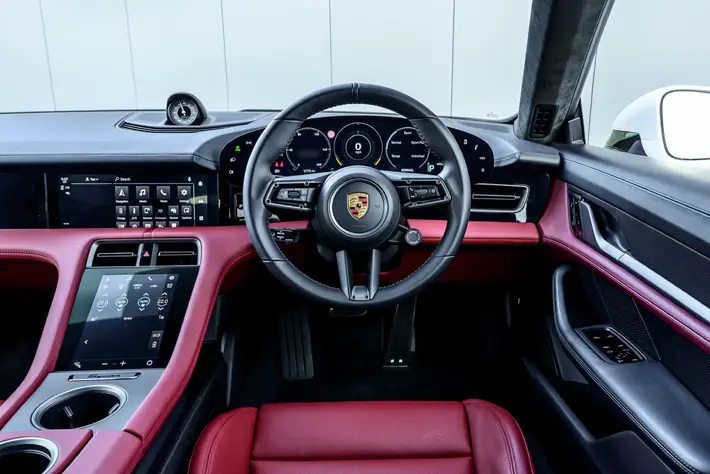 "Precise"
Now before we go on, I know you can't put turbo on an electric motor. Exhaust gasses drive turbochargers, and there are none of those here. Nevertheless, Porsche have used Turbo to denote its turbine enhanced range-toppers since 1974, so they see no reason why they can't use the same name, and the same typeface for that matter, here. Well, it is their car…
It's not just the boot badge and the script that it's written in that are familiar, the Taycan seems to ooze Porsche DNA from every pore (well, panel at least). The low-set driving position and the view over those curvaceous front wings is pure 911, so too the five dial dash – albeit now, completely digital. The Taycan's side profile resembles both that of a stretched 911 and the larger Panamera, and there' even space for your luggage under the sloping front bonnet. There's another boot in the rounded and you guessed it, very 911-esque rear. You even get that familiar, beautifully engineered, precise, and instantly direct feel through both the steering and the brakes.
The Taycan's not a small car, it will happy accommodate four, but on first encounters, it feels almost delicate. The performance and the noise it makes – or rather, it doesn't make – are completely other-worldly. I genuinely can't remember when I last drove something that accelerated quite so quickly. The Taycan Turbo S's 460 kW equates to over 610bhp. In SportPlus mode, on overboost, that rises to nearly 750bhp. 0-62 mph takes 2.8 seconds.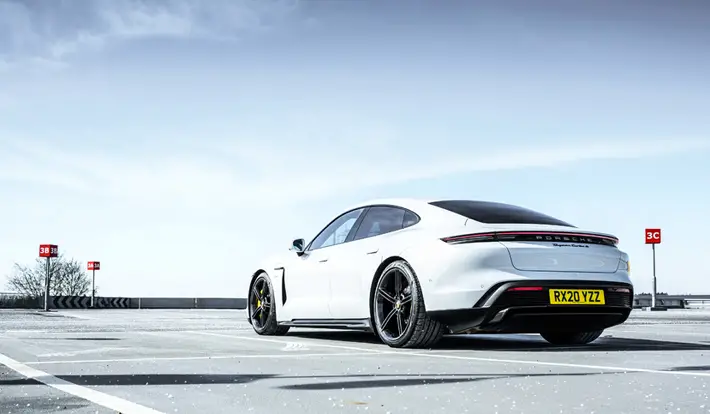 "So controlled"
Put your foot down and the torque is instant; the Taycan surges forward as if it's been launched from a catapult. Yet there's no drama, no cause for alarm. It may feel at first as if you need to recalibrate your senses, but everything feels so controlled. There's no body roll, no waiting for an engine to come on song or an auto 'box to wake up. With little more than whir and an accompanying weeeee from the motors, the Taycan Turbo S sucks in the horizon like something from a science fiction film. Warp speed is all-but an ankle twitch away.
The ride too, is probably the smoothest of any Porsche I have driven so far. It's sublime.
Near mind-bending dynamics aside, we should really also deal with the Taycan's practicalities. And it's here that things aren't perhaps quite so extraordinary. Put simply, the Taycan weighs over 2.3 tonnes, prices start at over £80,000 for the most basic model, as attractive as its all-touchscreen interior looks it's right faff to operate on the move, and when fully charged maximum range is approximately 250 miles. Not quite the Grand Tourer we thought then.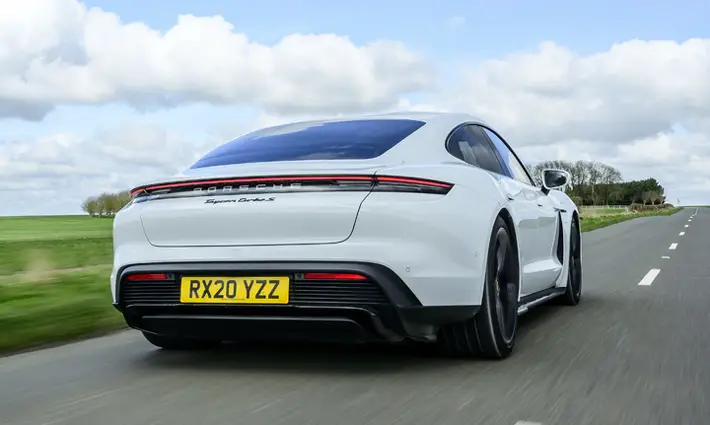 "Feels right"
Porsche say that charging time from 5 to 80 per cent is 22.5 minutes – if that is you can find one of the comparatively few DC chargers capable of doing such things. A 7.5kW home charger would make topping-up your Taycan's "tank" an all night, possibly longer, affair. I don't care to think how long it would take to charge from a 13 Amp plug – should such things even be possible.
Nevertheless, writing this a week or more after having driven the Taycan, given the opportunity, I'd happily drive it again, and again. It's not perfect, but somehow it feels right. And you just know Porsche won't stop here, they'll continue to hone what already feels like one of the best electric cars made thus far, ever further.
Porsche Taycan Turbo S
Transmission: Single Speed transmission in Front axle, 2-Speed transmission on Rear axle.
Power: 460 kW
Torque: 775 lbft
0-62 MPH: 2.8 Sec
Max Speed: 162 mph
Range: 257
CO2: 0 g/km
Consumption: 24.4 kWh/100km
Charge Time (AC) at 9.6 kW 0-100%: 10.5 hours
Price: from £136,830 (as driven £152,742).