Porsche 911 (992) Carrera S – Review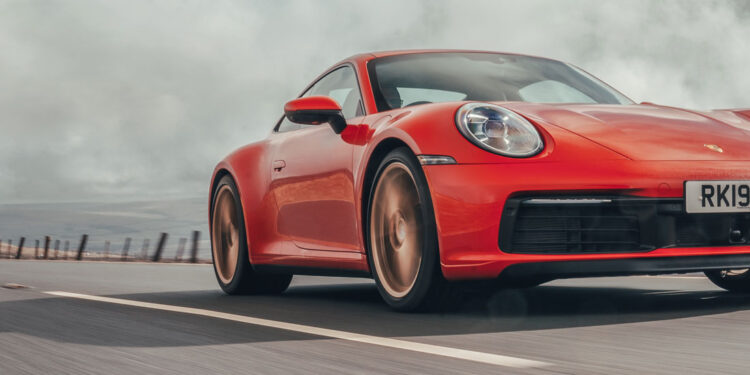 By Liam Bird
Yes, I know, I know… The car you see before you is not the new Porsche 911 Turbo, and neither is it the new 911 Targa. If you have even the faintest of interest in Porsche's social media channels, you'll no doubt have noticed that both Turbo and Targa are currently very much on-trend. Or should I have said 'trending'? Porsche are currently promoting both Turbo and Targa in a big way. Alas, and inevitably no doubt, it'll be a little while before mere mortals such as I get to sample either.
But, after having spent what was fast becoming like an eternity under lockdown, allowed only to make journeys of an essential nature, and thus unable to leave the near-stifling silence of South Shropshire – such things surely can't be good for you – the truth is, had Porsche said they were willing to lend me a pushbike, I'd have happily made the journey to Reading to fetch it.
Fortunately, Porsche had agreed to lend me their new 911 Carrera S. Good things… as they say.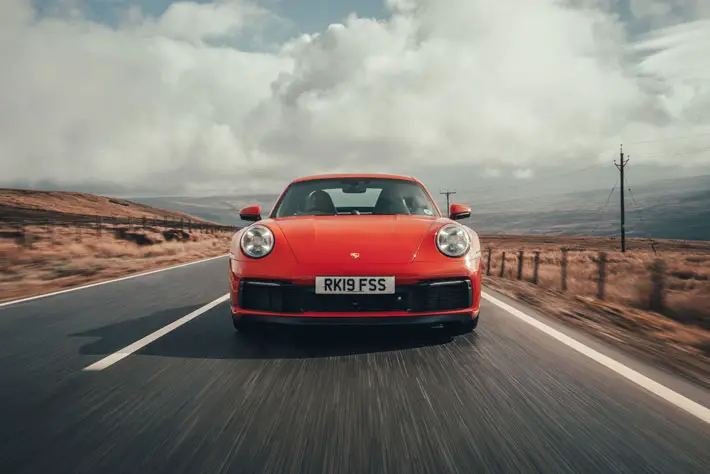 "I'm not really sure what a Carrera S is," remarked a colleague of mine when I told him I was, at last, again on my travels. Fair enough, I suppose. Over what is now a 57 year lifespan, the 911 range has been subject to myriad variations: the S, the R, the RS, the RSR, the T, the GT (1, 2 and 3), the RS GT, the Carrera, the Carrera S, the Carrera CS, the Carrera GTS… I could go on. And let's not forget that the 911 was originally called the 901.
The one we have here is technically a 992, the previous generation 911 being the 991 – which incidentally replaced the 997. Porsches, you see, get their numerical nomenclature from their drawing numbers. Do please try to keep up at the back.
Reading that back, it is perhaps easy to see why an explanation of what exactly a new Porsche 911 Carrera S is might be required.
The current 911 range (that's the 992, remember?) starts with the Carrera; the Carrera S sits just one rung above. It is, as has always been the case with 911s, a 2+2 coupe powered by a six cylinder horizontally opposed engine that's famously mounted behind the rear axle. In this case, power, all 460bhp of it, is fed to the rear wheels – you need a Carrera 4 to get four-wheel drive – via an 8 speed dual-clutch automatic gearbox. Porsche will offer a 7 speed manual option soon. One other thing: The engine, now water-cooled rather than air-cooled (as was once the case with all 911s), is a 3.0 litre twin-turbo. But, as I said earlier, this is not the 911 Turbo – that's a similar, yet very different, car.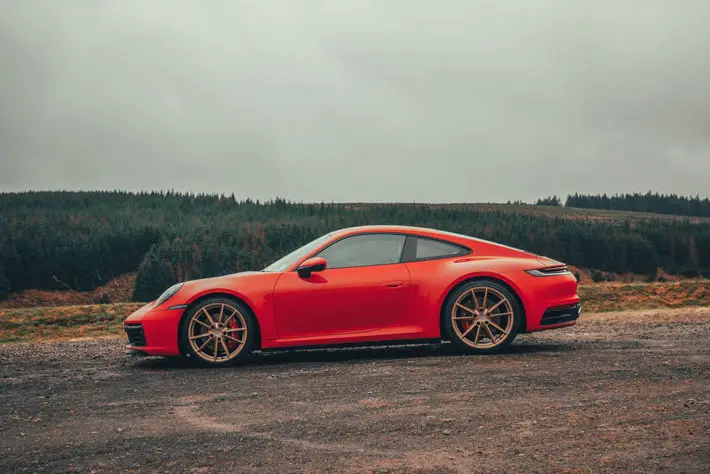 "Super-sharp"
Fortunately, things are far easier to comprehend once you're behind the Carrera S's nicely sculpted steering wheel. Gone is the button-festooned interior of 911s of old, replaced instead by a much cleaner, more modern-looking layout. You still get a five-dial dashboard which, with the exception of the analogue tacho that sits centre stage, is now fully electronic. Navigation and entertainment duties, together with a host of other secondary functions, are taken care of by a super-sharp 10.9 inch touchscreen, and everything else you need – unusually perhaps for a 911 – falls easily to hand. Although, I challenge anyone to find the heated steering wheel button in under 10 minutes without first consulting the manual. Fit and finish as you might expect is impeccable; even the VW sourced gear-selector (something that doesn't go unnoticed here) and minor switchgear feel near bomb-proof.
The driving position is near-perfect. You sit low – the position between seat pedals and wheel infinitely adjustable – and yet always just so. 911s are easy to see out of too. Your view ahead over those now iconic curved wing-tops framed by slender windscreen pillars and the 911's high, upright dash. Rearward visibility is also good and, as such, unlike much of its competition, a 911 is relatively easy to park. Those bulbous rear wheel arches define the view in the door mirrors and, in our case, the option camera system helps prevent any costly mishaps.
As always, the ignition switch – now keyless of course and easy to mistake for the headlamp switch – lies to the right of the steering column. A simple quarter turn is all it takes to bring things to life.
The metallic clatter that was once so synonymous of flat-six Porsches is now smoother and more subdued as a result of both the liquid cooling and the forced induction. And, if anything, Porsche's rear-engined flagship now feels more grown-up. Whereas once you really had to work a 911 to extract its performance, it now seems more readily accessible from the outset. In Normal Mode, the gearbox will slip quietly up to what it considers the highest ratio for the conditions, thus giving – on first acquaintance at least – this new 911 the feel of a long-legged GT. Believe it or not, on the trip home from Berkshire to Shropshire, I saw an indicated 36 mpg. Two-up, with bags stowed in the deep front trunk and ancillaries packed on the folded rear seats, the 911 would still make a great cross-continental ally. Sadly though, such things are not presently permitted.
But, there's currently no reason (in England, at the time of writing) why you can't enjoy the 911's other talents on a good-old British B-road.
Select Sport Mode, or better still, SportPlus, and the software no longer seems so intent on selecting 8th gear. Automatic throttle blipping as you brake for the bends makes you sound like a heel-and-toeing pro, (despite the fact that there are only two pedals) and the engine really begins to sing. An empty, twisting border road is where a 911 really comes into its own. A front wider track and Porsche's now superb electric steering all add to the mix. Point to point, there's still very few cars that offer such a blend of near-supercar performance and day-to-day usability – and especially so for under (just) £100K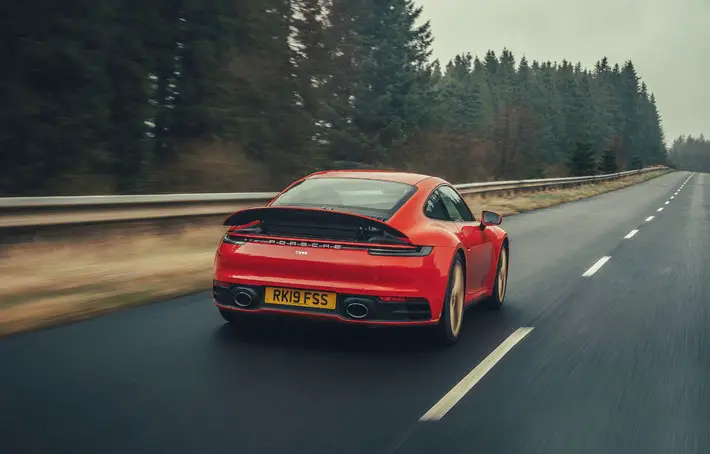 "Benchmark"
And there, in part, lies one of the niggles I have with the new 911. I can live with the confusing model line-up – and no doubt Porsche will add yet more variations to the 992 range as time goes on. I can almost forgive the high levels of cabin noise that are produced as result of it being fitted with what are now enormously wide tyres, both front and rear; 911s have always been loud (Targas, especially so). I can forgive the fact that my passengers can see both the clock and the fuel gauge more clearly from their seat than I can from that of the driver's; that's just an ergonomic quirk, a 911 idiosyncrasy. My biggest bug-bear is that I can't afford one. Never mind Porsche's GB's nicely specced Carrera S – my budget won't run to a base-model Carrera devoid of all options.
Love them, hate them, or simply not quite know what they are exactly, after nearly sixty years, through competition and continual development, Porsche's 911 has truly earned its position as the benchmark by which all other high performance sports-cars are to be measured.
Lockdown or not, I'm struggling to remember a time when I've been so reluctant to hand a press-car back.
Porsche 911 (992) Carrera S
Engine: 2,981 cc horizontally opposed (flat) 6 Cyl 24V twin-turbo petrol
Transmission: 8 speed PDK dual clutch manual with sequential auto mode. Rear wheel drive.
Power: 460 bhp @ 6500pm
Torque: 391 lbft @ 2,300 – 5,000 rpm
0-62 MPH: 3.5 Sec
Max Speed: 191 mph
CO2: 205 g/km
MPG: 31.7 combined
Price: from £93,110 (as driven £109,187)