Royal Caribbean Symphony of the Seas – Travel Review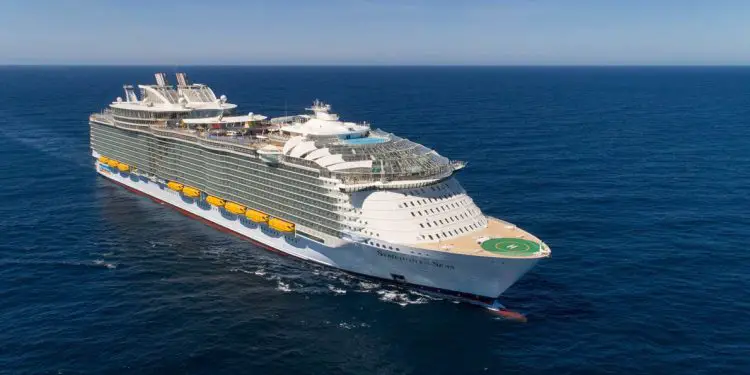 By Richard Jones, September 2023
I was about to tuck into my main course in the fine dining restaurant when I spotted something out of the window.
We were on the move, and the picturesque European city scape which had been our backdrop all afternoon had been superseded by rolling blue waves.
For a second, I had forgotten that I was in the middle of the Mediterranean Sea, along with thousands of other guests, onboard Royal Caribbean's Symphony of the Seas.
If you're not a regular cruiser – it had been a decade since my wife Rachel and our two daughters Isla and Evelyn last set foot on a ship like this – or even a first-timer, it can blow your mind.
Just how do the captain and crew of this enormous floating paradise navigate it from one port to another?
Our seven-day Med cruise began in Barcelona and, immediately after embarkation, it became clear that we wouldn't struggle to find things to do on Symphony of the Seas.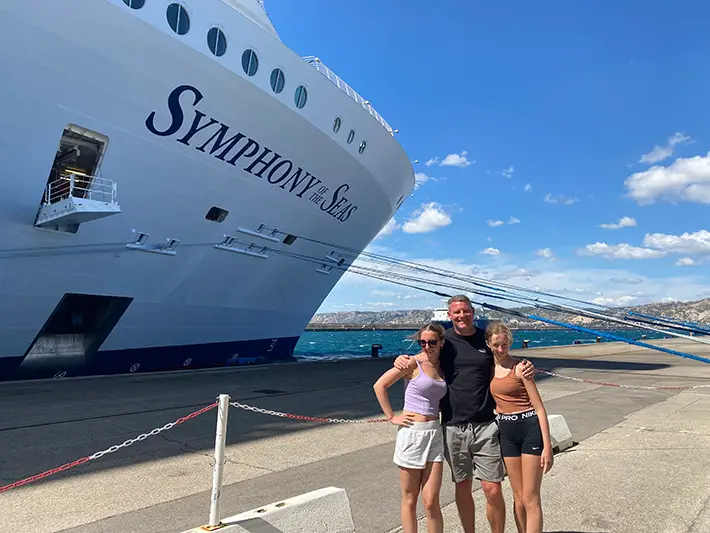 "Seven neighbourhoods"
The second biggest cruise ship in the world, it has seven neighbourhoods – the Pool and Sports Zone, Central Park, Boardwalk, Royal Promenade, Vitality Spa and Fitness Centre, Entertainment Zone and Youth Zone.
We spent most of the hot summer afternoons days by the pools, where the kids had a ball on the Perfect Storm slides, while Rachel sunbathed and I spent a little too much time in the hot tubs, with a cocktail in hand.
There is also a mini golf course on the top deck, as well as two Wave Rider surfing simulators and the 10-storey Ultimate Abyss slide.
While the girls called at the gym on a couple of the mornings, I went for a few pre-breakfast jogs on the track which runs around the circumference of deck 5.
Although the outside of a ship may not sound like the most interesting of settings for a run or a walk, getting 360-degree views of the ports as we docked in the mornings was a riveting watch.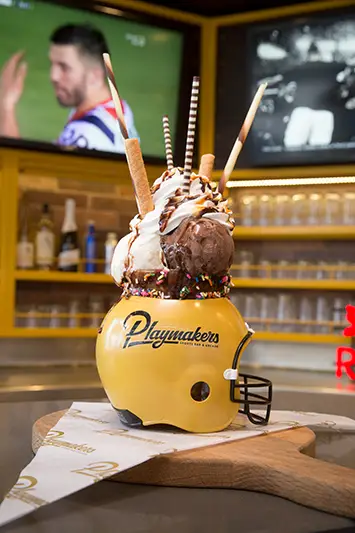 "Excels"
It's in the food and beverage departments that Symphony of the Seas really excels. Around 2,200 crew cater for 6,600 guests' needs, and although I had assumed the service would be good, it was, hand on heart, the best I ever experienced, on sea or land.
For breakfast and lunch, the Windjammer is the ship's most popular choice, with the all-inclusive marketplace buffet serving up enough food to feed a large town. In the evenings, we headed to our assigned Main Dining Room, where we were welcomed by jovial server duo Rakesh and Zurisadai, and head waiter Stylian who made sure that Isla's gluten-free requirements were catered for.
As well as a generous selection of other all-inclusive eateries, including Cafe Promenade, Dog House and Sorrento's, cruisers wanting an extra treat should try out the speciality restaurants, including Jamie's Italian, Chops Grille and Izumi Sushi.
We were also spoilt for choice when it came to bars. Although the deluxe drinks package entitling you to unlimited cocktails, wine and beers all cruise long can seem pricey ($56 to $105 per person per day), it actually represents great value. Rachel and I used ours in the Latin-themed Baleros, karaoke bar On Air, Bionic Bar, with its robot servers, sports pub Playmakers, and our 'local', the nautical-themed Schooner Bar.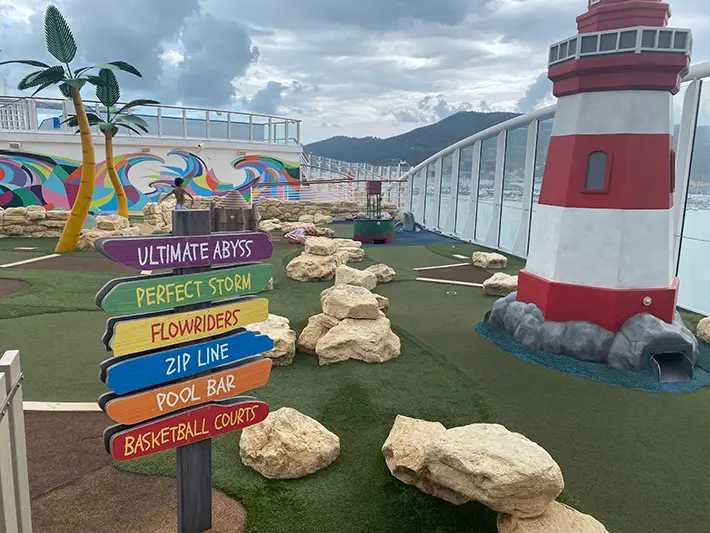 "Into the spirit"
There are a number of after-dark events on the ship. We took a seat at the Aqua Theatre for the spectacular acrobatic diving show Hiro and watched the production of musical Hairspray.
If you need pointers on what clothes to pack for a Royal Caribbean cruise, they suggest dress codes for each night, with sailors encouraged to wear their best white, Caribbean, formal or glamorous outfits. It is all voluntary, of course, but seeing 9,000 guests and staff get into the spirit is some sight – and it also doesn't hurt when the professional photographers get their cameras out.
Despite being plenty to do on the enormous ship, we were, after all, on a cruise, so sampling some European culture was a must. From Barcelona, our first port of call was Palma de Majorca, and after disembarking, we took a stroll around the harbour in the commercial and naval port of Porto Pi.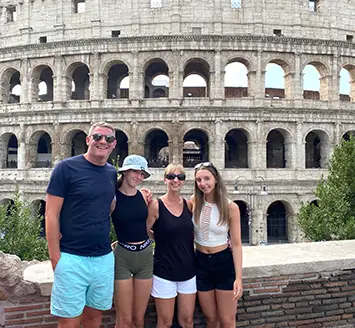 "Bustling capital"
The next day, we arrived in our only French stop during the week – Marseille. Most cruise guests opt to explore the Old Port in the Provence-Alpes-Côte d'Azur region's bustling capital, while for those feeling more adventurous, Marseille is also a gateway to the city of Aix-en-Provence and Calanques National Park.
We arrived in Italy on our third morning, and although there are some nice walks around La Spezia in Liguria, you are missing out if you don't head into Pisa, Florence or the Cinque Terre.
Similarly, our next stop, Civitavecchia, is also a lovely coastal town, with its iconic statue Unconditional Surrender on the boardwalk.
We got up nice and early and headed to its railway station to board a train to Rome. Costing just £8 per person, and taking an hour, we got off in the centre of the Eternal City and took in the world-famous Colosseum, Roman Forum and Trevi Fountain.
The final stop on the Symphony of the Seas cruise was the city of Naples. Although Diego Maradona's adopted city sometimes gets a bad rep, we found walking up its main shopping street Via Toledo and into the stunning Galleria Umberto I to be safe and friendly. Oh, and they have the pizza in the world – no argument.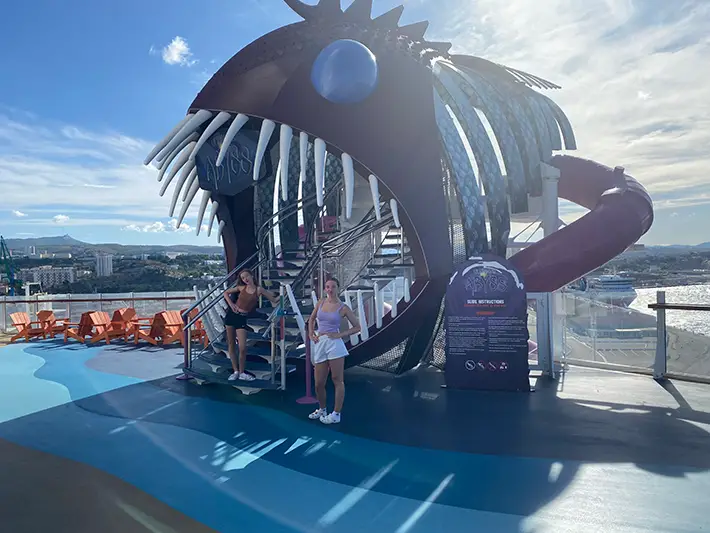 "A rate of knots"
Although there is tonnes to do on shore in Spain, France and Italy, the highlight of our cruise holiday was our time on the ship. As the week wore on, the floating resort reminded me more and more of a large luxury hotel in the Caribbean or even Las Vegas – there is a sizeable casino on board, after all.
Our favourite night was taking part in the silent disco on the Boardwalk. In between the singing and dancing, I took a moment to remove my headphones and look around. Apart from a few guests, including Evelyn, who got carried away singing out loud rather than lip-syncing, there was a strange silence, and not witnessing much 'motion from the ocean', I still found it difficult to comprehend that we were making our way across the Med at a rate of knots.
Everything about this particular Symphony is pitch perfect, and a voyage on board the super ship may just change your tune about cruising.
Royal Caribbean International is offering Mediterranean cruise itineraries on Symphony of the Seas in late summer from £1,005pp. Price based on a seven-night Western Mediterranean Cruise from Barcelona, Spain, departing October 22, 2023, for two people sharing an interior stateroom. To book, please visit: royalcaribbean.com/gbr/en
Holiday Extras offer a range of car parking, lounge access and fast-track passes at all major UK airports. See holidayextras.com