Arts Hotel, Barcelona & Spanish Cava Country – Travel Review
With wine specialist Majestic announcing that it expects to sell a bottle of Cava every minute from Christmas through the New Year to St Valentine's Day, Kevin Pilley visited its home.
It's rather unsettling, while in a spa sauna, to be asked through the mist, "What's that thing sticking up there?" But it's an occupational hazard while staying in the hotel whose rooftop spa has one of the best views in the world from its steam room.
That and having a close-up and personal view of the largest goldfish in the world when you open the curtains in the morning are not the only reasons to stay in the tallest hotel in Spain, but saving you valuable sunbathing and tanning time by sparing you all time-consuming sightseeing stuff certainly is.
Barcelona's five-star, 44-floor Arts Hotel overlooks the Med, the city marina, Platja (beach) del Somorrostro and Platja de Nova Icaria, plus Frank Henry's famous sculpture, which he called a goldfish and the locals call a whale.
"Treat your palate and tastebuds"
The luxury skyscraper hotel, originally built to house VIPs at the 1992 Olympics, also has penthouse suites, a rooftop spa with the best views from a sauna/steam room in the world and a 500-strong collection of original Spanish art, as well as rooms with views of every Barcelona landmark.
From the spa and your room you will see Antoni Gaudi's unfinished 1926 Temple Expiatori de la Sagrada Família, Agbar Tower, Tibidabo hill and church, Parc de la Citadella with the parliament of Catalunya and zoo within the park, the El Born quarter's Basilica de Santa Maria del Mar, the Gothic Estacio de Franca railway station built for the 1929 Universal Expo, the MNAC National Art Museum, Montjuic castle and lighthouse and Barcelona Cathedral.
Only the Nou Camp – home of Barcelona FC – is missing. Which means you'll have to leave the hotel once. The open-top sightseeing bus stops outside.
The Arts (pronounced Ars) also boasts Catalan chef Paco Perez's Michelin 2 star Oenteca ("Wine Cellar") restaurant which provides the perfect opportunity to treat your palate and tastebuds and further sample the high life in the form of some local Denominacion de Origine Protegeda bubbly.
And, while you're at it, learn some useful everyday Spanish.
For oeno/eno/vini-tourists, the three most important words to know while in south Spain are "macabeo", xarel-lo" and "parellada". The three grapes that make classic Cava from the Penedes comarca.
"Tours ansd tastings"
Spain produces 330 million-something bottles of sparkling Spanish champagne a year. Cava country, a 45-minute drive from Barcelona and Tarragona, is the Spanish D.O. which exports the most wine. It received its DO in 1986. Its 350-something wineries serve 100 countries.
The capital of Cava is Sant Sadurni d'Anoia. It's here the leading Spanish Champagne houses are based.
Like Codorniu, which offers daily tours and tastings on which you can get close up and personal with antique presses, disgorgement tools and vintage oenological paraphernalia before tucking into the celebrated perlage. As well as learning that to be called Cava the wine must be aged for at least nine months.
Self-guided tours are not recommended as one wrong turn might take you to Buenos Aires or Montserrat. Or back to Barcelona. The vast underground cellars at Codorniu have street names so the winemakers don't get lost. Visitors are transported by mini-trains.
The 1895 Codorniu building was declared a national Historic Artistic Monument by King Don Juan Carlos in 1976. Other examples of Spanish eclectic Nouveau Art can be seen in the former homes of Lluís Mestres (1909), Cal Rigol (1903) and Cal Calixtus (1885).
"Oldest family business in Spain"
But you haven't come all that way just to admire the "noucentisme" brickwork and the work of architect Josep Puig I Cadafach, or visit Vilafranca's "Vinseum" and see the friable substrate of the Alt Penedes which forms one of the world's oldest and largest wine-growing regions, or to eat in Codorniu's excellent El Jardins restaurant.
You have come to try some top "vinum titullium" which was what the Romans called sparkling wine. You have made the trip to treat yourself to some quality mousse appreciation and celebrate Spain's most famous beads and persistent crowns. And the genius of current winemaker and technical director Bruno Colomer who also has designed the winery's gardens.
Codorniu (est.1551 ) is the oldest family business in Spain and was the first vineyard to produce Cava. In 1872, Josep Raventos applied the traditional Champagne-style method to a combination of the three local grapes. Chardonnay followed in 1984 and Pinot Noir only in 2002. By 2024 all Cordorniu wines will be organic.
In 1659, farmhouse "aristocrat" Anna Codorniu married into the family and her husband rather "wokely" named the house after her. The eponymous wine is Spain's best-selling Cava. La Fideura 2011 is aged for 90 months and Non Plus Ultra goes back to 1897 in the 174-Euro a bottle Ars Collecta 459, 2010. Codorniu makes the world's most expensive Cava or Spanish shampoo!
But Cava is not all Codorniu or Freixenet (est 1861). There are also Mestres, Recaredo, Sumarroca, Caves Ferret, Juve y Camps, Castell d'Olerdola (which makes an excellent deep cerise rosé), Torello, and the collective EU brand, "Corpinnat" (The heart).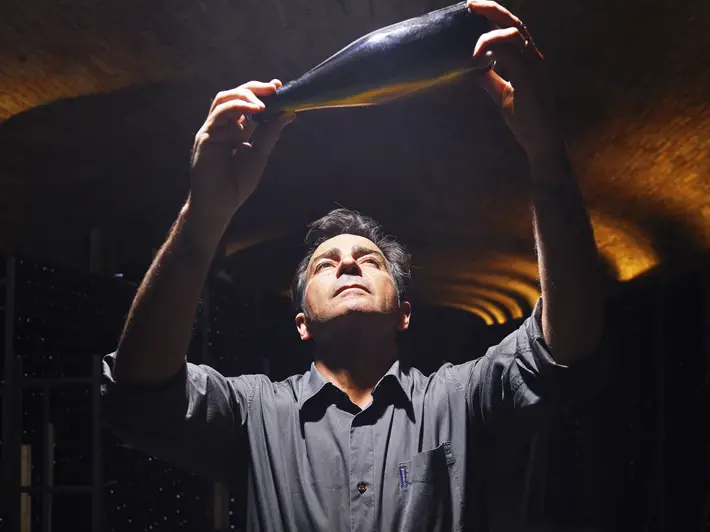 "Wine is everywhere"
The word "cava" does not appear on any of its labels. Although the wines are all made in the Corazón del Penedès.
You learn this by navigating the Carretara del Vi wine route which takes in seven towns and 13 possible winery tastings. There are several Camins del Cava.
Surprisingly Cava still remains a little off-the grid when it comes to wine tourism. Responsible Travel is one of the few travel companies offering immersive Cava holidays. There are country lodges and small hotels but most wine tourists stay in Barcelona. And take organised degustation tours from there via their concierge.
October sees the "La Setmana del Cava" and "Cavatast" fairs. Bicycle and walking tours are available with maps and explicit directions, although your Sat Nav won't tell you to take the first exit at the giant frothing bottle. And then take the second exit with the two XL wine glasses. Yes, wine is everywhere here. Even the sculptures in the middle of the roundabouts leading down into the shrine of Cava worship, the very productive village of Sant Sadurni d'Anoia.
www.penedesturisme.cat
www.artsbarcelona.com
www.codorniu.com