Blood and Black Lace (1964) – Film Review
Director: Mario Bava
Cast: Cameron Mitchell, Eva Bartok, Thomas Reiner
Certificate: 18
By Sarah Morgan
Has there ever been a film more visually arresting than Blood and Black Lace, Mario Bava's chilling 1964 serial killer movie?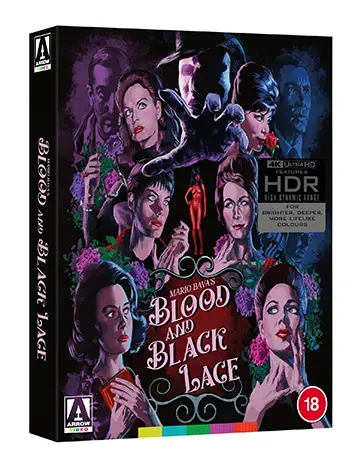 No doubt some would come up with alternatives, but I was blown away by the Italian maestro's magnificent use of shadows, colour and intriguing angles – although, of course, the fact that it's been restored helps somewhat; this Blu-ray release isn't beset by faded segments or a damaged negative. Instead, it's crisp, luscious and utterly fabulous, right from the start.
"Fast pace"
I couldn't help but wonder if Pablo Ferro had seen Blood and Black Lace before creating the famous opening titles to Bullitt. Although not the same, they are reminiscent of the ones seen here, with figures and mannequins looming out of the darkness. Bizarrely, the original American distributor didn't like them so came up with something more jazzy but less appealing. They're among the disc's special features if you want to check them out.
As soon as they're over, we get down to business – the film's slick 84-minute run time means everything whips along at a fast pace as a faceless killer wearing a mask, black fedora and raincoat murders a model on her arrival for a show at a renowned fashion house.
Over the course of the story, several of her colleagues will also be killed by the same assailant, and it's up to dogged police detective Silvestri to find out who's carrying out the murders and why. Along the way, we learn more about the models and their associates, most of whom seem to have something to hide.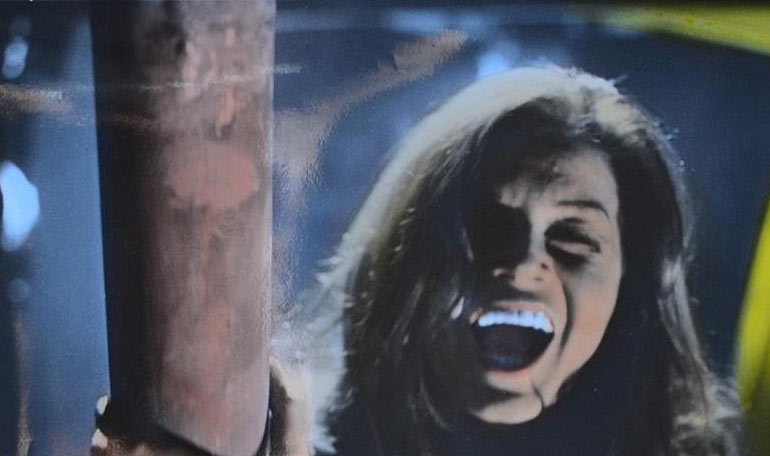 "Masterful"
Blood and Black Lace is important in Italian cinema because it spearheaded what became known as the Giallo movement, a genre often featuring a mix of murder mystery, slasher, thriller, psychological horror, sex and, occasionally, the supernatural. The likes of Dario Argento (who went on to become a Giallo master) and Martin Scorsese are among those said to have been influenced by it.
But even if it wasn't held in high esteem for that reason, it would still be regarded as a masterful movie from a director then at the very peak of his powers.
4K ULTRA HD BLU-RAY LIMITED EDITION CONTENTS
Brand new 4K restoration from the original camera negative by Arrow Films
4K (2160p) UHD Blu-ray presentation in Dolby Vision (HDR10 compatible)
Restored original lossless mono Italian and English soundtracks
Optional English subtitles for the Italian soundtrack
Optional English subtitles for the deaf and hard of hearing for the English soundtrack
Audio commentary by Mario Bava's biographer Tim Lucas
Psycho Analysis – a documentary on Blood and Black Lace and the origins of the giallo genre featuring interviews with directors Dario Argento (Suspiria) and Lamberto Bava (Demons), screenwriter Ernesto Gastaldi (All the Colours of the Dark), critics Roberto Curti and Steve Della Casa, and crime novelists Sandrone Dazieri and Carlo Lucarelli
An appreciation by Hélène Cattet & Bruno Forzani, the creative duo behind Amer and The Strange Colour of Your Body's Tears
Gender and Giallo – a visual essay by Michael Mackenzie exploring the giallo's relationship with the social upheavals of the 1960s and 70s
Blood and Bava – a panel discussion on Mario Bava featuring Dario Argento, Lamberto Bava and Steve Della Casa, recorded at the 2014 Courmayeur Film Festival
The Sinister Image: Cameron Mitchell – an episode of David Del Valle's television series, devoted to the star of Blood and Black Lace and presented in full
The alternative US opening titles, sourced from Joe Dante's private print
Original theatrical trailer
Image galleries
Limited edition packaging with reversible sleeve featuring original and newly commissioned artwork by Ilan Sheady
Limited edition 60-page perfect bound book featuring writing on the film by Howard Hughes, Alan Jones and David Del Valle, plus new writing by Rachael Nisbet and Kat Ellinger
Fold-out double-sided poster featuring original and newly commissioned artwork by Ilan Sheady
Six double-sided collector's postcards