Phenomena [Creepers Edition] (1985) – Film Review
Director: Dario Argento
Cast: Jennifer Connelly, Donald Pleasance, Daria Nicolodi
Certificate: 18
By Sarah Morgan
What is it about Dario Argento and flies?
Back in 1971 the famed Italian auteur made Four Flies on Grey Velvet, one of his finest movies. Then, 14 years later came Phenomena, in which they – and other insects – play an integral part.
A myriad of creepy crawlies have starring roles, and some of them even help Jennifer Connelly, as teenager Jennifer Corvino, solve a series of grisly murders.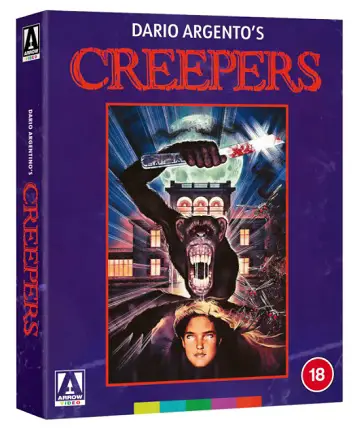 Yes, you did read that correctly! And if that bonkers synopsis isn't enough to make you want to watch the film, then perhaps the presence of Donald Pleasence and a chimp will.
The Nottinghamshire-born actor has plenty of links to South Yorkshire, having attended Sheffield's Eccelsfield School before studying drama in Barnsley. He also worked at Swinton railway station (his father was station master at Conisbrough in the 1940s) before deciding to tread the boards.
"Unmasking"
However, in Phenomena, his accent takes a journey even further north – he plays a Scotsman. Entomologist John McGregor meets Jennifer's acquaintance after she's found sleepwalking near his home in what he describes as the 'Swiss Transylvania' by his constant companion, chimp Inga. McGregor quickly notices her affinity with insects, and her unique ability to seemingly attract and communicate with them.
Jennifer is enrolled at a Swiss international school, but her love of six-legged creatures and the fact her father is a film star make her a target for bullies. The headmistress and her staff seem particularly cruel too, and you wonder how they've managed to attract or keep any pupils.
What's more, there's a serial killer on the loose targeting young girls. When a firefly points Jennifer in the direction of some puzzling maggots, McGregor encourages her to investigate further, believing she could prove crucial to unmasking the murderer.
He turns out to be correct, but the notion proves to be his downfall – and also plunges his young friend into grave danger…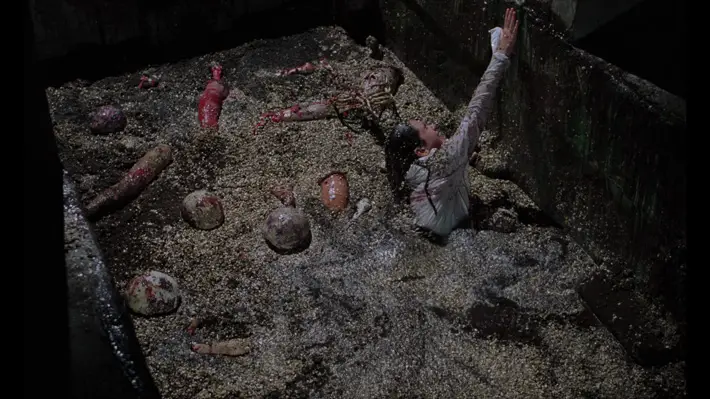 "Merits"
Phenomena is far from being Argento's greatest movie, and watching it makes you long for the likes of Deep Red, Suspiria or The Bird with the Crystal Plumage. But if you can suspend at least some of your disbelief (and ignore the terrible, heavy rock soundtrack), it's not a bad euro-thriller.
Pleasence is always worth watching, although Connolly, shortly before gaining fame in Labyrinth, is pretty woeful – you would never guess she would become an Oscar-winning actress after her performance here.
The set includes three different versions of the film – the original Italian release, a slightly shorter cut made for the international market, and a very much trimmed down US take. All have their merits, with the best and most coherent being the middle one.
There's also a wealth of special features to enjoy, including a two-hour long making-of documentary.
4K ULTRA HD BLU-RAY LIMITED EDITION CONTENTS:
• New 4K restoration of the original 116-minute Italian version, the 110-minute international English version and the 83-minute US "Creepers" version from the original camera negative by Arrow films
• 4K (2160p) UHD Blu-ray™ presentations of all three versions in Dolby Vision (HDR10 compatible)
• Limited Edition "Creepers" packaging with reversible sleeve featuring two original pieces of poster artwork
• Illustrated collector's booklet featuring writing on the film by Mikel J. Koven, Rachael Nisbet and Leonard Jacobs
• Fold-out double-sided "Creepers" poster featuring two original pieces of artwork
• Six double-sided, postcard-sized lobby card reproduction artcards
DISC 1 (4K ULTRA-HD BLU-RAY) – ITALIAN VERSION:
• Lossless Italian DTS-HD Master Audio 5.1 and PCM 2.0 stereo soundtracks, derived from the original 4-channel Dolby Stereo elements
• Lossless "hybrid" English/Italian DTS-HD Master Audio 5.1 soundtrack★
• English subtitles for the Italian soundtrack
• Optional English subtitles for the deaf and hard of hearing for the hybrid soundtrack
• Audio commentary by Troy Howarth, author of Murder by Design: The Unsane Cinema of Dario Argento
• Of Flies and Maggots, a feature-length 2017 documentary produced for Arrow Films, including interviews with co-writer/producer/director Dario Argento, actors Fiore Argento, Davide Marotta, Daria Nicolodi and Fiorenza Tessari, co-writer Franco Ferrini, cinematographer Romano Albani, production manager Angelo Iacono, special optical effects artist Luigi Cozzi, special makeup effects artist Sergio Stivaletti, makeup artist Pier Antonio Mecacci, underwater camera operator Gianlorenzo Battaglia, and composers Claudio Simonetti and Simon Boswell
Boswell • Archival interview with Andi Sex Gang musician Simon Boswell
• Original Italian and international theatrical trailers
• "Jennifer" music video, directed by Dario Argento
• Japanese pressbook gallery
DISC 2 (4K ULTRA-HD BLU-RAY) – INTERNATIONAL AND "CREEPERS" VERSIONS:
• Lossless English DTS-HD Master Audio 5.1 and PCM 2.0 stereo soundtracks on the international version, derived from the original 4-channel Dolby Stereo elements
• Lossless English PCM 1.0 mono soundtrack on Creepers, mastered from the original 3 track DME magnetic mix
• Optional English subtitles for the deaf and hard of hearing
• Audio commentary on the international version by Argento scholar and author Derek Botelho and film historian, journalist and radio/television commentator David Del Valle
• The Three Sarcophagi, a visual essay by Arrow producer Michael Mackenzie comparing the different cuts of Phenomena
• US theatrical trailer
• US radio spots
Phenomena
Creepers Edition is released on Limited Edition UHD Blu-ray by Arrow, £39.99