Top Gun: Maverick (2022) – Film Review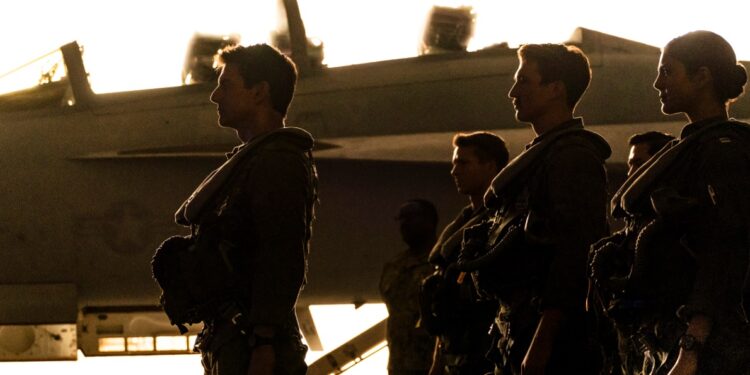 Director: Joseph Kosinski
Cast: Tom Cruise, Miles Teller, Jennifer Connelly
Certificate: 12A
By Roger Crow
Your mission, Tom Cruise, should you decide to accept it, is craft a sequel to the movie which made you an A-list star. It needs to be more exciting than the original and aside from keeping the fans happy, attract a new generation of aficionados. Good luck Mr Cruise.
And so, 36 years after Top Gun, we have that follow-up, a movie which has been in the pipeline so long, when it was first mooted, kids born in the wake of its success now have teenage kids.
I was there on the opening night of the original. A mate had an argument with his girlfriend in the first few minutes, and they walked out of the cinema. I stayed and soaked up all that glorious action, thinking it was just another well put together action thriller. Sure, the ending felt tagged on, like an afterthought, and the stuff between heroic Pete 'Maverick' Mitchell and Iceman (Val Kilmer) was cringeworthy, but it was a fun adventure that looked and sounded terrific. I didn't expect the movie would become a phenomenon, leading to many clones like Iron Eagle, and its sequels, and the instantly forgotten Wings of the Apache (Top Gun with helicopters).

"Fastest man alive"
While Tom went off and made a load of other movies, fans wanted that follow-up. They needed a sense of closure to the demise of Maverick's best friend Goose (Anthony Edwards), but by the end of the eighties, it looked like they would have a long wait.
One genius aspect of the sequel, and there are many, is that Tom takes the key elements of Mission: Impossible and uses it for the obligatory training scenes.
But first, don't stop him now, he's having such a good time with an opener that mirrors the first movie, and then owes a debt to The Right Stuff. That 1983 classic about pilots and the space race was a forerunner of sorts to Top Gun anyway, and the scenes of Maverick trying to become the fastest man alive are a taster of what is to come. Incurring the wrath of Ed Harris's VIP is just one of the rules of the franchise. Our hero is called Maverick after all.
Jon Hamm's other VIP, Simpson (no doubt named after original TG producer Don Simpson), also gets to play the same outraged official, like one of those police chiefs who gives the hero 48 hours to solve a case.
"Emotional heart"
Act one is unpacking a lot of baggage from the first movie's payload. Our hero's guilt over the death of his mate; Goose's pilot son (Miles Teller) who 'Mav' wanted to protect from a similar fate, and THAT mission. Seeded early on, with a nifty computer simulation, this is invaluable exposition for what follows. It's basically the Death Star run, only on Earth, with more twists, turns, and near-impossible walls of rock to navigate. Oh, and missiles. And enemy aircraft. And blacking out. Even Ethan Hunt would have shook his head and said "No way."
So there's the inevitable 'introduce the rookies' scene, where they (amazingly) don't know who Maverick is, and they insult their future trainer.
Maverick picks up with old barmaid girlfriend Penny (Jennifer Connelly – fabulous as ever), and there's an on-the-nose flashback to the first movie, which borders on parody, but tells everyone what they need to know, whether they saw the first film or not.
Once all that is unpacked, and we know who the mostly generic young pilots are, then things get really interesting. There's the emotional heart of the drama with a glorified cameo from an integral character from film one; Pete getting a ready-made family to slot into, if he survives the mission, and that constant reminder of how impossible the job is. And a scene of bonding where the new crew get to play on the beach while Tom bravely shows off his dad bod, while flashing that million dollar smile. Unable to grasp the concept of beach sports when such an important mission is pending, Hamm's VIP is soon put in his place by a man who knows how important beach sports are when flying multi-million dollar aircraft.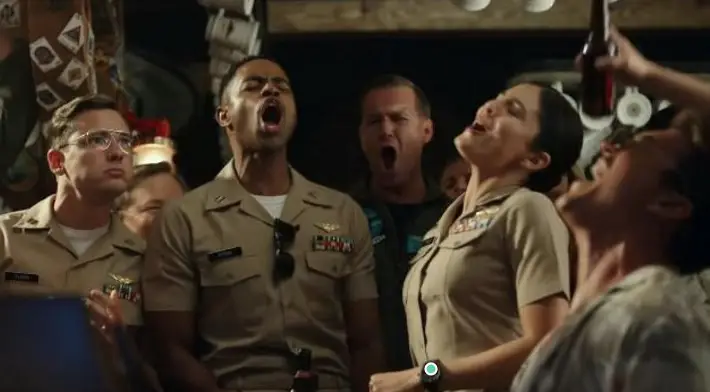 "Most exciting thing you'll see"
And then there's that third act where all of that behind-the-scenes tech development so IMAX cameras can capture the cast in fighter planes REALLY pays off.
Master editor Chris Lebenzon has been responsible for some of the greatest action films ever made, and he pulls out all the stops here. Director Joseph Kosinski shoots the whole film like the much-missed Tony Scott is standing over his shoulder, and those familiar clangs of Harold Faltermeyer's original score permeate the soundtrack, as well they should. Hans Zimmer and Lorne Balfe also do a fine job on the music/scoring front.
While there's a hint of Lady Gaga's love theme, 'Hold My Hand' in a bar sequence, it naturally pays off later. Yes, it's infectious and may land her another Oscar.
But it's all about that third act, which is hands down the most exciting thing you'll see in a cinema all year, maybe all decade. I was pushing back in my seat so hard, I thought I'd pull a muscle. It's the first movie featuring aerial scenes where I've actually felt like G-forces are assaulting me.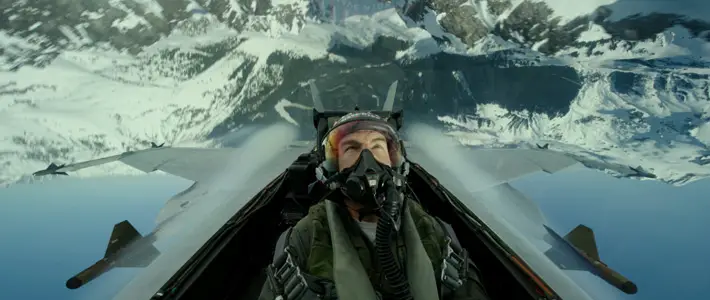 "Improves on the original"
And though there are thematic echoes of Jerry Bruckheimer's Pearl Harbor, the huge mistakes with that movie, especially the last half hour, are put right here. The multi-layered finale gets everything so right, it's a pleasure to behold.
Seriously, if you only watch this on a phone, you're missing 99% of the experience. It's what IMAX was invented for, and Cruise and his team deserve all the applause that comes. Yes, we privileged few did clap the ending during the UK premiere, it was that good.
Top Gun: Maverick is that rarest of sequels which improves on the original, and then some. As the closing credits rolled, the atmosphere in the cinema was electric, like seeing your favourite band on top form after decades of waiting.
I wouldn't need much of an excuse to see it again, as long as it's on the biggest screen possible. Did it take my breath away? Absolutely.
Roger saw 'Top Gun: Maverick' at Cineworld York
Top Gun: Maverick is in cinemas now