True Romance (1993) – Film Review
Director: Tony Scott:
Cast: Christian Slater, Patricia Arquette, Dennis Hopper
Certificate: 18
By Sarah Morgan
In 1987, Quentin Tarantino was an unknown hoping for a big break in the movie business. That was the year he co-wrote and directed his first movie – no, not Reservoir Dogs, but a black and white amateur production called My Best Friend's Birthday.
It remains incomplete, but the screenplay would form the basis for True Romance. He'd originally intended to direct it, but lost interest and sold the script, which was eventually shot by Tony Scott – it was released after Reservoir Dogs became a huge hit and helped seal Tarantino's burgeoning reputation as a groundbreaking film-maker of note.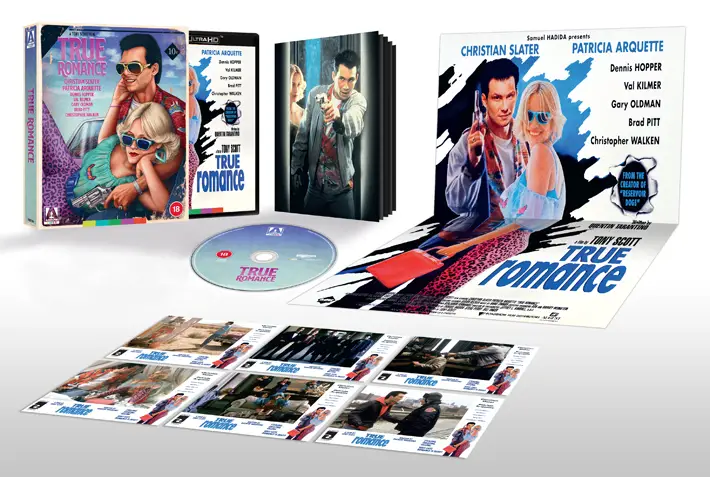 "Bloodbath"
Christian Slater plays an Elvis-obsessed comic book store employee Clarence who falls madly in love with hooker Alabama Whitman (Patricia Arquette). They become instantly inseparable, marry within 24 hours of meeting and go on the run after Clarence kills Alabama's ultra-possessive pimp. He also steals the villain's stash of drugs and hopes to sell it to help them fund a new life in Hollywood.
Unfortunately, what the blissfully smitten couple don't know is that the cops and the mob are closing in on them…
Slater and Arquette are completely lovable in the lead roles – viewers tend to fall for them as much as they do for each other. We're completely rooting for them throughout, despite knowing some kind of bloodbath will occur eventually. This is, after all, based on a Tarantino script – he's never been one for pulling his punches.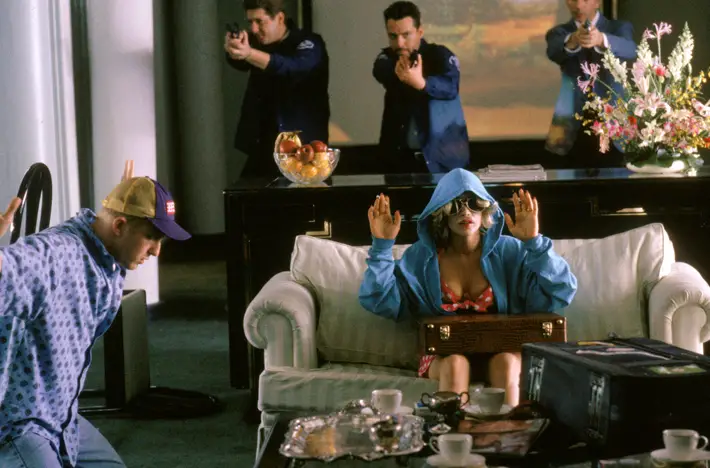 "Loved a spin-off"
Scott assembled an incredible supporting cast too, which includes James Gandolfini, Michael Rapaport, Saul Rubinek and an almost unrecognisable Gary Oldman. Also popping up is Chris Penn, fresh from Reservoir Dogs, and three other actors who would make bigger marks in the Tarantino universe in future years – Samuel L Jackson, Tom Sizemore and Brad Pitt.
But it's Christopher Walken as a mob boss and Dennis Hopper as Clarence's father who deliver the most memorable moment during a tension-filled showdown. Those two bounce off each other wonderfully – I for one would have loved a spin-off featuring their characters.
True Romance continues to win new fans almost 30 years since its cinema release, and deservedly so – it's a modern classic. And now, you have two versions to call on – both the theatrical release and director's cut are on this Arrow reissue.
4K ULTRA HD BLU-RAY LIMITED EDITION CONTENTS:
• New 4K restorations of both the Theatrical Cut and the Director's Cut from the original camera negatives by Arrow Films
• Limited Edition packaging with reversible sleeve featuring newly commissioned artwork by Sara Deck
• 60-page perfect-bound collectors' booklet featuring new writing on the film by Kim Morgan and Nicholas Clement, a 2008 Maxim oral history featuring interviews with cast and crew, and Edgar Wright's 2012 eulogy for Tony Scott
• Double-sided poster featuring original and newly commissioned artwork by Sara Deck
• Six double-sided, postcard-sized lobby card reproductions
• 4K (2160p) UHD Blu-ray presentation in Dolby Vision (HDR10 compatible) of both cuts
• Original uncompressed stereo audio and DTS-HD MA 5.1 surround audio
• Optional English subtitles for the deaf and hard-of-hearing
• Audio commentary by director Tony Scott
• Audio commentary by writer Quentin Tarantino
• Audio commentary by stars Christian Slater & Patricia Arquette
• Audio commentary by critic Tim Lucas
• Select scene commentaries by stars Dennis Hopper, Val Kilmer, Brad Pitt and Michael Rapaport
• Brand new select scene commentary by star Saul Rubinek
• New interview with costume designer Susan Becker
• New interview with co-editor Michael Tronick
• New interview with co-composers Mark Mancina and John Van Tongeren
• New interview with Larry Taylor, author of Tony Scott: A Filmmaker on Fire
• New interview with Daniel Storm, co-founder of the annual True Romance Fest and owner of the original Cadillac
• Deleted scenes with optional commentary by Tony Scott
• Alternate ending with optional commentaries by Tony Scott and Quentin Tarantino
• Electronic press kit featurettes, behind-the-scenes footage and interviews with Tony Scott, Christian Slater, Patricia Arquette, Dennis Hopper and Gary Oldman
• Trailers and TV spots
• Image galleries
True Romance is released on Limited Edition 4K UHD Blu-ray by Arrow, £34.99