A Q&A with The Taylor Twins
Delicate to anthemic rock, from twin brothers Oliver and Edward Taylor…
What's the title of your latest release, and what does it mean to you?
'Lost All The Summer' – it's an expression of frustration about missing out on things in the past, and knowing better this time, making the most of everything life has to offer from now on. It's about growing into yourself."
What was the hardest part about putting this release together, and why?
The most difficult thing about this release is actually boring things like sorting out behind the scenes things, like how to distribute the song online, and things like that. A lot of information to remember, but if you're releasing independently these are the things you have to get clued up on! All the creative side is usually very enjoyable!
What do enjoy most about producing your own material?
Having full creative control, nothing becomes diluted in the process, but it's always nice to have another persons ears there to listen to the progress after each session!
What do you want the listener to take away from listening to your music?
A feeling of humour and pure feel good excitement.
How does a track normally come together? Can you tell us something about the process?
Normally one of us will present the other with quite a fully formed idea from the start and then it will go through the musical sieve together until the end!
What band/artists have influenced you the most since you started this project, and why?
We have a huge love for music with fun in it, but some of our favourite artists would have to be ELO, Steely Dan, and every member of the Travelling Wilburys and their previous bands before.
What countries would you like to tour? Are there any standout venues you'd like to play in?
I think the idea of touring the US is every band/artists' dream. Maybe The Fonda Theatre in Los Angeles, but with Europe on our doorstep how could you say no… We would love to tour places like Italy, Netherlands and Scandinavia, beautiful scenery to look at! Dream venue would probably be Paradiso in Amsterdam, or Eventim Apollo in London! Just nice ceilings to look at!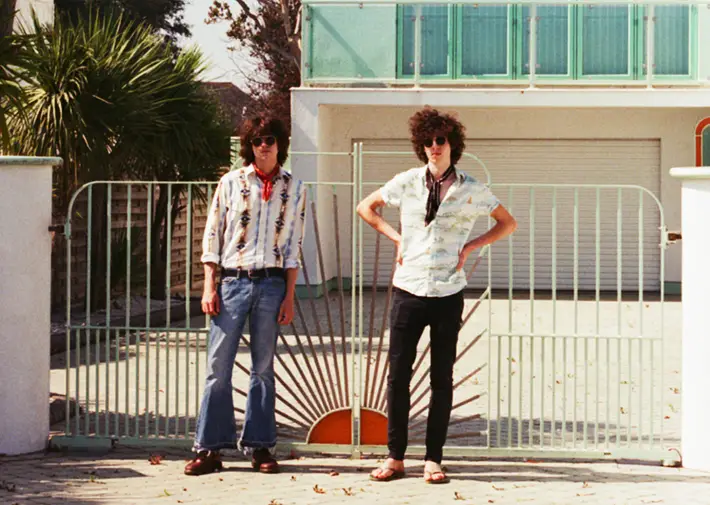 If you could pick one track for our readers to listen to in order to get a taste of your music, what would you pick, and why?
'Lost All The Summer' because it's the first track we've released and we think it's a nice uplift for the time we're living in at the moment!
What ambitions do you have for the band/your career?
Being able to support ourselves financially and focusing purely on writing songs, having a lovely time doing it and and giving people something wonderful to enjoy!
Finally, as you leave the stage, what are your parting words?
See you at the merch table in 10 minutes, we've got a waldorf salad to polish off!
For more info visit: instagram.com/thetaylortwinsmusic