Get Carter (1971) – Film Review
Director: Mike Hodges
Cast: Michael Caine, Ian Hendry, Britt Ekland
Certificate: 18
By Sarah Morgan
"You're a big man, but you're in bad shape. With me it's a full-time job. Now behave yourself."
"A pint of bitter – in a thin glass."
"You know, I'd almost forgotten what your eyes looked like. Still the same. P***holes in the snow."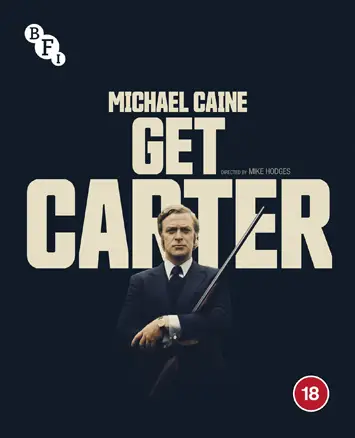 Is there a British film with more quotable lines than Get Carter? Drop any of the above into conversation, and perhaps half a dozen others, and people instantly know what you're talking about.
"Memorable quest for vengeance"
The film is now more than half a century old, and yet it continues to win fans with each new generation – and the latest are bound to be enthralled by a 4K and Blu-ray release from the BFI. Director Mike Hodges says the quality is fantastic – and he's absolutely right. In fact, the film probably looks better now than it did on its big screen release in 1971.
From the moment Roy Budd's incredible opening theme kicks in, you know you're onto a winner. It's slick and cool, and yet with a hint of menace and foreboding – just like the central character played by Michael Caine.
Jack Carter may be impeccably dressed, but he's a tough, uncompromising gangster who could teach the characters in Raymond Chandler's Farewell My Lovely – the book he's reading on the train when we first see him – a thing or two.
Jack is swapping his adopted home of London for Newcastle, where he's hoping to find out more about his brother's supposedly accidental death. What he finds is a sordid mess involving corruption, organised crime, porn and paedophilia, prompting him to begin a memorable quest for vengeance.
Brutal and uncompromising, the film is based on former Barton-upon-Humber resident and Hull Art School student Ted Lewis's second novel, Jack's Return Home, which has been credited with creating the British noir school.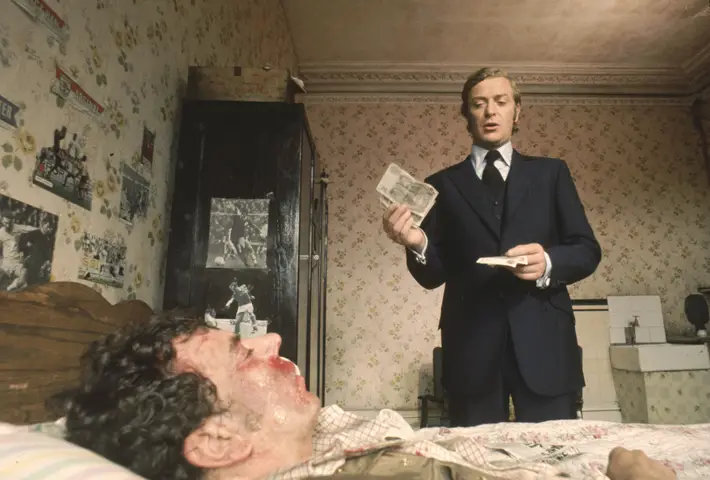 "Wonderful package"
Lewis's life is charted in Nick Triplow's brilliant biography Getting Carter: Ted Lewis and the Birth of Brit Noir. In fact, my only criticism for the new release is that Triplow wasn't somehow involved in it; a documentary about the author's life and career would have been enlightening to those familiar with only the film version of his most famous work.
Having said that, there are plenty of special features to enjoy, including audio commentaries with Hodges and Caine, a recent interview with the director at the BFI, and an insight into Budd's career.
It's a wonderful package for a film that just keeps getting better with age. No matter how many times you've seen it, that final scene on a bleak, windswept beach still takes the breath away – and will still be doing so another 50 years from now.
Special features:
● UHD - 4K (2160p) presentation in Dolby Vision (HDR10 compatible)
● Blu-ray - presented in High Definition
● Newly recorded introduction by Michael Caine (2022, 3 mins)
● Audio commentary featuring Mike Hodges, Michael Caine and Wolfgang Suschitzky (2000)
● Audio commentary featuring Kim Newman and Barry Forshaw (2022)
● Isolated score by Roy Budd
● Mike Hodges in Conversation (2022, 60 mins): the director discusses his career in this interview recorded at BFI Southbank
● Klinger on Klinger (2022, 24 mins): Tony Klinger recalls and evaluates the career of his father, Michael Klinger, Producer of Get Carter
● Don't Trust Boys (2022, 22 mins): actor Petra Markham reflects upon her career on stage and screen, and recalls her role in Get Carter
● The Sound of Roy Budd (2022, 17 mins): Jonny Trunk explores the varied career of Roy Budd, and revisits his iconic score for Get Carter
● BBC Look North location report (1970, 5 mins)
● Roy Budd Plays 'Get Carter' (1971, 4 mins)
● Michael Caine's message to premiere attendees (1971, 1 min)
● The Ship Hotel – Tyne Main (1967, 33 mins): Philip Trevelyan's evocative documentary film about a pub on the banks of the River Tyne
● International trailer (1971)
● Re-release trailer (2022)
● Script gallery
● First pressing only - 80-page book with a new essays by Mark Kermode and Tim Pelan; Alex Cox's introduction to the 1990 Moviedrome TV broadcast; an essay on composer Rod Budd and interviews with contemporary musicians/soundtrack composers by Jason Wood; biographies of Mike Hodges and Michael Caine by John Oliver; an extract from Michael Caine's autobiography What's It All About; credits and notes on the special features and restoration.
Get Carter is released on 4k Ultra HD and Blu-ray by the BFI, £34.99 / £29.99