Black Rainbow (1989) – Film Review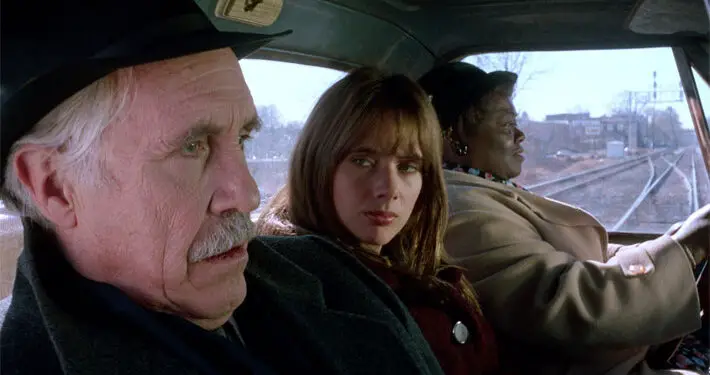 Director: Mike Hodges
Cast: Rosanna Arquette, Jason Robards, Tom Hulce
Certificate: 15
by Sarah Morgan
Mike Hodges may not be a prolific film-maker, but whenever you see his name attached to a project, you can rest assured it will be fascinating, attention-grabbing and visually arresting.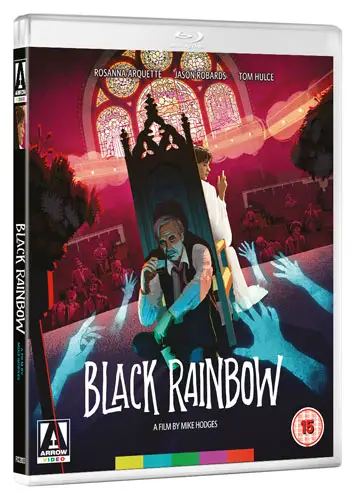 He started his directing career on TV but made his big-screen debut with Get Carter, which needs no introduction, and went on to make Flash Gordon, A Prayer for the Dying and Croupier.
All are much-admired, but there's another film that should be mentioned in the same breath – Black Rainbow. Sadly, because its distributor was in financial difficulty at the time, it never received the release it deserved and sank, almost without a trace. Hopefully this new Blu-ray release will allow it to be reassessed.
"Sinister"
Jason Robards and Roseanna Arquette star as father-and-daughter Walter and Martha Travis, who travel across the US, turning up at churches in remote communities to perform their act – Martha is a clairvoyant who claims she can connect the living with their dead loved ones.
However, things start to change and become increasingly sinister when Martha's visions become prophecies – she receives messages from those still alive, only to discover later that they've been killed in suspicious circumstances.
Tom Hulce co-stars as journalist Gary Wallace, who investigates Martha's activities and discovers there may be a link between what she reveals to accusations of corporate malpractice at a local factory.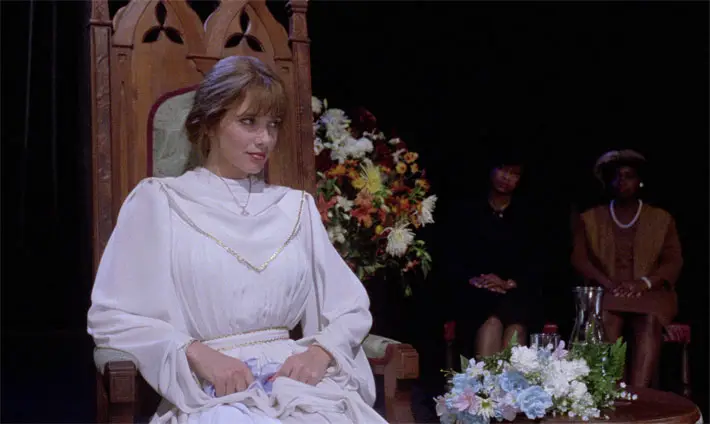 "Intriguing"
Hodges penned the screenplay as well as performing directing duties; he claims he was inspired by seeing evangelical preachers on US TV. He also offers us a view of America rarely seen on our screens – it's an unglamorous, unsentimental view of life in the small-town South. While some might think there is little to link Black Rainbow to Get Carter, both films are set in grimy post-industrial areas where there is seemingly not much hope for the local residents.
Arquette was at the peak of her fame at the time and is suitably ethereal as Martha, while Robards delivers a customarily strong performance as the alcoholic Walter, who seems to resent needing his daughter's skills to survive. Hulce is likeable enough as Wallace, although the supposed attraction between his character and Martha never quite rings true – she seems far too off-the-wall for his cynical reporter.
In all, Black Rainbow is an intriguing piece of entertainment that really shouldn't be merely a footnote in a skilled director's career.
DIRECTOR-APPROVED SPECIAL EDITION CONTENTS:
- Brand new restoration from the original negative approved by writer-director Mike Hodges
- Original stereo 2.0 PCM uncompressed audio and 5.1 DTS-HD Master Audio Surround Sound options
- Optional English subtitles for the deaf and hard of hearing
- New audio commentary by film historians Kat Ellinger and Samm Deighan
- Archival audio commentary by Mike Hodges
- Message in a Bottle: Archival 'Making of' documentary
- Archival interviews with Jason Robards, Tom Hulce, Rosanna Arquette - Archival featurettes '8 Minutes'; 'Disasters'; 'Seeing the Future'; 'Behind the Rainbow' featuring interviews with Hodges, Arquette, Robards, producer John Quested including behind-the-scenes imagery
- Trailer
- Reversible sleeve featuring original and newly commissioned artwork by Nathanael Marsh
Black Rainbow is released on Blu-ray by Arrow, £24.99