Roseate House, London – Review
By Kirsty Reid
Experiencing the fun-filled craziness of Christmas in the capital has been on my bucket list for as long as I can remember. So, when I was offered a two-night stay at London's luxurious Roseate House I jumped at the chance.
Spread across three 19th-century, Grade II townhouses, Roseate House boasts 48 boutique bedrooms and a plush, new restaurant. A stone's throw from Hyde Park, the hotel is well away from the hustle and bustle of shoppers and commuters, but just a short walk to Paddington station making it an ideal base for exploring all the city has to offer.
The reception area is large, airy and welcoming, though I can't help but notice the lack of Christmas decorations. Being late November, the rest of the city is covered in fairy lights and tinsel, but perhaps Roseate House is waiting until December to deck the halls with boughs of holly.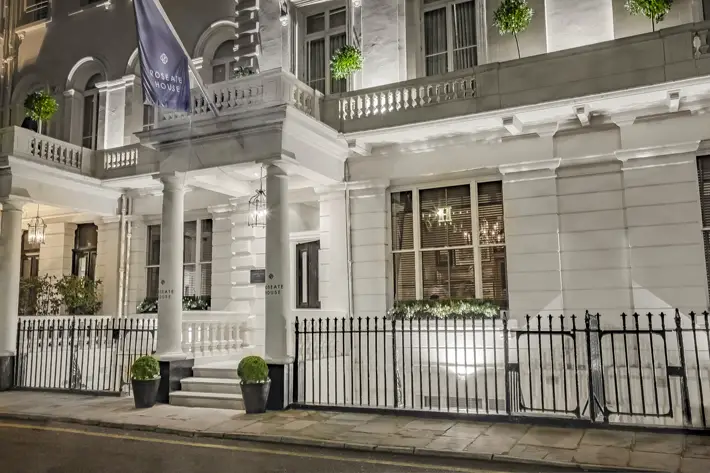 Check-in is fast and efficient and it's not long before my partner and I are shown to our fourth-floor room.
Our home for the weekend has everything we need for an enjoyable stay – fresh flowers, a hairdryer, a kettle with a selection of teas and a well-stocked mini bar.
Though a boutique hotel at heart, Roseate House offers just the right amount of modern touches – a TV, soundsystem, WiFi, temperature-controlled heating and a coffee maker. Anything more than that would ruin the ambience.
With a muted colour scheme of yellow and beige, our Classic Double Room boasts ornate Victorian furnishings from original oil paintings to an antique mahogany desk. There is also a dining table with chairs, and a fitted wardrobe with full-length mirrors hidden inside the doors.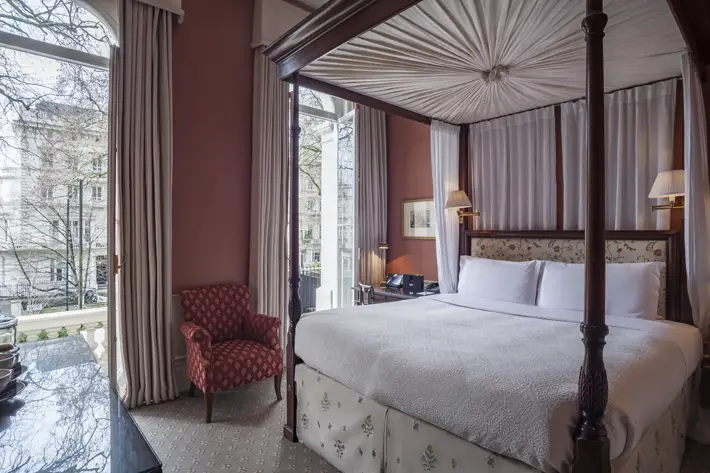 "Something extra"
After freshening up in the spacious bathroom, complete with luxury Penhaligon's amenities, we jump on the Central Line to Oxford Circus for Christmas shopping and cocktails.
Following a great night's sleep in our cosy double bed, we head downstairs for breakfast, which is served in The Hyde. The buffet (£20pp) features all the usual contenders – toast, cereal, fruit, juice, among others. There's certainly plenty to sink your teeth into. But, if you fancy something extra, you can opt for the buffet and kitchen menu (£25pp).
We settle on the latter and I order poached eggs and avocado on toast. According to the menu, my choice is the 'best breakfast ever' and I'm not one to dispute its claims. My other half orders eggs royale and he's more than happy with his choice. Despite the seating area being almost full, service is swift.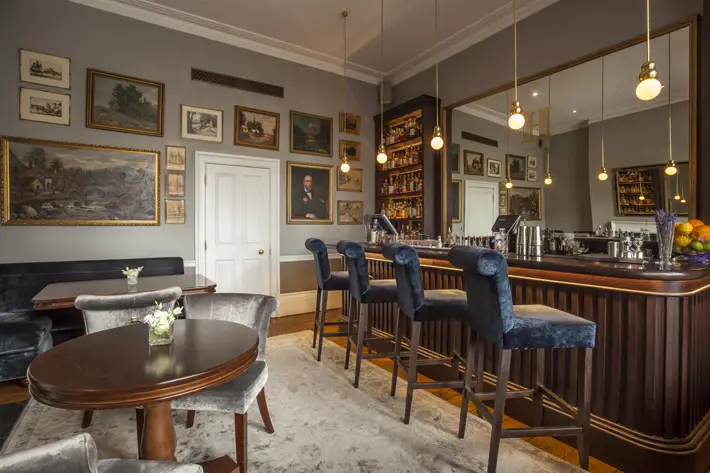 After fuelling up, we feel ready to tackle the brisk outdoors and head across to Hyde Park's Winter Wonderland. In broad daylight the festive attraction looks much less appealing, but we navigate around the stalls with ease and even have the ice rink to ourselves for a while, too. I consider that a win in my eyes.
Located close to both a central line station (Lancaster Gate) and Paddington station – a hub for other main lines, Roseate House is in easy reach of all the major landmarks and attractions. But, if you don't fancy the tube, the Royal Albert Hall, Saatchi Gallery, Science Museum and Natural History Museum are all within walking distance through Hyde Park.
After a long day of exploring the city sights, we return to our hotel to refuel at The Hyde – Roseate House's new restaurant headed by executive chef Christos Siomadis.
The menu promises to offer the very best of sophisticated modern European cuisine, blending classic flavours and combinations with innovative contemporary twists.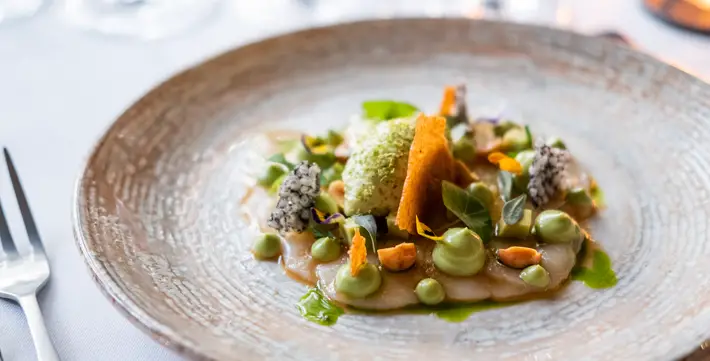 "Immaculately presented"
We are seated in no time and served chilled water with lemon while we peruse The Hyde's impressive drinks menu. We opt for a bottle of light, refreshing rosé (Pierre et Papa Rosé IGP Pays D'Hérault, 2018, £30) and set about the difficult task of choosing our food. It's rare that I dine at a restaurant so refined and I'm surprised by the ample selection on offer.
The Jerusalem artichoke and black truffle (£12.50) catches my eye. It's not a dish I'd usually choose but, to be honest, most of the menu is out of my comfort zone. As I sample the delicious slow-cooked salsify, wild mushrooms à la grecque, white miso and black truffle, I am both intrigued and excited for my next dish.
My other half opts for the foie gras (£16.50), served with Teriyaki-glazed chicken wings, orange fluid gel, black sesame sponge and red grapes, it arrives swiftly, immaculately presented and full of flavour.
After a palate cleanser, our mains arrive. My dish of corn-fed chicken and black truffle (£23.50), served with chicken wing, celeriac, flamed Jerusalem artichokes and Szechuan pepper jus, is exquisite.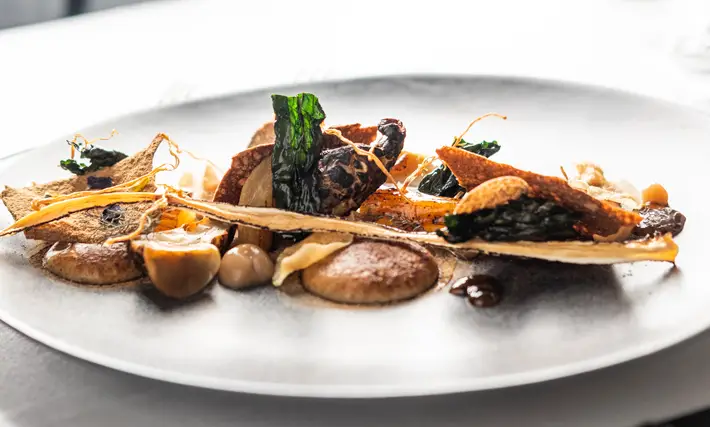 My partner is equally thrilled with his duck dish (£29.50), served with lemongrass compressed pear and spinach purée.
A pre-dessert of dark chocolate mousse follows. Smooth and creamy, my partner's bowl is empty in no time, though I'm less keen on its rich flavour.
Next is the grand finale – dessert. My partner savours every mouthful of his café gourmand (£12.50), coffee served with a selection of dark truffles. Despite being a massive chocolate lover myself, I snub his offer of a taster and instead devour the slow-cooked pineapple (£9.50), served with passion fruit 'glass' and crispy shiso leaves.
The staff here are excellent. Julian couldn't have done more for us and, looking around the room, it's clear we're not the only happy punters.
The next day, we tuck into another delicious breakfast of eggs benedict (me) and The Hyde's full English (my partner), before heading for our train home, satisfied to have ticked another thing off my bucket list.
Roseate House, 3 Westbourne Terrace, Paddington, London, W2 3UL
Rooms at Roseate House London from £249 inclusive of breakfast
020 7479 6600
roseatehotels.com