Peter Pan and Wendy (Manuscript Reproduction) by J.M. Barrie – Review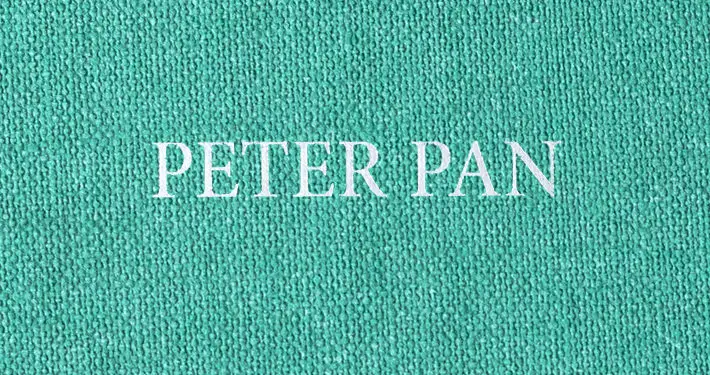 By James Robinson
The story of Peter Pan has resonated with audiences ever since JM Barrie's original play was first performed in 1904. The story of the Boy Who Never Grew Up is bathed in a nostalgia that seems to resonate with youngsters and adults alike. Few stories tackle so directly the fleeting nature of childhood and the bittersweet passage of time. Only the hardest of hearts could fail to be won over by the melancholy undercurrent beneath this otherwise exciting tale of fairies, far-away lands and fearsome pirates. It's what makes it so magical.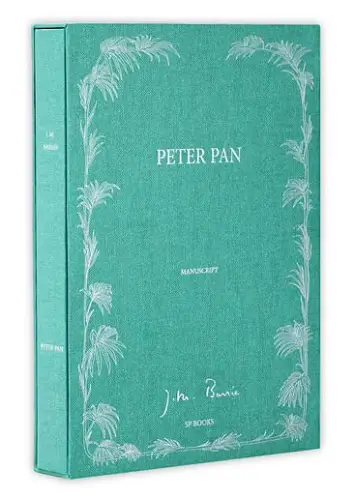 Such a piece of work is highly deserving of this incredible new edition from SP Books, a boutique French publisher that specialises in reproducing the original hand-written manuscripts of great works of literature.
For the first time, readers can own an authentic, lovingly restored print reproduction of JM Barrie's original draft of Peter Pan and Wendy, his 1911 novelisation of the play. Until now this has only been accessible via the New York Public Library's Berg Collection.
"Intimate reading experience"
It's a rare treat to be able to read an author's work in their own handwriting. Although it takes a moment to acclimatise to Barrie's incredibly neat – somewhat period specific – script, you soon find it makes for an extraordinarily intimate reading experience, as if he's addressing you directly through the mists of time.
It's also fascinating to see the various crossing outs and re-writes, not that there are many of them, much of the story having apparently emerged fully formed.
Peter Pan is famously a fluid text that saw several revisions during Barrie's lifetime. It has since been adapted to various other forms that loom large in the public imagination, particularly the 1953 Disney cartoon and Steven Spielberg's spin-off Hook. As a result, there are elements in the original that may come as a surprise to the casual reader, particularly its more sinister side: Captain Hook is a darker, more intimidating character; the crocodile that swallowed a clock much more frightening.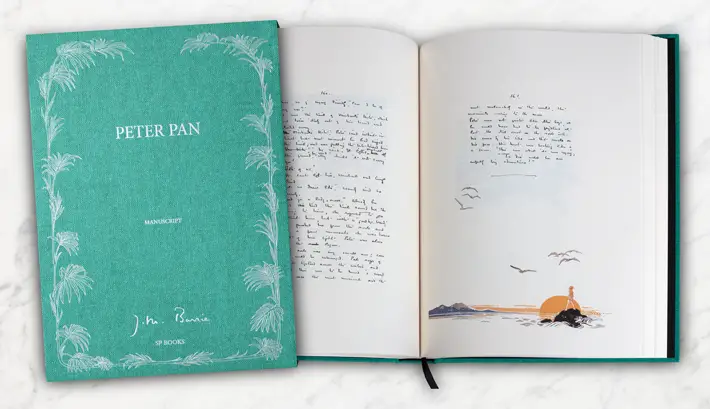 "Exquisite piece of work"
The unique atmosphere of the novel is perfectly captured in the full-colour illustrations by Gwynedd Hudson. Taken from a rare 1930s edition of the novel, they are stunningly beautiful, capturing the childlike wonder of the story. The intricate, pen-and-ink depictions of Edwardian London hark back to what, even by the 30s, must have seemed like a more innocent age, while Hudson's Never-Never Land (as it is known in this version) is alive with action.
Considered simply as an object, this book is an exquisite piece of work. The manuscript is presented as a large-format (14" x 10") boxed, cloth-cover hardback in emerald green. The slipcase and cover decorations are iron gilded, while the manuscript is printed on thick, cream Fedrigoni Avorio Paper that provides for pin-sharp reproduction of Barrie's penmanship along with illustrations that leap off the page. It even smells great. Bibliophiles are guaranteed to be knocked out by it.
It is limited to 1,000 hand-numbered copies, as are the other manuscripts reproduced by SP books. It is likely to stimulate the collector's impulse inside most readers, who will likely not be able to resist the other handsome bound works in the publisher's catalogue, including The Great Gatsby, Alice in Wonderland and The Picture of Dorian Gray.
Unpublished original manuscript of J.M. Barrie's 1911 novel, reproduced for the first time in his own handwriting, containing 21 full-page colour illustrations from a rare 1930 edition by acclaimed children's book illustrator Gwynedd Hudson. Limited to 1000 copies. RRP: £140 from spbooks.com