Happy Mondays – Live Review – Leeds O2 Academy
By Victoria Holdsworth, December 2019
The Manchester legends were back in full force tonight, rolling back the years with a pre-Christmas cracker of a show. Kicking off with 'Kinky Afro', it saw the crowd go immediately ballistic. It was a raucous start to the night, and there was to be no let up all night as 'Performance' and 'Donovan' followed.
The band were all about the business tonight, with a bit of footballing banter thrown in for good measure, although Bez's repeated efforts to start a Yorkshire chant kept going by the wayside to comedic effect.
Singer and frontman Shaun Ryder stood almost completely still for the entire set, but he has Bez to do his strutting for him, and 'God's Cop' saw the neat guitar riffs of Mark Day perfectly meld with the whole Northern soul vibe of the track, before Rowetta came to the forefront as she hollered beautifully through 'Loose Fit', making every hair in the place stand on end.
Whilst Ryder et al are all well into their 50s now, you would never really know and their dedication to the scene they helped create is commendable.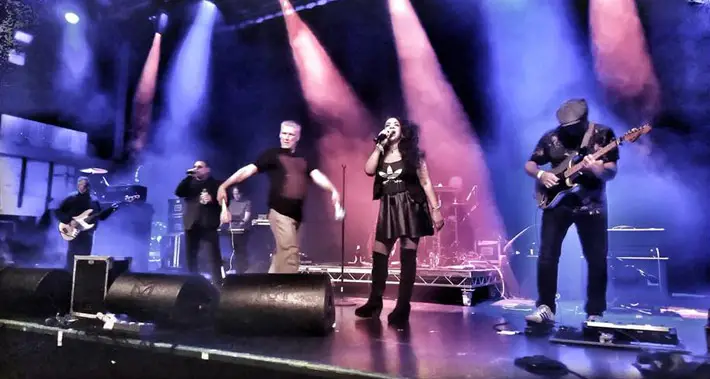 "Ultimate anthem"
The energy-filled 'Dennis and Lois' kept the sold out crowd going, and it was a real treat to hear this played live, as it seldom makes the set list. The energy in the venue was even more palpable when they ripped into 'Rave On'.
There were one or two false starts tonight, mainly due to Shaun not remembering or reading his set-list, but all is forgiven in a split second as soon as you hear the opening two bars of any Happy Mondays' song. Besides. it wouldn't be Happy Mondays without a glitch or two along the way.
A personal favourite, 'Bob's Yer Uncle', saw many a middle-aged patron bobbing up and down. It was followed by a cluster of early tracks, 'Clap Your Hands', 'Tart Tart' and 'Mad Cyril', all of which were well received by the boisterous crowd.
It was at this point in the set, that the bigger guns came out – although to be fair we had already been spoilt with their choices so far. The ultimate anthem to end all anthems, '24 Hour Party People', lifted the roof! It was clearly all too much for Bez at this point, and he took himself off for a well earned sit down at the side of the stage.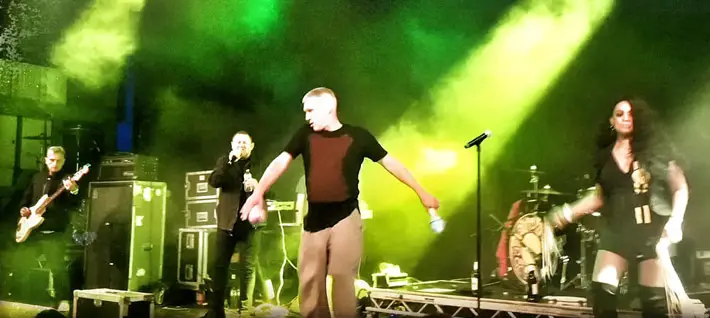 "Irresistible"
'Hallelujah' again demonstrated the vocal talents of Rowetta. The lungs on this girl are unbelievable, you could stick her on stage at Wembley without need for any amplification, her vocals are that strong. The laser displays for this track gave a real Haçienda feel to the venue, and saw Bez waving his maracas through all the lights, like he was trying to charm a snake out of its basket.
The younger faces in the crowd were lapping it up too, some of whom weren't even born when this came out, proving how timeless the Happy Mondays' back catalogue is, now spanning four decades.
There was only one song that the Mondays could conclude their set with, the irresistible 'Step On'. The opening keyboard riff cues more freaky dancing than you could shake a stick at. At one point Bez got more than what he bargained for, when trying to wind up Rowetta on stage, she simply grabbed his balls and moved him out of the way. A braver woman than me.
It was the perfect end to a 90-minute set, with an encore of 'Wrote For Luck', the 1988 classic from the album Bummed. It saw the crowd get even messier, before they all piled out full to the brim of their Madchester fix in Leeds.
images: Mark James Allen