Listified!: Britannica's 300 Lists that will Blow your Mind by Andrew Pettie – Review
By Sophie Macintyre
I recently had the pleasure of proofreading this epic book of facts. I realise that makes me biased – but it's not often that I actually enjoy reading a book that I'm also proofreading.
There is something in this book for everyone – adults and kids alike. It's one of those books where you can enjoy reading it to your children, because actually, it's interesting and funny enough for you to read too. There will always be something new to discover: a page you haven't read, or an interesting fact that you hadn't absorbed previously. My son dived straight into the dinosaur section with glee and discovered that Oviraptors weren't stealing Protoceratops' eggs as first thought, but actually protecting their own eggs.
The cover is eye-catching – and silver. Who doesn't love a metallic silver cover? The inside is uncoated paper, which gives it a more natural feel, so the combination gives you the best of both worlds – shiny cover–textural pages.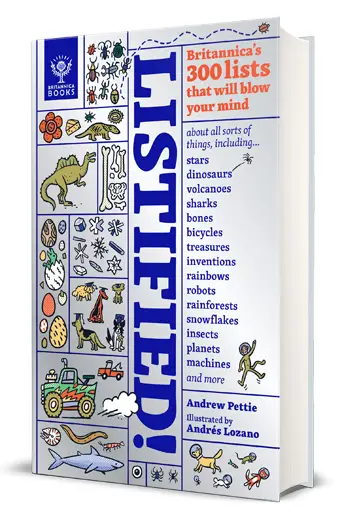 The book is broken down into 8 Chapters: Space, Nature, Dinosaur Times, Animals, The Body, Being Human, Inventions, and Game Changers, which are clearly signposted with section pages. A book that is filled with page after page of facts could potentially be quite dry, but it's not – it's completely absorbing – it's like falling down a rabbit hole of wonder. If only my brain could save all the information in it, I would be the best conversationalist. You could pick any topic and I'd be able to reel off at least three interesting, relevant facts.
"Reliable"
The illustrations by Andrés Lozano really complement the quirky style of writing, and are used alongside other photographic illustrations such as the Taj Mahal, or the Cottingley Fairies photograph, which are fascinating in their own right.
You can pick any page at random and I guarantee you will find something amazing on there. From the Fibonacci sequence in nature, to which animals can jump the furthest, the 33 tools in a Swiss Army Knife, or the most-visited buildings and monuments. It even has a page about how we share 60% of the same DNA as a banana! Yes – you read it right – a banana.
All the facts have been verified by Britannica researchers, as explained at the start of the book, which lends credibility to the incredible information therein. I often wonder about the validity of 'factual' information when I read non-fiction books for children, so it's nice to have the research methodology explained at the start, and means the information is reliable. It is also what you would expect from the oldest English-language general encyclopaedia: The Encyclopædia Britannica was first published in 1768, when it began to appear in Edinburgh, Scotland and has been around for 250 years.
Listified really is a mind-blowing book that I will definitely be buying as a present for friends. I just hope they don't spot any errors!
'Listified!: Britannica's 300 lists that will blow your mind' by Andrew Pettie is published by What on Earth Books, £18.99