After the Fox (1966) – Film Review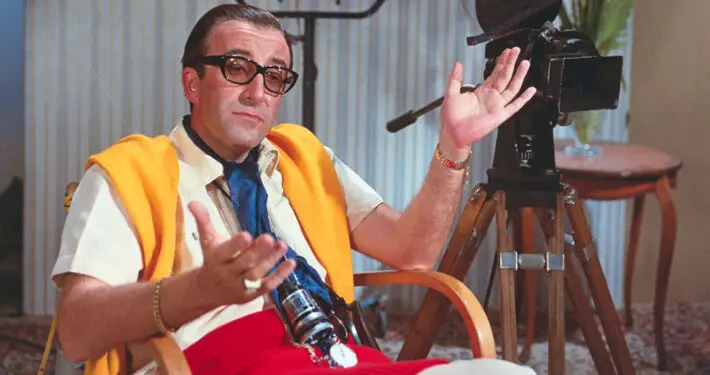 Director: Vittorio De Sica
Cast: Peter Sellers, Victor Mature, Britt Ekland
Certificate: U
by Sarah Morgan
Peter Sellers was a curious character. The 1960s should have been the peak of his career – after winning a Bafta for his memorable performance as union leader Fred Kite in I'm Alright Jack in 1959, he gained international success thanks to a series of big screen smashes.
Some might say that the hits went to his head; they certainly seem to have done little for his decision-making.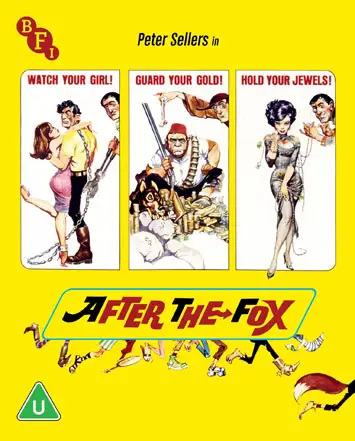 After The Millionairess and the first two Inspector Clouseau films, as well as working with Stanley Kubrick on Lolita and Dr Strangelove, Sellers' ability to pick scripts worthy of his talents seemingly vanished.
So, at the height of his fame, he made such lacklustre offerings as What's New Pussycat?, Casino Royale, The Bobo and I Love You, Alice B Toklas. After the Fox is another that could be added to the list.
"Misfiring project"
What drove Sellers to make such tosh? Was it the money? Was it bad luck? Did his ego get in the way of creating something memorable? Or did he truly believe he could be an international screen star in the mould of, say, Cary Grant, and so took on roles that were simply unsuitable?
Whatever the reason, fans – like me – who are intrigued by his state of mind as much as by his performances, have had plenty to discuss over the years.
In After the Fox, he's paired on screen by his then-wife Britt Ekland in a misfiring project directed by Vittorio de Sica from a screenplay by Neil Simon; the resulting film is much less than the sum of its parts.
Simon had three plays on Broadway at the time, while de Sica was one of the leading lights of Italian neo-realism whose magnum opus, The Bicycle Thieves, is still regarded as one of the greatest movies ever made.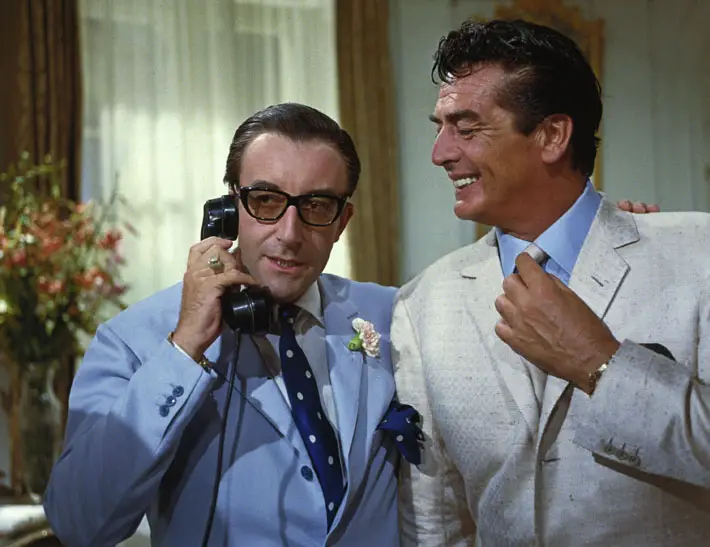 "Overblown"
So, what went wrong? It's difficult to pinpoint because the ingredients are all there. The plot – which involves a crook posing as a filmmaker to smuggle stolen gold into Italy under the noses of the authorities – is great on paper, as are a number of in-jokes about the movie industry.
But for some reason it doesn't hold together well. Ekland, who had limited experience before shooting began, is fine as Gina, the wannabe star, but Sellers is overblown as her criminal brother Aldo; sometimes less is more. Victor Mature, who had been enticed out of retirement to play the role of an ageing film star, could have toned it down a little too.
Maybe de Sica (who also has a cameo as himself) needed a stronger hand to keep these two big personalities in check. And maybe Mr Simon needed to add a few more gags too.
There are, however, a wealth of special features to enjoy that are far more interesting and entertaining than the film itself, including a recently filmed interview with Ekland.
Special features:
Presented in High Definition
After the Fox: A Socially Distanced Interview (2020, 15 mins): Britt Ekland looks back on the early days of her acting career and remembers the making of After the Fox
Peter Sellers: Master of Disguise (2020, 14 mins): the BFI's Vic Pratt revisits the enigma of Peter Sellers and his multiple roles in this video essay illustrated with promotional images for After the Fox
DDR Magazin Nummer 11 (1962, 12 mins): After the Fox director Vittorio De Sica – paying a visit to Berlin – features prominently in this fascinating East German newsreel produced in the Cold War era
Robbery (1897, 1 min): could this Victorian novelty reel be the earliest heist comedy?
The Man With the Velvet Voice: Maurice Denham (1961 + 1975, 72 mins): the mellow tones of velvet-voiced actor Maurice Denham – who plays an authoritative supporting role in After the Fox – ring out in two rarities from the BFI National Archive: the CFF classic The Last Rhino and BTF film Go As You Please… in Britain
Original trailer
After The Fox is released on Blu-ray by BFI, £19.99