Enola Holmes (2020) – Film Review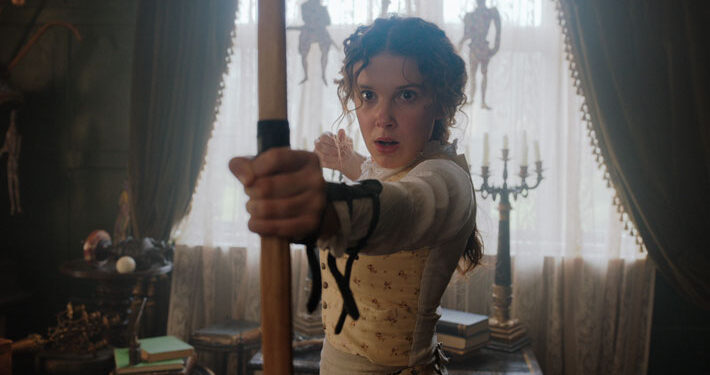 Director: Harry Bradbeer
Cast: Millie Bobby Brown, Henry Cavill, Helena Bonham Carter
Certificate: 12
by Roger Crow / @RogerCrow
I can't say I was desperate to see a film about Sherlock Holmes' little sister, but stranger things have happened. Yes, that tortuous segue is one way of mentioning the fact that Millie Bobby Brown wins the brightest star of 2020 award by not only starring in this film, and stealing every scene she's in, but also producing the movie.
No, not one of those vanity "Associate" or "Executive Producer" titles which stars get just for turning up, but actually producing the film. Not bad for a 16 year old.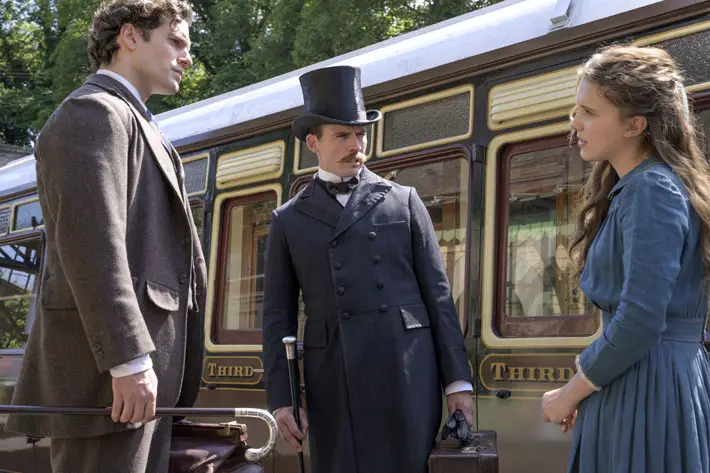 "Gorgeous landscapes"
Cut from the same cloth as Robert Downey Jnr's Sherlock Holmes movies, it sees an impressive Henry Cavill taking a back seat as Conan Doyle's beloved detective.
The plot involves Enola's upbringing, a renegade young toff, and the eponymous heroine's missing mother.
Naturally there's a sub plot involving the suffrage movement, and action scenes with a steam train, and also the ever reliable Burn Gorman doing his sinister assassin routine.
With Helena Bonham Carter and Frances De la Tour chewing the scenery, and some gorgeous landscapes, both rural and London based this is a lot of fun.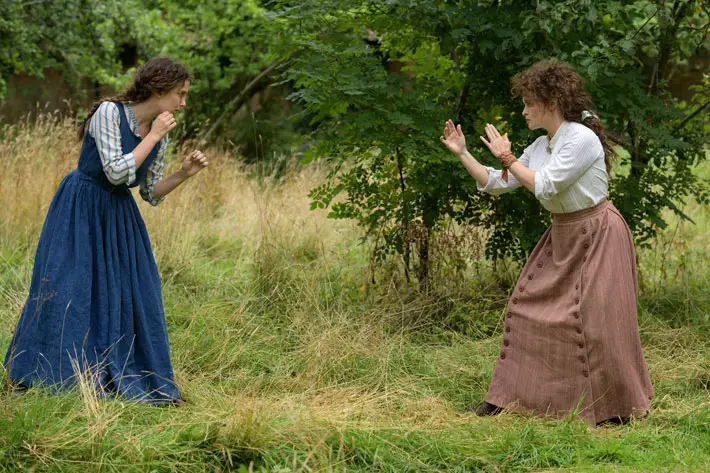 "Setting the standard"
It's superbly directed by Harry Bradbeer, who helped turn Fleabag and Killing Eve into THE comedy dramas of the past decade. So yes, there's plenty of fourth wall breaking, but with the wrong actor it could have been a disaster. Thankfully Ms Brown nails every wink, smile and knowing look to camera. And there's plenty of visual tricks to keep the audience engaged when the plot starts to sag a little. Animated bits, sketches, torn paper – just a feast for the eyes.
I can only guess at the budget, but every penny is up there on screen. In a normal year this would have been a great big screen treat for the whole family, but I'm guessing Netflix only intended it for home audiences, and kudos to them and Legendary Pictures for setting the standard so high.
I may have to watch it again. The plot is far from elementary, but as mentioned, it is a lot of fun, and a sequel would be more than welcome.
images: LEGENDARY ©2020
Enola Holmes is currently streaming on Netflix