Mission Impossible: Dead Reckoning – Part One (2023) – Film Review
Director: Christopher McQuarrie
Cast: Tom Cruise, Hayley Atwell, Simon Pegg
Certificate: 12A
By Roger Crow
At the start of James Cameron's 1989 epic The Abyss, a nuclear submarine encounters an entity; the crew are killed, and a load of nukes linger on the seabed awaiting rescue.
For film lovers, there's more than a ping of familiarity about the intro of Mission Impossible: Dead Reckoning – Part One, like a sonar recognising an enemy craft. And although we've been here before in films such as a couple of 007 epics, and Cameron's wet version of Close Encounters, there's so much going on with MIDRPO, as nobody is calling it, that you never feel short changed. Quite the opposite.
Ethan Hunt (Tom Cruise) and the old IMF gang are back together. Benji Dunn (Simon Pegg) and Luther Stickell (Ving Rhames) are like part of the furniture in Cruise's juggernaut of chaos.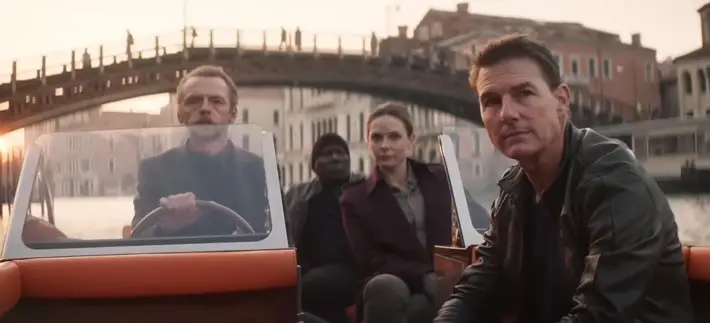 "Great backdrop"
The sublime Ilsa Faust (Rebecca Ferguson), one of the saga's strongest assets since Rogue Nation, gets to do her glacial assassin thing; Vanessa Kirby is back as The White Widow, a sales mediator between rival factions bidding in this case for a cruciform key. Like Dead Reckoning, it's available in two parts, but how well the second movie slots into this one remains to be seen.
Strongest newcomer to the franchise is Hayley Atwell's Grace, a light-fingered stranger who Hunt crosses paths with while Benji and Luther attempt to deactivate a very smart bomb at an airport. All of which paves the way for a hugely enjoyable chase round Rome in assorted cars where dozens of scooters are trashed. Hunt and Grace are cuffed together, which adds to the fun, and it's here where the movie really shines. Fun, action packed, and like Fast X, Rome is such a great backdrop for OTT action that it's a joy to behold.
Before long we're off to Venice, where there's more chases and a showdown on a bridge – one of 'those' moments which feels inevitable, but seems glossed over all too quickly.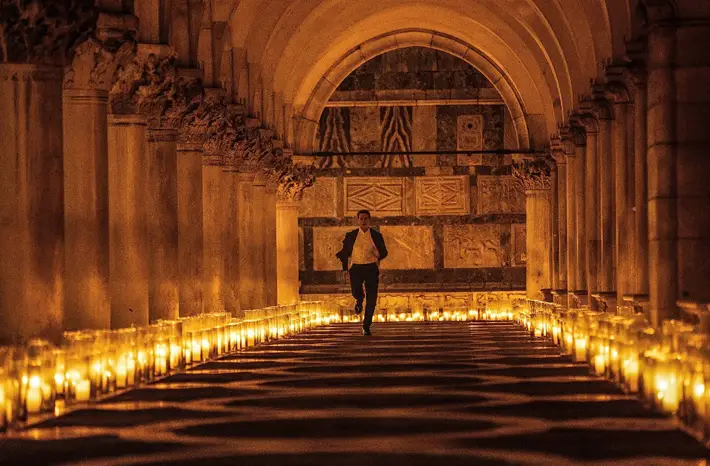 "Soul-searching"
Added to the mix is Guardians of the Galaxy's Pom Klementieff as Paris, a manic assassin whose Terminator 2-style pursuit of Hunt and Grace in an armoured truck is pure gold. Her manic grins and later ghostly make-up is as iconic as Harley Quinn. Esai Morales also stars as Gabriel, the arch villain, while other familiar faces include Mark Gatiss in a bit part, and Cary Elwes as a government suit
If there's a key problem with the movie it's that some scenes last too long. That pre-credits sequence for a start, as thrilling as it is. There's also a little too much soul-searching from Hunt and Grace, which is needed in places, but not at the expense of the thrills. And the epic 163-minute run time, like predecessor Fallout, is a little too generous. The franchise was spot on with 2015's Rogue Nation, a personal favourite, though fans obviously have their own beloved chapters for different reasons.
Cruise and company save the best for last with an audacious third act set on the Orient Express, part of which was shot in Pickering, though you'd never know it. Or maybe you would if you're sharper eyed than me.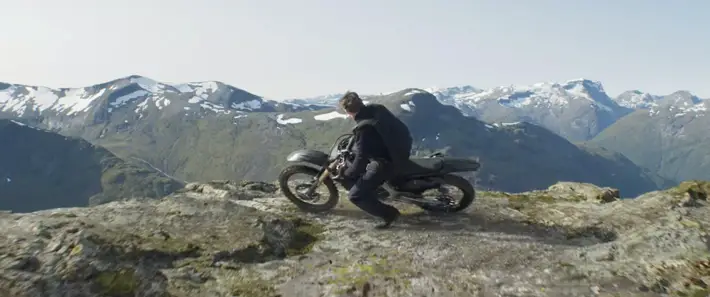 "Wonderfully old school"
Admittedly train stunts were old hat 40 years ago when Roger Moore's 007 was defying death in Octopussy, and since then the likes of Indiana Jones and assorted other heroes have done the 'fist fight on top of a moving train/duck for tunnels' thing. For a film so obsessed with artificial intelligence, conversely there's something wonderfully old school about that steam train set piece, which is spoiled in the trailers, but what a thrill before the inevitable happens.
Co-writer/director Christopher McQuarrie does a good job of orchestrating the comedy, thrills, drama and tragedy, while the score by Lorne Balfe gives us inevitable variations on Lalo Schifrin's much loved original theme.
The concluding part arrives in the summer of 2024, and given the wealth of stunts and set pieces on display here, Dead Reckoning – Part Two has a lot to live up to.
Mission Impossible: Dead Reckoning - Part One is in cinemas now