Heathers – Review – Bradford Alhambra Theatre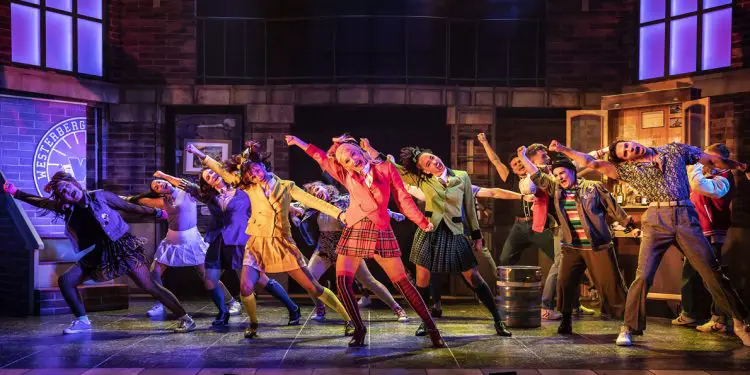 By Christine Goode, July 2023
Dear Diary: It's my first time at Westerburg High. Will I meet wholesome friends for life? Will I meet my one true love? Will I have fond memories of High School Proms and sing-a-longs? Will I hell!
Heathers is definitely not your usual 'happy clappy' feel-good musical and as we enter the front of house we see notices displayed with advanced age guidance and content warnings. I have not seen the original film made in 1988 by Daniel Walters, starring Christian Slater and Winona Ryder until recently, which then left me thinking how on earth are they going to make this into a musical, especially with the content matter?
The book, music and lyrics by Kevin Murphy and Laurence O' Keefe, however, do exactly that – and some!
"High-energy"
The musical theatre version of Heathers opened in the West End in 2018 starring Carrie-Hope Fletcher and has been a phenomenon ever since. A tongue in cheek, non-stop musical adventure depicting teenage life at High School is taken to the extreme and it will leave you singing the catchy songs for days, whilst still in disbelief at what you have just witnessed.
This high-energy black comedy controversially contains dark subject matter – bullying, teen suicide, sexual assault, school violence and murder – one would think is an absolute no-go area for a musical. But this show has (partly down to Tik Tok) a huge cult following, hence the hordes of young theatre goers on opening night in Bradford.
Veronica Sawyer, played by Jenna Innes, is part of the most popular girl's clique at high school (who all happen to be called Heather), however, she disapproves of their cruel behaviour toward the other students. When Veronica and new boyfriend JD, played by Jacob Fowler, confront the clique leader Heather Chandler, played by Verity Thompson, and accidently poison her, they make it look like a suicide. Soon Veronica realizes that JD is intentionally killing students he does not like. She races to stop JD, while also clashing with Heather Duke played by Elise Zavou.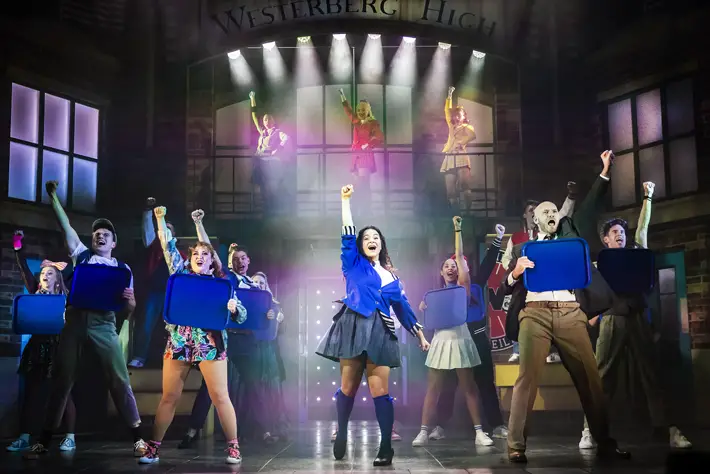 "Menacing"
Innes' portrayal of Veronica is outstanding; her vocals are perfection, particularly in 'Dead Girl Walking', the last note giving me goosebumps! Jacob Fowler brings a mysterious and menacing presence to the stage and leaves us with an uneasy atmosphere, whilst Verity Thompson's 'Heather' leads as the perfect 'bitch', commanding the stage whenever she is present (or not!). Comedy jocks Kurt Kelly (Alex Woodward) and Ram Sweeney (Morgan Jackson) are hilarious, especially in the slow motion fight scene with JD. The ensemble cast is very slick, with impeccable timing in the choreography and spine tingling harmonies throughout.
There's a simple but effective set design with clever lighting, especially on the three Heathers, to highlight each girl's distinct primary colour costume. Clever additions, such as books that light up when opening them and lightning-quick costume changes, add fine extra attention to detail.
As we whoop and cheer it's the loudest I have heard for a long time, and a standing ovation is given as the cast come on for the final bow and we dance to a reprise of the catchy song 'Seventeen'. Fans of The Little Shop of Horrors and The Book of Mormon will undoubtedly love Heathers – and regular theatre goers will appreciate a slick and entertaining show.
Heathers the Musical is at Bradford Alhambra, 18 – 22nd July, 2023