Jumanji: The Next Level (2019) – Film Review
Director: Jake Kasdan
Cast: Dwayne Johnson, Karen Gillan, Kevin Hart
Certificate: 12
by Roger Crow / @RogerCrow
The problem with many sequels is that once you get past the first film, having set up the world and character arcs, once boy has met girl, a plot device usually splits them up, or the superhero loses their powers. Anything to shake up the established status quo and give us a journey to go on.
No such problem with this sublime sequel to Jake Kasdan's Jumanji reboot. It's so well set up, the usual storytelling rules don't apply, and yet game rules dominate the movie. For example: just a whiff of cake can mean doom for one character.
Cleverly Kasdan introduces pensioners Danny Devito and Danny Glover, estranged restaurateurs who help give the movie a new dynamic. Their bickering and friendship, or lack of it, is the throughline that strings together a wealth of glorious set pieces.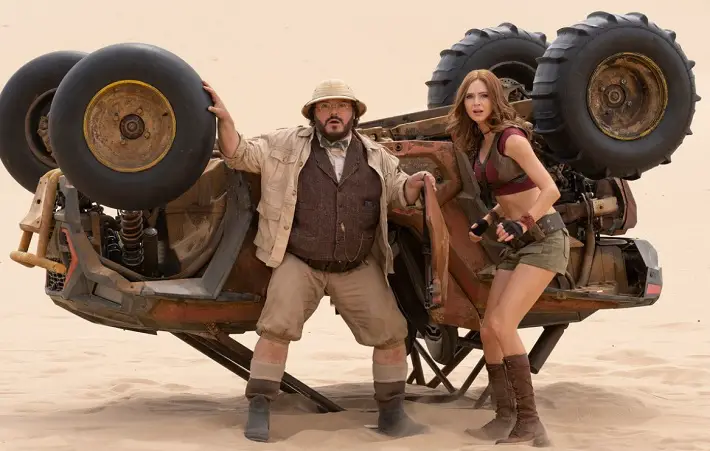 "Maximum comic value"
Once more the movie centres on young friends from (rebooted) film one, who re-enter the eponymous video game when one of their number goes missing. The twist this time is the aforementioned pensioners inhabit the avatars of two key characters, and most other familiar heroes are also re-set with different personalities.
Providing a sense of continuity, Karen Gillan is still Ruby Roundhouse, the Lara Croft-style heroine who gives the 'newcomers' (and new viewers who missed film one) a chance to orient themselves. This comedy adventure is that rarest of things: laugh out loud funny and constantly thrilling.
Dwayne Johnson, Kevin Hart and Jack Black have a great time as the bickering adventurers, and though the storyline is wafer-thin, it's great to see how Kasdan milks every element of the set-up for maximum comic value. The stunts are thrilling, the effects dazzling, and once more Gillan is a hoot as Ruby, adding glamour, brains and unexpected moments of wonder.
"So much going on"
Whether fleeing from lethal ostriches, tackling mandrills on vertiginous, revolving rope bridges or dodging attacks during the steampunk-inflected finale, there's so much going on you never feel shortchanged. But it's the gags that really hit home. Achingly funny zingers, or wry looks to each other that keep on giving. However, like film 'one', it also has that all-important sucker punch moment which twangs the heart strings beautifully.
Without doubt the most enjoyable comedy adventure since, well the first movie in the rebooted saga. While it might be better if Jake and company quit while they're ahead, I'll be fascinated to see if they can top this fun masterpiece. It should leave kids of all ages thrilled. I can't wait to see it again.
Jumanji: The Next Level is on streaming platforms now