Guardians of the Galaxy Vol 3 (2023) – Film Review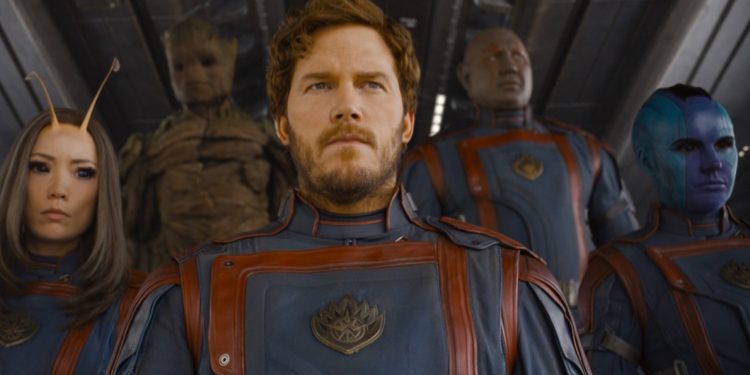 Directed by James Gunn
Cast: Chris Pratt, Karen Gillan, Dave Bautista
Certificate: 12
By Roger Crow
In the summer of 2013, while pottering around London, I happened upon a film crew shooting a movie on the Millennium Bridge. The tech crew told me it was called Full Tilt, but being a Marvel fan, I knew it was Guardians of the Galaxy.
At the time it was a top secret movie which sounded like the MCU's biggest gamble. And it was. What I didn't expect was it would become one of my favourite films of that decade, not least because of the retro songs. I also loved the sequel, and the fact the finale teased one of my favourite Marvel creations, Adam Warlock, meant I was desperate to see the result.
Sadly writer/director James Gunn's on/off relationship with marvel meant a third movie was put on hold for years.
Now we finally have that epic adventure, which is a mix of slapstick comedy, Barbarella style sci-fi romp, and heartbreaking flashback.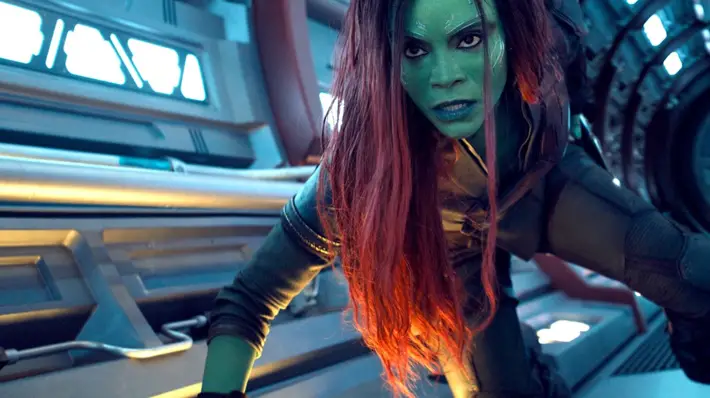 "Pet lovers should go armed with hankies"
Far from being the messianic, super cool hero I'd hoped for from the comics, Warlock, played as a posh, privileged, angry, gifted idiot by Will Poulter, is mostly annoying. It's only in the third act that he comes into his own.
When Warlock wounds Rocket, Starlord (Chris Pratt) and his friends embark on a mission to save his life, while Rocket has unconscious flashbacks to his early days. It's these moments which will have some viewers in tears. I'll say no more, but pet lovers should go armed with hankies.
Gunn does a terrific job orchestrating the epic set pieces, comedy, and emotional scenes. In fact the latter are so affecting at one point I thought I'd have to leave the cinema.
And most of those songs are a joy, including Rainbow classic 'Since You've Been Gone', which lifts things to another level, the way all great rock songs do when spliced with stunning visuals.
The cast are as great as ever, especially as the Guardians are finally centre stage again rather than supporting players in the Infinity War and Endgame chapters of The Avengers.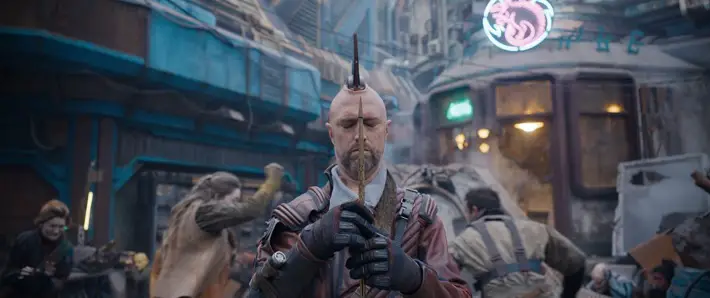 "Well-rounded, compelling, heartbreaking"
With Disney+ meaning subscribers now have a few weeks to wait for a TV premiere of an MCU movie, those tentpole event flicks have become so much less in recent years. Even a hardcore Marvel fan like me has felt underwhelmed by so many chapters in the recent catalogue of super heroes vs alpha villains amid a flurry of special effects.
Guardians of the Galaxy Vol 3 delivers so many emotional sucker punches, I was exhausted by the ending, which hints at the future of the franchise.
I loved the sub-text about Drax (Dave Bautista) having more worth than many realise, and Karen Gillan gives one of her best turns as the hard-edged cyborg with a heart, Nebula. Zoë Saldana is equally terrific as the alt-Gamora, thanks to that incident on a magic mountain in the whole Thanos Avengers chapter. As ever, living tree Groot (once more voiced by Vin Diesel) is a joy, in all his stages.
Above all this is Rocket's movie, a character every bit as real as the human cast; a living, breathing creation whose life story provides the most well-rounded, compelling, heartbreaking emotional core of any Marvel movie in recent years.
It may take a while before I can watch the film again, though you may view it and wonder what all the fuss was about. Each to their own.
It's a phenomenal closing chapter of one of my favourite sagas, and while I hope that inevitable standalone Warlock movie expands on some of the aspects of the source comic, I also hope whatever direction the Guardians Of The Galaxy franchise goes in, it proves as emotionally satisfying.
Guardians of the Galaxy Vol 3 is streaming now