Pitch Black (2000) – Film Review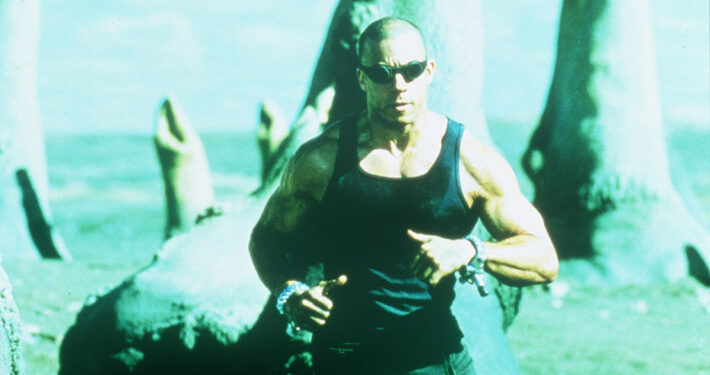 Director: David Twohey
Cast: Vin Diesel, Radha Mitchell, Cole Hauser
Certificate: 15

by Sarah Morgan
Can it really be 20 years since Pitch Black received its big screen release? Apparently so.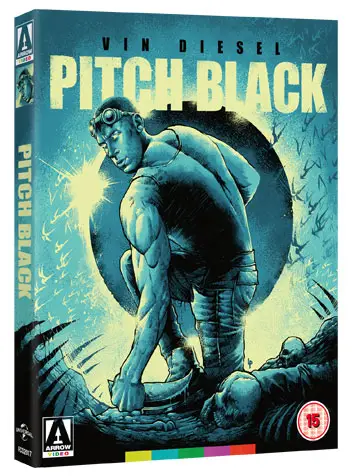 I first saw it on a Sunday morning at the Hull Odeon with friends, expecting little from it. I came out pleasantly surprised. It was an hour and three quarters of thrills and spills that introduced us to someone who was surely going to be a huge star – a chap with the unusual name of Vin Diesel.
Since then, sequels and spin-offs in a variety of media have followed while Diesel, of course, is now a force to be reckoned with at the box office, thanks in no small part to the Fast & Furious franchise.
"Tense and exciting"
I haven't seen Pitch Black since that original viewing, so I was intrigued to catch it again on Blu-ray – would it stand the test of time? Thankfully, the answer is yes.
For the uninitiated, the story begins as a group of space travellers are awoken early from cryogenic sleep. In a tense and exciting opening, their ship is forced to make a crash landing on a mysterious planet with three suns.
The survivors head out in search of water and shelter. Among them are an intergalactic arts dealer, two wanderers searching for somewhere to settle, a teenager who isn't quite what they initially seem, a Muslim preacher and his three followers, a pilot and a bounty hunter travelling with his captured quarry, the vicious murderer Richard B Riddick.
What none of them initially realise is that they're not alone. The planet is inhabited by bloodthirsty alien beings that only come out at night – they're sensitive to light, have huge teeth and use sonar to 'see'.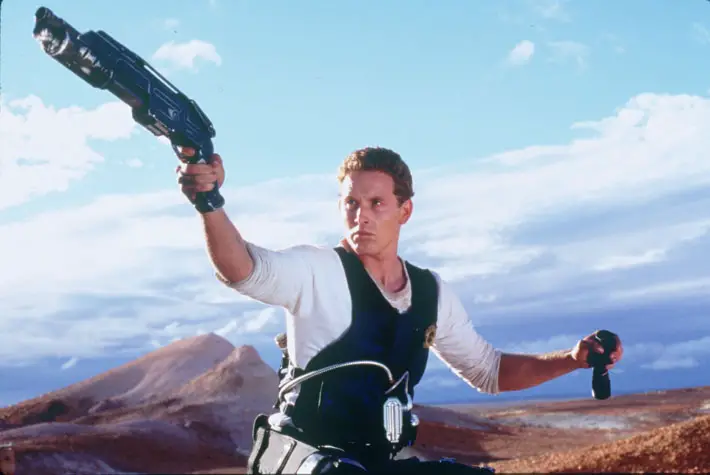 "A little ingenuity can go a long way"
Riddick too is more at home in the dark; his eyes have been surgically enhanced, enabling him to see clearly at night, which would make him useful in evading the aliens, if the rest of his fellow survivors could trust him not to kill them before the predators arrive…
A simple tale made on a relatively low budget in the Australian outback, Pitch Black exceeds expectations. It proves that a little ingenuity can go a long way – CGI has been used here, but the story doesn't rely on it to help create tension. Instead, it merely enhances rather than dominates, which is how it should be.
Diesel has never been better than he is here; it's as if writer-director David Twohy created Riddick specifically for him, although in the special features, Twohy admits that, like everyone else, he had no idea who Diesel was before filming.
There are heaps of new interviews with cast and crew members on the disc, although sadly Diesel is missing from the participants – it would have been interesting to hear his thoughts on the role that made him a star.
BLU-RAY SPECIAL EDITION CONTENTS:
Brand new 4K restoration by Arrow Films of the Theatrical and Director's Cuts of the film, approved by director David Twohy
High Definition (1080p) Blu-ray presentation
Original DTS-HD MA 5.1 surround on both cuts
Optional English subtitles for the deaf and hard of hearing on both cuts
Archive commentary with director David Twohy and stars Vin Diesel and Cole Hauser
Archive commentary with director David Twohy, producer Tom Engelman and visual effects supervisor Peter Chiang
Nightfall: The Making of Pitch Black, a newly filmed interview with director/co-writer David Twohy
Black Box: Jackie's Journey, a newly filmed interview with actor Rhiana Griffith
Black Box: Shazza's Last Stand, a newly filmed interview with actor Claudia Black
Black Box: Bleach Bypassed, a newly filmed interview with cinematographer David Eggby
Black Box: Cryo-Locked, a newly filmed interview with visual effects supervisor Peter Chiang
Black Box: Primal Sounds, a newly filmed interview with composer Graeme Revell
The Making of Pitch Black, a short behind-the-scenes featurette
Pitch Black Raw, a comparison between early CG tests and the final footage
Additional behind-the-scenes footage from the making of the film
2004 archive bonus features, including an introduction by Twohy, A View Into The Dark, and Chronicles of Riddick Visual Encyclopedia
Johns' Chase Log, a short prequel narrated by Cole Hauser detailing the character's hunt for Riddick
The Chronicles of Riddick: Dark Fury (in 16:9 widescreen with DTS-HD MA 5.1 audio), an animated short film directed by Peter Chung that acts as a bridgepoint between Pitch Black and The Chronicles of Riddick, featuring vocal performances by Vin Diesel, Keith David and Rhiana Griffith reprising their roles
Dark Fury bonus features including Bridging The Gap, Peter Chung: The Mind of an Animator, A View Into The Light, and a "pre-animation" version of the film
Slam City, a motion comic from the film's official website
Into Pitch Black, a TV special offering an alternative non-canon glimpse into what happened before and after the events of the film
Raveworld: Pitch Black Event, footage of a dance music event held to promote the film
Theatrical trailers, plus trailers for the two sequels and video game
Image galleries
Reversible sleeve featuring newly commissioned "night" and "day" artwork by Luke Preece
Pitch Black is released on Blu-ray by Arrow, £24.99