Blue Sky (1994) – Film Review
Director: Tony Richardson
Cast: Jessica Lange, Tommy Lee Jones, Powers Boothe
Certificate: 12
by Sarah Morgan
He was one of the driving forces behind a revolutionary period in British theatre during the 1950s and became a leading New Wave director in the following decade, and yet Tony Richardson's final film is a decidedly American affair.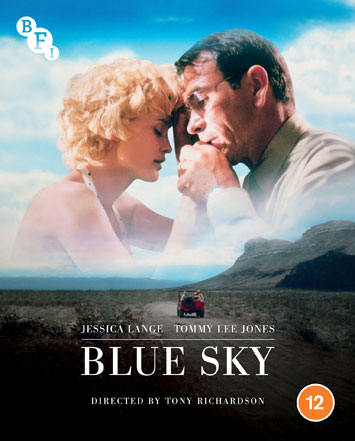 After making his name with such classic movies as The Entertainer, A Taste of Honey and Tom Jones, the Shipley-born film-maker decamped to Hollywood in the mid-1970s and stayed there until his death in 1991 at the age of 63; three years later, having been delayed due to financial issues, Blue Sky was eventually released.
Jessica Lange deservedly won the Best Actress Oscar for her scene-stealing central performance as Carly, the wife of US Army officer and nuclear expert Hank Marshall (Tommy Lee Jones).
"On-edge"
They have two teenage daughters and, when we first meet them, are living in the near-paradise setting of Hawaii, where Hank is overseeing various tests. However, it's clear from the outset that Carly is suffering from some form of mental illness, which makes family life less than idyllic.
When Hank is reassigned to Alabama, his arguments with his superiors and an increasingly on-edge Carly's affair with a fellow officer cause serious problems. But rather than seeking help for her, it's Hank who ends up in a mental institution.
It's then, however, that Carly steps up to fight for her man, taking on the authorities. The ending gives viewers hope that the family can deal with its setbacks and live happily ever, although there's a sense that trauma is probably always just around the corner.
Inspired by the real-life experiences of writer Rama Stagner-Blum and the relationship between her parents, Blue Sky is an odd mix of personal drama, mental health issues, 1950s Cold War paranoia and conspiracy thriller, and yet somehow it works – perhaps because the performances are so extraordinarily good.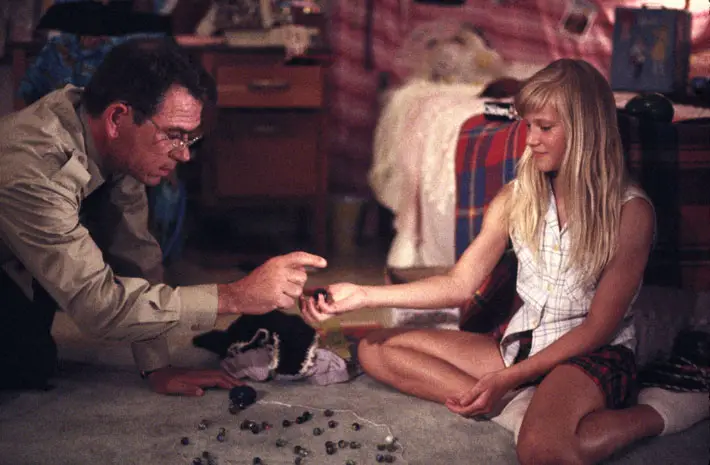 "Overwhelming odds"
Lange is the standout, but then you'd expect that with such a showy role. She could easily have gone over the top in her depiction of Carly's problems, but her sensitive portrayal helps us sympathise with a clearly troubled woman.
Tommy Lee Jones also deserves plaudits for his understated performance as Hank, who remains a steadfast and loyal husband in the face of overwhelming odds.
The movies Richardson made in the US may not have been as successful at his British works, but Blue Sky suggests he was returning to form. What a shame his illustrious career couldn't have gone on longer.
Special features:
· Feature presented in High Definition
· Newly recorded audio commentary by film critic Nick Pinkerton
· Operation Hurricane (1952, 33 mins): after the first Soviet nuclear weapon was detonated in 1949, the British accelerated their development of their own nuclear deterrent. This haunting film documents the first atomic bomb test on the Monte Bello Islands.
· Atoms at Work (1952, 11 mins): a fascinating behind-the-scenes look at the Harwell atomic research establishment and the potential benefits of radioactivity.
· Original theatrical trailer
· Image gallery
· ***First pressing only*** illustrated booklet with a film essay by Jim Hemphill, biographies of Tommy Lee Jones and Jessica Lange by Ellen Cheshire and an essay on Tony Richardson's US period by Dr. Martin Hall.
Blue Sky is released on Blu-ray by BFI, £19.99