Extreme Prejudice (1987) – Film Review
Director: Walter Hill
Cast: Nick Nolte, Powers Boothe, Michael Ironside
Certificate: 18
By Sarah Morgan
The 1980s… A time when more really was more and action thrillers were slick, full of manly men whose testosterone levels were off the scale.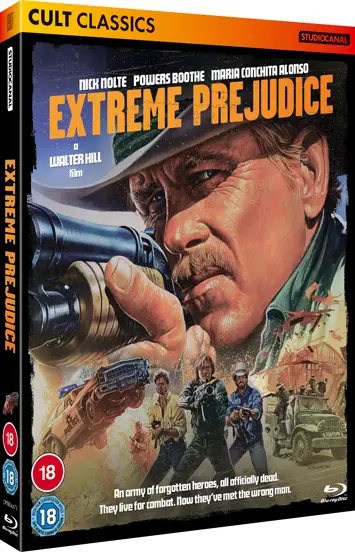 Extreme Prejudice certainly contains lots of those characters, and it's perhaps that fact that makes the film seem so very dated now, in a day and age where even James Bond is a touchy-feely, sensitive kinda guy.
"Mysterious group"
The film reteamed director Walter Hill with both Nick Nolte and Powers Boothe; the former had appeared in 48Hrs, while the latter popped up in Southern Comfort, both of which were well-received by critics.
Unfortunately for Hill and the rest of the team behind Extreme Prejudice, it didn't share the same level of success, despite being based on a story by John Milius, perhaps then best known for being the Oscar-nominated screenwriter of Apocalypse Now.
Nolte and Booth take the lead roles of men ostensibly cut from the same cloth, childhood best friends who now find themselves on opposite sides of the law.
While Nolte's Jack Benteen is a straight-arrow, strong-but-silent Texas Ranger, Boothe's Cash Bailey is a major drug trafficker operating out of Mexico – we know he's tough and mean because his opening scene involves him crushing a scorpion with his bare hands! Their paths cross when a mysterious group of black ops military men arrive on a secret mission that's sure to have far-reaching implications.
The film has a strong cast – the likes of Michael Ironside (in one of his earliest Hollywood projects following years of success in his native Canada), Clancy Brown and Rip Torn also appear – and although they do their best with the cliché-ridden script, ultimately they're completely let down by truly awful dialogue.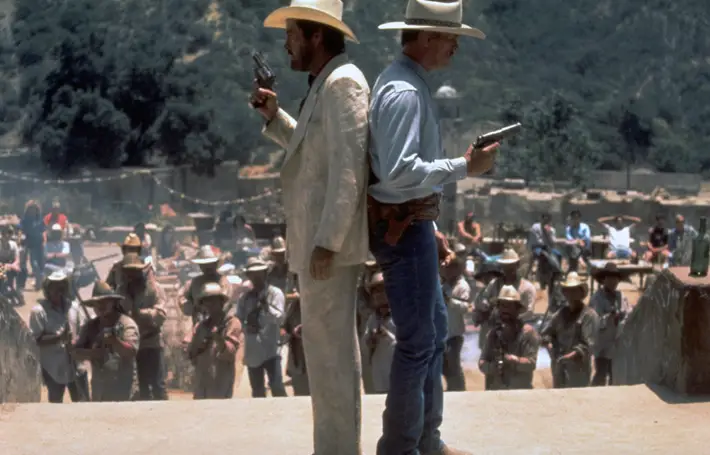 "Macho posturing"
Unfortunately, Andrew Robinson, so memorable as the villain in Dirty Harry, was also meant to appear, but had his scenes as a CIA agent cut entirely; perhaps his presence would have added a little more weight to the proceedings.
Hill's direction has obviously been strongly influenced by the ultra-violence seen in Sam Peckinpah's movies, and as stunning as some sequences are, they're only temporarily diverting the audience's attention from the film's shortcomings. But if you're into macho posturing, you'll probably love it.
The disc's special features are rather intriguing, however, and include revealing interviews with Ironside, Brown and director of photography Matthew F Leonetti, who all discuss their own careers as well as the making of the film.
SPECIAL FEATURES:
• Audio Commentary with Film Historians C. Courtney Joyner and Henry Parke
• Isolated Score Selections with Audio Interview from Music Historian John Takis
• The Major's Agenda – An Interview with Actor Michael Ironside
• The War Within – An Interview with Actor Clancy Brown
• Capturing The Chaos – An Interview with Director Of Photography Matthew F. Leonetti
• Original Trailers
• Vintage EPK
•Stills Gallery
Extreme Prejudice is available to buy on Blu-ray, DVD and Digital