Range Rover Evoque Convertible – Review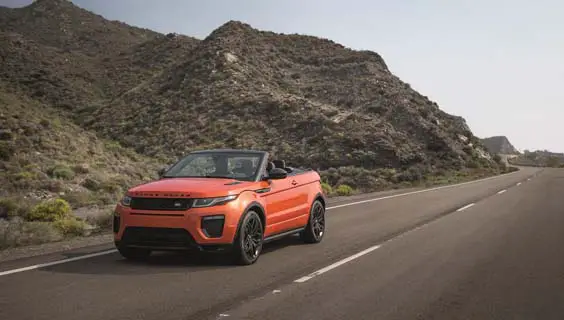 By Liam Bird
Apple are the modern-day masters of it. Automotively speaking, Audi probably are too. I'm talking about niche filling. Finding a gap in the market that no-one really noticed. Then designing and making a product to fill it, marketing it and simultaneously making it a must-have. And selling it by the bucket-load. Think iPod, iPad, iPhone. Think A1, A3, (essentially "posh" VWs), RS4, RS6, Q2, Q3, Q5, Q8 and the rest.
Neither brand was the first to discover that we, the public, were so fickle. Come to think of it, before them, Land-Rover wasn't either. Nevertheless, no-one knew they wanted a Land Rover before 1948; until The Wilks brothers drew one in the sand they simply didn't exist. No one knew they wanted a Range Rover until Land Rover invented it in early 1970s either. Look around now though…

"Quiet enough to make you believe you were in a coupe"
Once again Land Rover, (or should I say Range Rover?) are up to their old tricks again. This is the Range Rover Evoque Convertible: The world's first luxury compact SUV convertible. You can almost feel the people who didn't know they wanted one until they saw one forming an orderly queue already.
With the global SUV market forecast to grow by 20 per cent over the next five years, you can see why Land Rover have done what they've done. Not only does the Evoque Convertible boast the longest and widest folding fabric roof currently fitted to any vehicle on sale today, it is, so far at least, in a class of one. No other manufacturer makes such a thing.
When you consider the Evoque was never meant to be a convertible in the first-place, you have to give full marks to Land Rover's engineering team for managing to retain much of the original hardtop's body stiffness. There are occasional tell-tale shimmies from the rear-view mirror hinting at scuttle-shake but that's about it. Plus, it keeps its LRX Concept car looks too.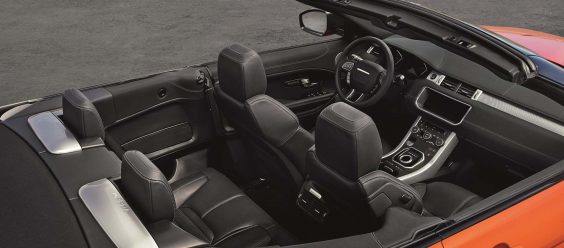 "Attempts to push a little harder through the corners"
With the roof up, the soft-top Evoque is quiet enough to make you believe you were in an Evoque coupe – that's the three-door hard top. Well, in the front at least. Rear passengers face quite a challenge to access their seats (the Convertible is a 3-door too) and head-room further aft is a tad stingy, I'm told. Boot-space is also compromised. How four people are meant to store a weekend's luggage each in the Evoque Convertible's tiny 251 litre boot, or how they're meant to "post it" in through the letter-box like opening is anyone's guess. The rear seats don't fold at all either.
Practicality is not the only thing that's been compromised as a result of the Evoque's decapitation. Due to all the required extra under-body and chassis stiffening the rag-top Evoque weighs in at 1967kg. That's 300kg heavier than "normal". Needless to say, that extra weight has quite an effect on both its performance and handling.
A hard-top Evoque feels like Land Rover's hot-hatch whereas a soft-top one doesn't. Despite an initial impression of joie de vivre you soon learn that any attempt to push this car a little harder through the corners results in body-roll and under-steer. Somehow the Evoque now feels lethargic, and overweight. 0-62mph takes a steady 9.7 seconds, the 9-speed automatic gearbox is easily out-witted by a series of bends. Road imperfections thump their way via the 20" alloys back into the cabin. And never once in a week's worth of real-world driving did I achieve over 40mpg. It's pricey too. "My" car came in at over £50,000.

"Will its core clientele ever explore its true capabilities?"
But, it's still a Range Rover. Its interior is leather-lined and double stitched. You sit in a "commanding position". There's blue neon mood-lighting. The Meridien hi-fi is superb. And thanks to Land Rover's Terrain Response System and short overhang, both front and rear, it will go practically anywhere you point it. Having once driven an Evoque cross-country from Anglesey to Liverpool with only the merest sight of any Tarmac trust me, I can vouch for that.
Whether or not its core clientele will ever explore its true capabilities though I'm really not sure. The Evoque Convertible's natural habitat I'd wager is more likely to be Kensington that it is Kenya. But, until the next best thing comes along, and for those for whom such things matter, the Evoque Convertible really is in a class of its own.
Range Rover Evoque Convertible (auto) HSE Dynamic
Engine: 1,999cc, Four Cylinder, Turbo-diesel
Transmission: 9 speed auto, Four wheel drive.
Power: 177.5 bhp @ 4,000rpm
Torque: 317 lbft @ 1,750 rpm
0-62MPH: 9.7 sec
Max Speed: 121 mph
CO2: 149 g/km
MPG: 49.6 (combined)
Price: £47,500 (as driven £50,610)