Honda HR-V e:HEV Hybrid – Review
By Liam Bird
No sooner have you handed back the keys to one SUV "coupe", and another turns up on your driveway. Faux-by-fours with sloping rear windows are obviously quiet the thing these days. Last week it was a VW I was driving; this week it's the latest generation Honda HR-V.
You may struggle to recall the last Honda HR-V, it was all a bit conventional, a bit of a scaled-down CR-V. So-much-so in fact that it's more than likely slipped off many people's radar. The original HR-V on the other hand did make quite an impact. Remember? It was a funky-looking three-door soft-roader aimed, supposedly, at the surfing crowd. It was launched in 1998 and, to be fair, still looks good today. Not that I've seen one for a while, mind…
Today's third generation HR-V is a front-wheel drive only, self-charging hybrid with yet another "bold" new look. Trust the Japanese to be bang-on trend. It's all clean lines, smooth surfaces, and chunky styling. It's fresh, yet somehow familiar looking too, in that inoffensive way that Honda does so well (Civic Type R notwithstanding).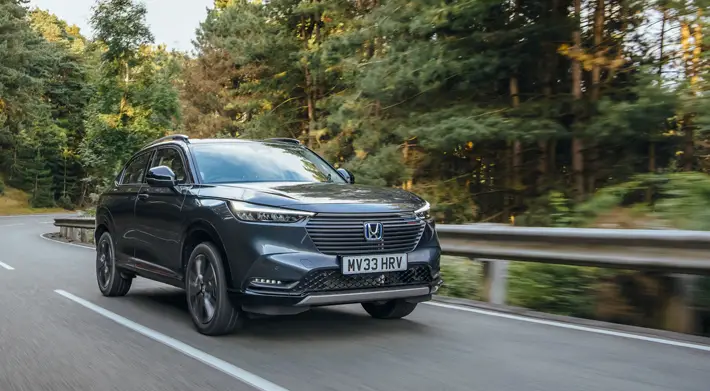 "Brilliantly engineered"
Your engine choice is simple: there's only one. But you might need a bit of engineering know-how to really understand it.
The HR-V is powered by a 1.5-litre petrol engine, two electric motors, and a small battery. The engine, which runs on the Atkinson Cycle, essentially acts as a generator for the electric bits. Because the HR-V is a self-charging hybrid, all you have to do is fill-up with petrol; nothing ever needs plugging in. Simple, eh?
At slow speeds – pulling way, manoeuvring, parking etc. – the HR-V feels very much like an electric car. It's smooth, effortlessly quiet, and being a Honda, everything feels all brilliantly engineered. Drive smoothly and in an unhurried fashion, and it continues to do so. The steering is accurate and nicely responsive, the ride is very comfortable, wind noise is kept to a minimum, and because the HR-V's cabin feels so nicely screwed together, it's actually rather a nice place to be. However…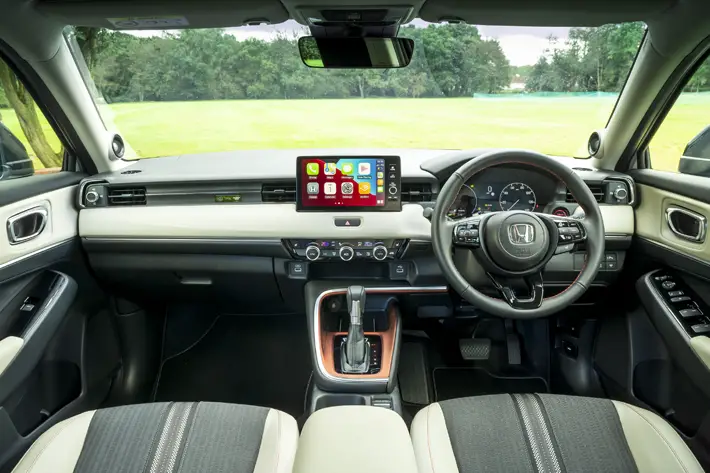 "Blunted"
Things get altogether more raucous when you need to press on, because Honda have given the HR-V an e-CVT transmission. When a little more urgency is required and the engine is called upon, that not-so-clever "gearbox" allows the revs to soar – it sounds as if you're slipping the clutch. The 1.5 litre i-MMD unit (that's Intelligent Multi-Mode Drive) sounds strained. It's only got 129bhp. In a SUV that's a similar size to a Ford Puma or Mazda CX-30, so a tad insufficient. Remember too that batteries are heavy, the result, being that the HR-V's performance can sometimes feel a little blunted.
Still, at least economy doesn't seem to suffer too much from those high revving antics, high 40s to low 50s mpg is easily attainable. Besides, my guess is most HR-V customers won't be drawn towards "spirited" driving antics anyway. It's probably Honda's reputation for build quality, reliability, and dependable residual values that they'll find more attractive. That said, Hondas always do seem to command a bit of premium, and with a starting price of around £29,000 and CO2 emissions of 122g/km, the HR-V certainly isn't the cheapest option in what is an already fiercely fought-out class.
At least you get plenty of kit for your cash. All HR-Vs get 18-inch alloy wheels, front and rear parking sensors, LED auto headlights, adaptive cruise control and a 9.0-inch touchscreen with integrated sat-nav, Android Auto and Apple CarPlay connectivity as standard. Mid-level Advance trim which, say Honda will account for 60 per cent of HR-V sales – gains an automatic tailgate, dual-zone climate control and a heated steering wheel, whereas range topping Advance Style models add a contrast roof colour, LED active cornering lights, an upgraded audio system and a wireless smartphone charging too.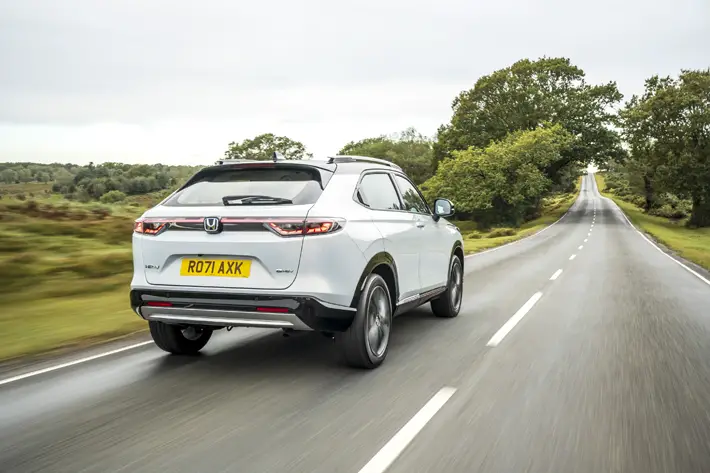 "Economy and practicality"
Another added bonus that's definitely worthy of mention is that the HR-V gets Honda's "magic seats", as per the Jazz. What that means is you can lift the rear seat bases up cinema-seat style, thus creating a large, and tall, load space behind the front seatbacks. Trips to the garden centre or even the cycle shop will never be the same again.
It really is surprising what you can carry back there.
Whilst it's true to say there are better driving so-called SUV coupes available, the HR-V's combination of build quality, economy and practicality all add up to make it quite an attractive package. It's sensible, and mature – just like your archetypal Honda owner you could say – nevertheless, there's certainly nothing with that.
Honda HR-V 1.5i-MMD Advance Style e-CVT
Engine: 1,498 cc, Atkinson Cycle, 4Cyl, 16V-turbocharged petrol
Transmission: Constantly Variable Transmission (e-CVT) front-wheel drive.
Electric Motor Torque: 187 lbft
Electric Motor Power: 129 bhp (96kW)
Power: 106 bhp @ 6,000 – 6,400 rpm
Torque: 97 lbft @ 4,500 – 5,000 rpm
0-62mph: 10.7 sec
Max Speed: 106 mph
MPG: 52.3 combined.
CO2: 122 g/km
Price: £34,850 (Car Driven £34,850)