Volkswagen Passat Estate Alltrack – Review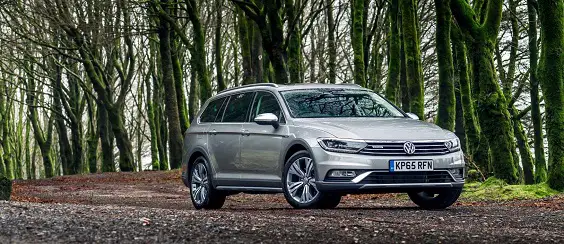 By Liam Bird
There can be few greater or demanding tests of a car's all-round abilities than the last-minute-planned-for weekend away. There's the after-work dash across town to deal with first, followed by the suburban trudge and the A-roads. Next there's the two, maybe three-hour motorway schlep. Which is followed by another A-road or two. Then a B-road blast for the last 10-miles, and no doubt a country lane with a lunar landscape-like road-surface to finish.
Your chosen charge must be able to cope with all of that. It must also carry you in comfort and entertain and inform you along the way. It's also got to be capable of swallowing enough luggage for a round-the-world trip. Needless to say, it's a big ask.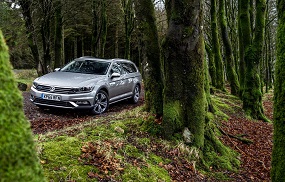 That's almost exactly what I required of the Volkswagen Passat Estate Alltrack. To say it dealt with it all, without any fuss, is quite the understatement.
The Passat Alltrack is the automotive equivalent of the sophisticated suburbanite in country clothing. With its uniquely shaped front and rear bumpers, chrome radiator and front grille, side sill and under body protection panels, rear diffuser, and raised ride height (by 28mm over the standard Passat Estate), it certainly cuts a ruggedly handsome, squared-jawed kind of dash. It's the kind of car you commute all week long in. You can go to dinner in it, do the weekly shop, tackle a forestry road, ford a stream (trust me, I did) and never once look out of place.
"Technically minded"
It also remains remarkably comfortable in any situation. Thanks in part to an interior that's been built and equipped to levels that make you question why people bother buying so-called "premium" Bavarian brands. Soft touch materials and near bomb-proof switchgear abound. Even if the VW press office demonstrator Alltrack I took to Cumbria one Friday night did come with a few extra goodies. Heated seats (£285), rear view camera (£315), tyre pressure monitoring system (£135) and a retractable tow-bar and Trailer Assist (£885 and £475 respectively). Even lesser specced Alltracks aren't left wanting.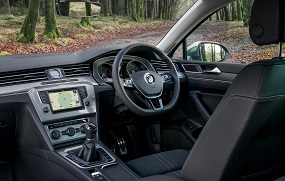 Standard equipment includes 3-zone climate control, the obligatory Bluetooth, DAB, key-less entry and start, adaptive cruise control, parking sensors, auto lights and wipers, ABS, ESC, Isofix, and of course 4-Motion four-wheel drive. You also get Car Net which is VW's "guide and inform" service that accesses a range of online information – traffic updates, weather, news feeds – via a smartphone Wi-Fi hotspot.
If you're not quite so technically minded you may also like to know that the Alltrack comes with superbly comfortable, multi-adjustable ergo-comfort seats. There's a low-loading lip for it's simply enormous boot – honestly you could sleep in it – and perhaps best and rarest of all, a full-size spare alloy wheel. Hoorah for that!
"Consummate all-rounder"
It's at this point you're thinking something along the lines of: "Yes, that's all very-well and good but Passats aren't exactly the most involving of things to drive now are they?" And to a point, you'd be right. Like the majority of Passats VW aim to sell in the UK, "mine" came fitted with their 1,968cc, 148bhp 4-cylinder turbo-diesel engine. Granted, it doesn't make the Alltrack the swiftest of vehicles out of the blocks (0-62 takes 9.2 seconds). The steering feels a tad numb too, but one look at the Alltrack should tell you it's no sports car. There is a 240bhp bi-turbo diesel available for those with more pressing engagements. But you'll be unlikely to get 57.6 mpg out of that one.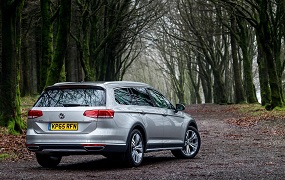 The truth is I never actually managed to get 57.6 mpg out of the Alltrack either, but I didn't get far off. After a week and over 600 miles in VW's superbly capacious and go (nearly) anywhere estate I handed it back with some of the fuel it was delivered with still in the tank.
If ground clearance isn't your priority, but you'd still like the added security that four-wheel-drive offers, the Passat Alltrack is the consummate all-rounder. I'm fortunate to be able to drive a lot of different things but on reflection I can think of no greater praise of it than to say this: I really was reluctant to hand it back.
Volkswagen Passat Estate Alltrack 2.0 TDi
Engine: 1,968cc 4Cyl 16V turbo-diesel
Transmission: 6 speed manual Alltrack four-wheel drive
Power:   148 bhp @ 3,500 – 4,000 rpm
Torque: 251 lbft @ 1,750 – 3,000 rpm
0-62MPH: 9.2 Sec
Max Speed: 127 mph
CO2: 130 g/km
MPG: 57.6 combined
Price: from £31,185 (as tested £34,725)