Captain America: Civil War (2016) – Film Review
Directors: Anthony Russo, Joe Russo
Cast:  Chris Evans, Robert Downey Jr., Scarlett Johansson
Certificate: 12A

by Anel Blazevic
Hot on the heels of the other big spring superhero mash-up blockbuster, Captain America: Civil War does everything right that Batman Vs Superman: Dawn of Justice did wrong.
A more in-depth storyline, with genuinely well-drawn characters helps (Marvel really care about their creations), with each character having their own vital role to play in the whole. If it's a preamble to directors The Russo Brothers' new Avengers double-header, then those movies should certainly be worth waiting for.
Civil War is just a magnificent action flick. Loud, thoughtful, fast, funny, bright, intriguing and packed with action. It gets everything right.
Following an accident in Africa the government decide to clamp down on the Avengers. Tony Stark (Robert Downey Jr) is fine with this idea, not realising there is more behind the government's scheming. Whereas Captain Rogers (Chris Evans) sees the clampdown as what it is – a dangerous agreement to let the government control the Avengers.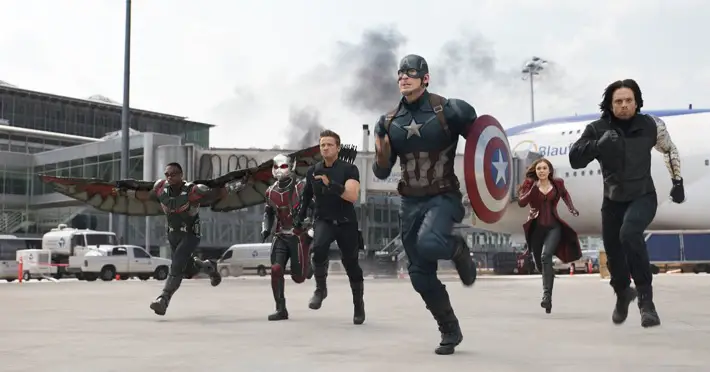 "Every bit of detail is perfect"
As Iron Man and Captain America retreat into their respective corners, the Winter Soldier (Sebastian Stan) is mixed in with a shocking terror attack in Vienna. Captain America does not believe his friend the Winter Soldier had anything to do with this attack and takes his side by protecting him against the Government. From here Tony Stark and Captain Rogers pick their teams and the action really gets going.
The performances are spot on throughout. The well-pitched cameos come from the debuting Black Panther and Spiderman, who brings some levity into proceedings. The special effects are out of this world and every bit of detail is perfect. As indeed it should be in a superhero movie.
Captain America: Civil War is a bit of a bladder tester, coming in at two and a half hours. But it makes good use of every single minute.
9/10