Avengers: Endgame (2019) – Film Review
Directors: Joe and Anthony Russo
Cast: Robert Downey Jnr, Chris Evans, Chris Hemsworth
Certificate: 12A
by Roger Crow / @RogerCrow
If 2018's Avengers: Infinity War was a joke, in the best sense of the word, then Endgame is the punchline. Or rather many punchlines.
Following the events of that epic smack down, in which the eponymous superheroes clashed with mad Titan Thanos, half of all life in the galaxy was wiped out, and those left behind attempted to pick up the pieces.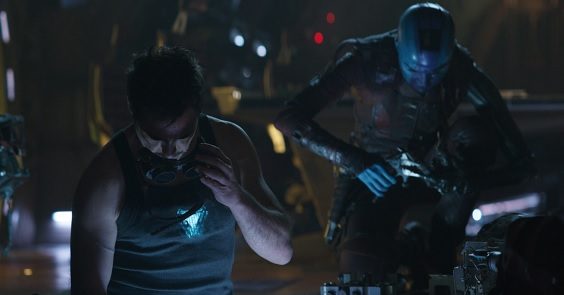 "Unprecedented scale"
Endgame is the culmination of many movies, and it's a tribute to the filmmakers that they managed to keep so many plates spinning at one time. Clocking in at a mammoth three hours, what's all the more amazing is how fun this all is. There are gags galore, and cameos by folks from assorted films and TV shows; the score by Alan Silvestri is majestic and soaring in all the right places, while that bickering family of heroes and villains manage to put aside their differences and do what they can to defeat Thanos. Again.
For the most part this is all familiar stuff, as the likes of Captain America, Iron Man and others revisit past events, in often hilarious ways. Yes, there are flashes of Back to the Future II here and there, and a touch of Star Trek's The Voyage Home, but this is a blockbuster on an unprecedented scale as events take unpredictable turns. I can only imagine the size of the whiteboard at Marvel HQ used to keep all of the characters on track, and ensure they stay true to form.
There are laughs, tears and plenty of sucker punch moments, while the likes of Robert Downey Jnr, Chris Evans, Mark Ruffalo and Chris Hemsworth play it all with just the right amount of seriousness and levity when demanded. For fans like me who have watched their journey every step of the way, this is the payoff we've been waiting for. And when that all important third act comes, it does not disappoint.
Even characters and scenes that I thought would be forgotten forever are neatly tied up, including a moment I've wanted to see since 2011.
So there you have it. A review that tells you almost nothing, because I'd hate to be that person who gives away an iota of plot.
See it on a big screen with decent stereo rather than your phone or tablet. This is what cinema was invented for. And two hours after seeing my first screening, I'm going back for a second. It's that good.
9/10