Synchronic (2019) – Film Review
Directors: Justin Benson and Aaron Moorhead
Cast: Anthony Mackie, Jamie Dornan, Katie Aselton
Certificate: 15
By Roger Crow
Reviewing films is a little like pitching movies to potential investors. "It's this meets that". So regarding this one I thought I'd throw in a reference to Martin Scorsese's under rated masterpiece Bringing Out the Dead, which I saw 21 years ago (where did that time go?), and Limitless, the Bradley Cooper thriller about designer drugs that make him smarter.
"Clever" I thought. "Nobody will have used those references". Then I read the press blurb and realised those were the exact comparisons.
That's the trouble with time travel movies. Everything's been done before. But what's great about Synchronic is the fact it's so grounded in reality for the first act. It's pretty much a police procedural-type affair as Jamie Dornan and Anthony Mackie's paramedics patrol New Orleans dealing with unusual attacks.
"Refreshing mix"
I'd seen a bit of Justin Benson and Aaron Moorhead's break out indie cult drama The Endless a few days earlier, so had a flavour of what to expect, but like many great movies, the less you know the better.
Let's just say this mind-bending, haunting sci-fi is a refreshing mix of familiar tropes. There's a touch of The Time Machine, Back to the Future, The Time Traveller's Wife, and 12 Monkeys, but I was also reminded of Darren Aaronofsky's equally trippy The Fountain, which may even be subtly referenced with a conquistador in a swamp early on.
Synchronic is one of those movies I need to watch again with commentary from the film makers.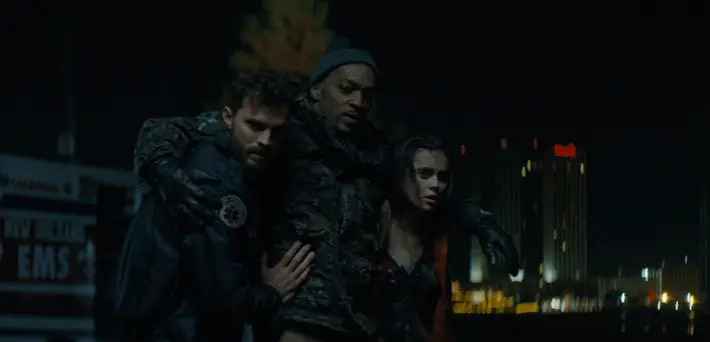 "Quite the trip"
While the eponymous designer drug is capable of many things, it's just a plot device, like Marty McFly's DeLorean, for a great story. And unlike many a mainstream sci-fi thriller which will be soft and fluffy round the edges, this one has teeth and will break your heart a little. Okay, a lot.
Jamie Dornan is rather good, but this is Anthony Mackie's real chance to shine. The Avengers star does most of the heavy lifting as the tale unfolds, and while a sequel is possible, it's probably best avoided.
If movies are your drug of choice, this is quite the trip, and well worth a look as Benson and Moorhead continue their rise through the Hollywood ranks with impressive work on Marvel series Moon Knight, and pending movie Something in the Dirt.