12 Monkeys (1997) – Film Review
Director: Terry Gilliam
Cast: Bruce Willis, Brad Pitt, Madeleine Stowe
Certificate: 15
By Sarah Morgan
The sad news about Bruce Willis's health and his decision to retire from acting shocked fans across the globe when it was announced in March.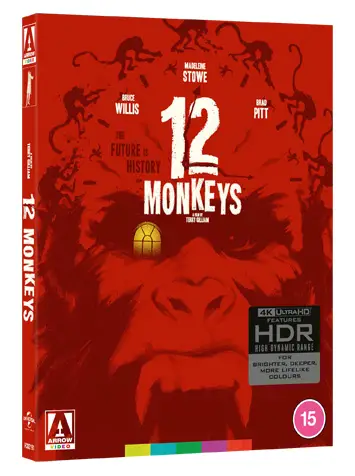 Here's an opportunity to see him in his prime, in a film with a rather timely plot.
"Date with destiny"
In 2035, humans have been living underground for decades due to a deadly virus which has killed five billion people. Cities have been abandoned to the elements, and are now populated by animals. The only people on the surface are those sent to collect samples which scientists hope will enable them to figure out an antidote.
After completing one such mission, James Cole 'volunteers' to be sent back in time to 1996, just before the virus was unleashed, but is mistakenly transported to 1990, where his assertions about his mission result in him being imprisoned in an asylum.
Soon after, he awakes back in 2035, and is sent back in time again, first to the Great War, then eventually to the right moment in 1996, where he becomes reacquainted with psychiatrist Dr Kathryn Railly.
Cole manages to convince her he isn't insane and that what he says about the future is true. The pair then join forces in an attempt to prevent the release of the virus, little realising that Cole has an unchangeable date with destiny awaiting him.
Madeleine Stowe, as Dr Railly, makes a pleasing ally/love interest for Cole, while Brad Pitt has an eye-catching, Oscar-nominated role as Jeffrey Goines, Cole's fellow mental patient who espouses environmentalist and anti-capitalist views.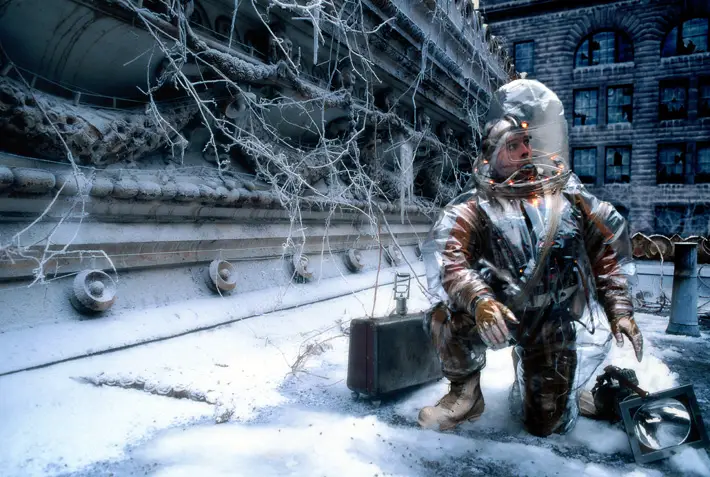 "Compelling"
Goines is also the leader of an underground group, the 12 Monkeys of the title, who are suspected of being behind the viral attack – his father (an underused Christopher Plummer) is the virologist who developed it.
Although the performances are uniformly strong, many of the plaudits should go to director Terry Gilliam. He wasn't involved in the screenplay (which was written by David and Janet Peoples) but his fingerprints are all over the resulting film, particularly in the production design, which has echoes of both Brazil and his previous movie, The Fisher King.
Gripping and compelling, 12 Monkeys remains one of Gilliam's biggest hits and sits alongside Pulp Fiction as featuring the most impressive performance of Willis's blockbusting career.
Even if you're not a fan, the special features are worth the price of the disc alone. They include the much-admired making-of documentary 'The Hamster Factor', and an interview with Gilliam expert Ian Christie.
SPECIAL EDITION CONTENTS:
• Brand new restoration from a 4K scan of the original negative by Arrow Films, approved by director Terry Gilliam
• 4K (2160p) UHD Blu-ray™ presentation in Dolby Vision (HDR10 compatible)
• Lossless DTS-HD Master Audio 5.1 and 2.0 stereo soundtracks
• Optional English subtitles for the deaf and hard of hearing
• Audio commentary by Terry Gilliam and producer Charles Roven
• The Hamster Factor and Other Tales of Twelve Monkeys, feature-length making-of documentary by Keith Fulton and Louis Pepe (Lost in La Mancha)
• The Film Exchange with Terry Gilliam, a 1996 interview with Gilliam and critic Jonathan Romney, recorded at the London Film Festival
• Appreciation by Ian Christie, author of Gilliam on Gilliam
• The Twelve Monkeys Archives
• Theatrical trailer
• Reversible sleeve featuring original and newly commissioned artwork by Gary Pullin
12 Monkeys is released on UHD Blu-ray by Arrow, £29.99