Oppenheimer (2023) – Film Review
Director: Christopher Nolan
Cast: Cillian Murphy, Robert Downey Jnr, Emily Blunt
Certificate: 15
By Roger Crow
As a Batman fan, I imagine the first shots of Christopher Nolan's latest movie – the ripples in water from rain – are a homage to the opening panels of sublime graphic novel The Killing Joke. Settling in for the three-hour drama that is Oppenheimer, it's hard not to be reminded of Nolan's previous triumphs, including his Batman trilogy, which featured Cillian Murphy and Tom Conti, and all of those other epic hit-and-miss offerings like Dunkirk, and the gloriously thought-provoking and occasionally frustrating Tenet.
His biopic of the father of the atomic bomb, J Robert Oppenheimer, is a feast of great ideas, and the first hour is so front-loaded with fizzing energy, and a soundtrack which bombards us with an incessant cacophony of sounds, that you wish everyone would just calm down for a bit.
The casting is outstanding, from an insanely alluring Florence Pugh, who has trouble keeping her clothes on as Oppenheimer's lover Jean Tatlock, to the ever-wonderful Rami Malek. He looks like being a throwaway character at first sight, but comes into his own at the end. And then there's Emily Blunt, who seems underused as Kitty, one of the eponymous character's love interests.
The speed of Oppenheimer meeting her; wooing Kitty; them having kids, and her love of booze is so fast, you almost get whiplash. I imagine there's a director's cut which addressed so much more regarding the relationships, but the footage was sacrificed for all of those interrogation scenes.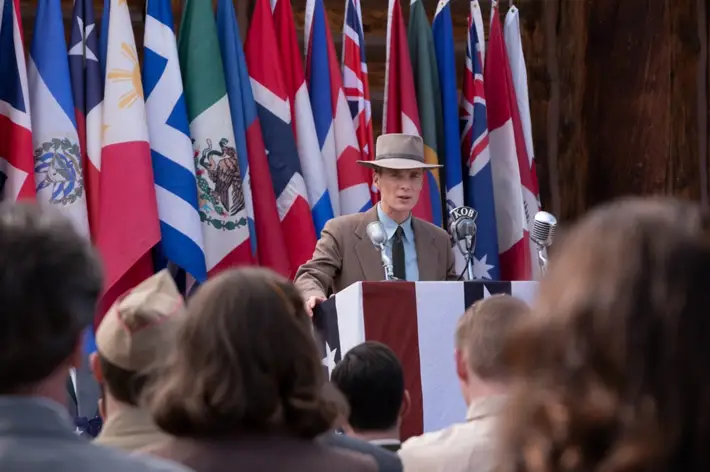 "Troubled character"
Gary Oldman pops up in a glorified cameo as Harry Truman, and like his performance in another splendid film from decades ago, it's hard not to be reminded of JFK, Oliver Stone's epic biopic which obviously addressed the assassination of John F Kennedy. (A reference to that President's name is also a wonderful throwaway gag).
Screenwriter Nolan does a terrific job of keeping the assorted plates spinning, and he's helped by two standout performances. Cillian Murphy as the eponymous troubled character at the heart of the issue, and Robert Downey Jnr, whose scenery-chewing turn as key character Lewis Strauss, is one of his best in years.
Oppenheimer's apparent naïveté at creating a bomb to end World War Two is addressed, as is his fidelity to America. Is he a Commie; have his beliefs compromised national security? Will people stay awake for a film which seems to be two thirds filled with people talking in rooms? So many questions, some of which are answered.
Solid support comes from Matt Damon as Leslie Groves, the military guy determined to get the mother of all bombs built; Kenneth Branagh as Danish physicist Niels Bohr, and the aforementioned Tom Conti as Albert Einstein. Like The Dark Knight Rises, great to see one of Blighty's best loved thesps in such an epic movie once more. Josh Hartnett, Matthew Modine, Alden Ehrenreich, Dane DeHaan and Jason Clarke also add heft to the drama.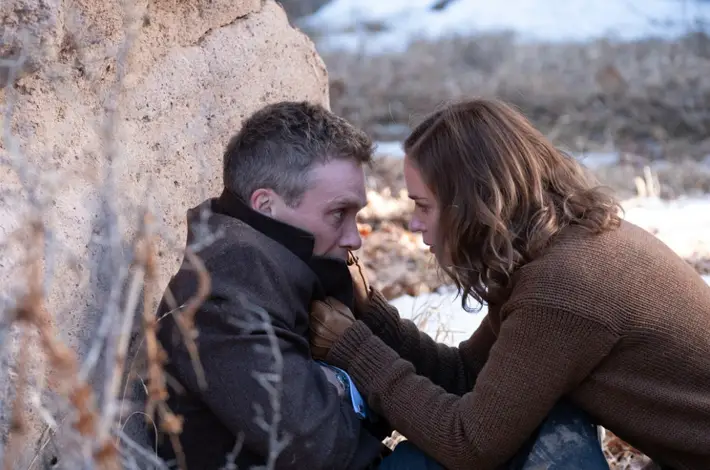 "Touches a chord"
But that first act is so busy with characters and rapid dialogue, intercut with flash forwards to igniting things, explosions, and more that it's like the film was edited by someone who had too much coffee and is terrified of losing a channel-hopping audience. Yes, as with all Nolan movies, this is best seen on the biggest screen possible, but when it arrives on TV in a few months, audiences may get sidetracked every 30 seconds by their phones or tablets. That's the joy of cinema – three hours of utter immersion, and thankfully in our VIP screening, all four of us were absorbed for the duration with not an illuminated phone screen in sight.
The visual horrors of what the bombs unleashed on Hiroshima and Nagasaki are thankfully downplayed, but the psychological after-effects on Oppenheimer aren't. Nolan could have turned his movie into a horror film, but he's smarter than that. This is thinking person's cinema, and pure Oscar bait. It's a wonder Downey Jnr's performance alone didn't come with the subtitle 'For Your Consideration'.
Cillian Murphy will be a shoo-in for a Best Actor nomination, and aside from a Best Original Screenplay nod, there's a good bet Nolan may even get a Best Director nom. But when he's overlooked in favour of Martin Scorsese, or some dark horse whose last-minute indie flick about AI and Hollywood screenwriters touches a chord with the Academy, it's good to know that a studio is willing to back such a thought-provoking movie like this.
It might not be perfect, and that soundtrack needed dialling down by 50 per cent, but blimey what a feast for the brain as well as the eye.
Roger saw Oppenheimer at Cineworld, Vangarde, York