How to Survive a Classic Crime Novel by Kate Jackson – Review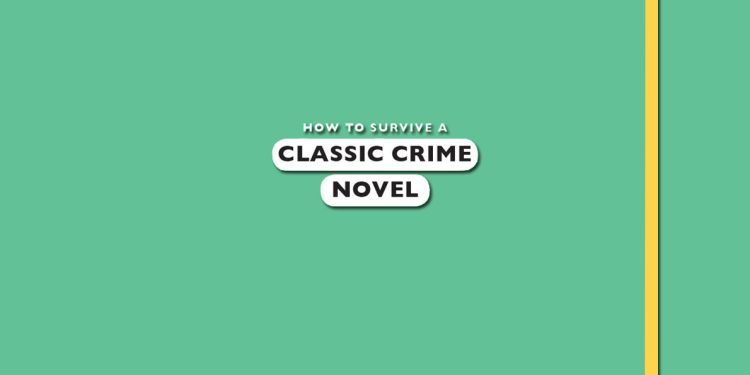 By Clare Jenkins
One day in St Mary Mead, a murder is announced which puts the cat among the pigeons. Subsequently, Lord Edgware dies, then, after the funeral, everyone puts their cards on the table, the mirror crack'd from side to side… and then there were none.
Any Agatha Christie fan could create a similar paragraph using the same, or different, novels by the still-untoppled Queen of Crime. Any P.D. James devotee could probably do the same (think "The private patient had a mind to murder, a taste for death. She wrestled with her devices and desires and concluded there was a certain justice in the death of an expert witness…")
It's the kind of game murder mystery afficionados might relish – once they've survived a murder mystery weekend at 110A Piccadilly (Lord Peter Wimsey's home) or 26A Eaton Square (Paul Temple's Belgravia flat) or, further north, in Arden Street, Marchmont, Edinburgh (Ian Rankin's DI John Rebus).
Kate Jackson's book, How to Survive a Classic Crime Novel, is aimed fair and square at them.
There's more than an element of Cluedo in this light-hearted insider guide to the crime genre, which references a wide range of traditional detective fiction (written mainly from 1900-1970), from Sherlock Holmes and Miss Marple, through Dorothy L. Sayers and Ngaio Marsh to Patricia Highsmith and Ruth Rendall.
"Amusingly presented"
As an online crime novel reviewer herself, Jackson has closely examined, magnifying glass in hand, a range of fictional murders. From these, she's learnt more survival skills than a long-term member of the SAS. Some are obvious – if you're blackmailing someone, for instance, you'd have to be a complete numbskull to accept an invitation to spend the night at their place or meet them alone in an isolated spot.
Similarly, if you've had the misfortune to receive a death threat, you'd be pretty dim to invite all the suspected letter-writers round, especially if you live in a remote country house and it's the middle of winter (Patricia Wentworth's Wicked Uncle). And if you think you know who murdered your nearest and dearest, just tell the police. Whatever you do, don't invite the suspect/s round for drinks and nibbles. They may well have brought a phial of cyanide with them to inject into your cocktail or almonds (eg. John Rowland's Murder in the Museum, Christie's Sparkling Cyanide).
Other invaluable tips and winkles relate to more sophisticated murders. Who, after all, would expect to be sprayed with liquid nitrogen when taking a shower? How many times have you discovered a corpse inside your garden snowman? How were you to know that the piggy-bank you bought for your godson had an important message in it from a murdered private eye? (Don't ask – read Anthony M. Rud's The Rose Bath Riddle, Nicholas Blake's The Case of the Abominable Snowman and Charlotte Armstrong's The Gift Shop.)
Scrupulously dissected (the regular exclamation marks are a tad irritating, but not enough to kill for) and amusingly presented in parlour-game format, this is a perfect gift for the kind of person who thinks Joan Hickson was the best ever Miss Marple, Jeremy Brett an unparalleled Sherlock Holmes, and that Midsomer Murders was never the same after John Nettles left.
Just one question: why didn't they ask Evans?
'How to Survive a Classic Crime Novel' by Kate Jackson is published by the British Library, £12.99 paperback