Peripheral (2018) – Film Review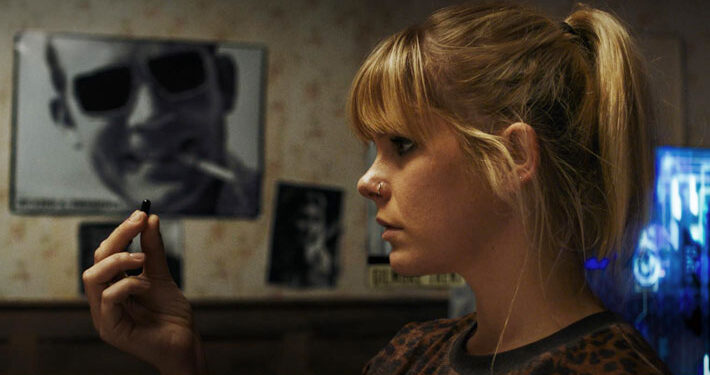 Director: Paul Hyett
Cast: Hannah Arterton, Belinda Stewart-Wilson, Tom Conti
Certificate: 18
by Roger Crow / @RogerCrow
Viewers will need a strong stomach for this often stunning fantasy drama from producer Bill Kenwright. The Corrie veteran/impresario/DJ has gathered a fine team, including top production designer Tony Noble, the man who made Moon and Solis look so good.
Hannah Arterton is excellent as Bobbi Johnson, a young literary sensation facing her difficult second novel. Already dealing with an unhinged stalker who posts disturbing video cassettes through her letterbox, and her junkie ex-boyfriend, Bobbi has no cash. She writes on an old typewriter by candlelight because her electricity has been cut off. Things are desperate, so she is convinced by her publisher (Belinda Stewart-Wilson) to use new smart editing software. Bobbi soon finds herself going head-to-head with an artificial intelligence determined to write her book for her.
But there's a cost, obviously. Every time she uses the sexy piece of tech, her fingers and then hands are stained black. As the machine manipulates her work to suit its own ends, Bobbi realises she is being controlled in ways more sinister than she suspected.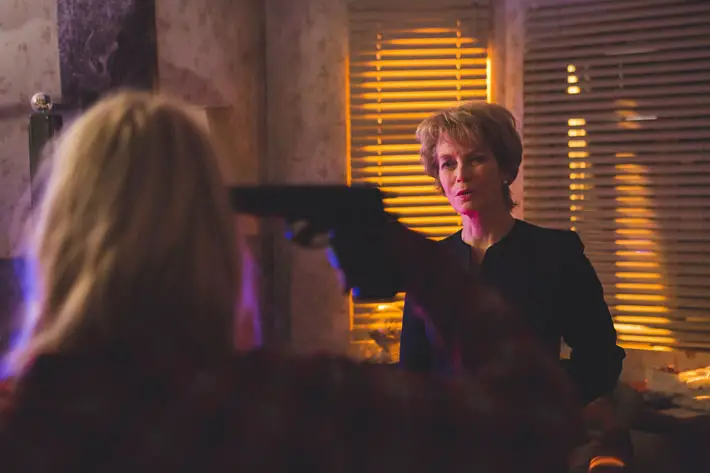 "Extreme imagery"
Inevitably as with any Faustian/Monkey's Paw-style drama involving tech, there will be comparisons to Black Mirror. It could easily have been the product of Charlie Brooker's gloriously twisted imagination. I'm surprised how easily it sucked me in, but that's the joy of low budget dramas set in a house. Domestic settings always work well for tales like this, as the excellent (and seemingly prescient) Await Further Instructions proved. Peripheral is also reminiscent of Richard Stanley's Hardware from a staggering 30 years ago, and Donald Cammell's Demon Seed. Quite obviously at some points.
It treads that fine line between comedy and drama, with trippy scenes and manga-inflected moments of extreme imagery that will leave some shocked.
It often looks amazing and Dan Schaffer's script is bursting with comments about writers who sell out. The subtext is obvious: old school writing on knackered typewriters is good. New tech is bad. And Dan has a point. For every brilliant advance there is with pre-emptive text (or "President text" as my IA Writer suggests right on cue), I probably spend as much time correcting such pre-emptive text as I'd have done the odd typo on my mum's old Smith Corona back in the day.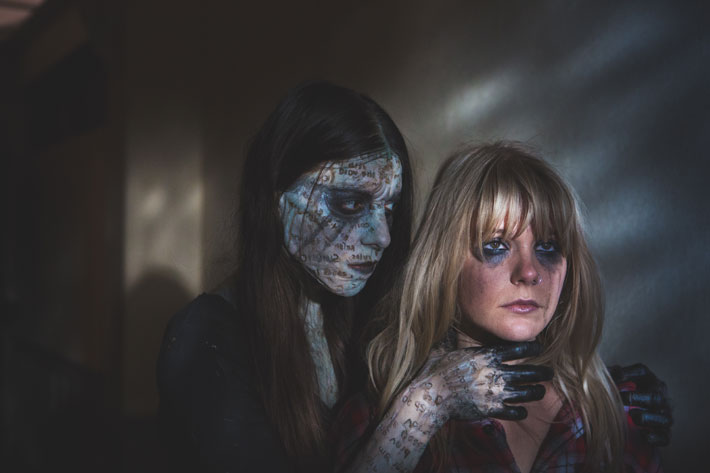 "Compelling watch"
There are times when Peripheral gets a bit too dark and twisted as Bobbi's book nears completion. It's definitely not for the faint of heart, and if you've sat through David Cronenberg's take on The Naked Lunch, you'll have an idea of how the desire for directors to get away from the dullness of watching someone type on screen can lead to a tendency to go over the top in the extreme visuals department.
Cinematography by Peter Taylor is terrific, and the sound design is also pretty good. With glorified cameos from the sublime Tom Conti as a drunk author who waxes lyrical about Shakespeare, and Jenny Seagrove as the glacial face of the obligatory evil company, this is a compelling watch. And though I've no desire to see it again, at least not for a few years, it certainly ticks a lot of boxes for those who like intelligent, hard hitting sci-fi.
Director Paul Hyett, a make-up effects veteran of countless projects like The Descent movies and Attack the Block, knows how to stitch together a gripping yarn on a budget. I'm guessing like Bobbi's book, this should attract a cult following for those who can stomach some of the more unsettling scenes.
'Peripheral' is on digital platform from August 3