Greenworks 48v (2x24v) Cordless 36cm Lawnmower – Review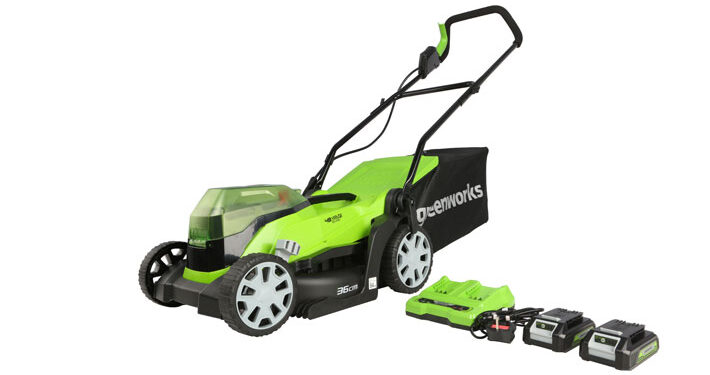 Greenworks 48v (2x24v) Cordless 36cm Lawnmower
Gadget Review
by Julia Paddon
Price: From £199.99
Overview: Incredibly practical cordless lawnmower with rechargeable batteries for small to mid-size lawns.
What Greenworks say:
"When gardeners reported they were finding the 48v rechargeable batteries used to power domestic lawnmowers too heavy for their hand-held line-trimmers and hedge cutters and that the weight was significantly reducing manoeuvrability, engineers at Greenworks came up with the novel solution that has proved to be a major success story for 2020."
Features:
36cm (14") cutting width
2 in 1: mulch or rear collect
5 cutting heights (25mm to 70mm)
50 litre collection
Single lever height adjust
Poly deck
20.5kg (boxed)
Run time 40 mins per charge of both batteries / 1-hour recharge time or 80% in 35 mins
My Experience:
The last time I reviewed a cordless version of a heavy duty gardening gadget (not for this magazine – and not a Greenworks product), so abysmal was the product the company's PR person phoned the editor to beg him not to run the article. So it's with some trepidation that I unpack Greenworks' much-lauded battery-operated lawnmower.
It looks good in the company's vibrant green – and build, set-up and charge from the box really is incredibly easy. There's a small handle you can adjust with a flick for the blade height. I found that the setting just above lowest was perfect.
Finding a cordless lawnmower that's not cumbersome has become something of a Holy Grail for gardening R&D departments. The peril and worry of slicing through a cable while mowing the lawn is relentless – and the constant need to move the lead out of the lawnmower's way an irritating inconvenience. But so far, battery-powered cordless lawnmowers have been heavy – so much so that lugging one around my 8m x 4m lawn took me back to my dad's metal push mower in the seventies. I mean, I'm no weakling – but Hercules I am not.
This, however, is different. While it may not have the manoeuvrability of my hover mower, it glides around my rather bumpy and uneven patch of lawn with ease. It cuts much better than the hover mower, though. The clumpy grass (and assorted clutches of clover, moss and dandelions – look away, Monty Don) are sliced to within a centimetre of existence with an impressive evenness. There's little need for re-mowing either, meaning I've got a Pimms in my hand before you can say 'back ache'.
It took me about 15 minutes to cut my patch, with no lag in performance. What's more, the battery pack actually fits into Greenworks' Hedgetrimmer, meaning you can buy the pair, swap the batteries around and save on cost and storage.
Only issue was with the grass collection bag sagging and dragging along the floor, meaning I couldn't fill it to maximum without needing to empty it.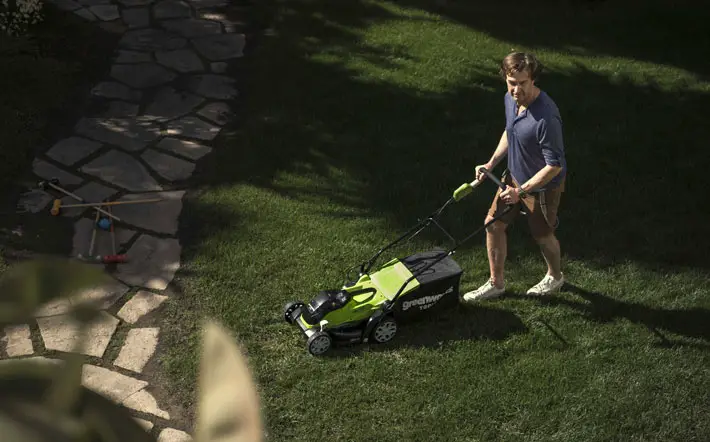 Verdict
While still heavy, the Greenworks Cordless Lawnmower combines excellent manoeuvrability and genuine power with the real convenience of no cord. No more cable dodging, no more slinging the lead over your shoulder and no more slicing through electricity cords in absent minded moments. It's an ultra-convenient solution for small and mid-size lawn cutting, although bigger lawns still have to wait for their solution.
The Greenworks 48v (2x24v) Cordless 36cm Lawnmower is available from Dobbies garden centres and other retailers