Takeshi KItano Collection: Violent Cop (1989) – Film Review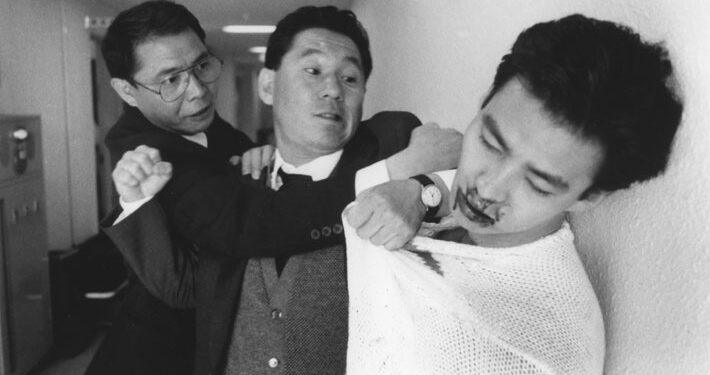 Director: Takeshi Kitano
Cast: Takeshi Kitano, Maiko Kawakami, Makoto Ashikawa
Certificate: 18
by Roger Crow / @RogerCrow
Cop thrillers can be like classical music performed by different artists; similar themes played around the world, albeit with different tempos.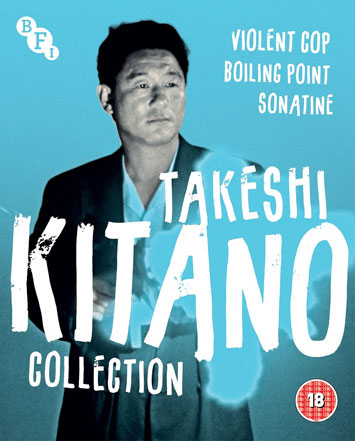 In the early minutes of Violent Cop, a memorable track by Erik Satie (the sublime Gnossienne no 1) is given a Japanese makeover by Daisaku Kume. It also feels like The thematic notes of Dirty Harry are given an eastern spin, but obviously there's more to Takeshi Kitano's acclaimed police procedural than just revamping San Francisco's beloved maverick detective.
"World-weary"
We open with an attack on a beggar by a bunch of youths. Thankfully we don't have to wait long before one assailant is brought to justice by our unorthodox crime buster, Azuma (Kitano).
The bluesy soundtrack which accompanies a chase scene also sums up the tone. Kitano's crime buster is a world-weary kind of guy who does things his way.
It ticks over nicely, and the jet black comedic undercurrent keeps the viewer onside. When a lethal crook is finally caught, it's hard not to laugh out loud as our hero kicks him and then his rookie sidekick for trying to protect the perp. There's a LOT of slapping and kicking in this film, which at times achieves that repeated frying pan in the face routine that made Vic and Bob so funny back in the day.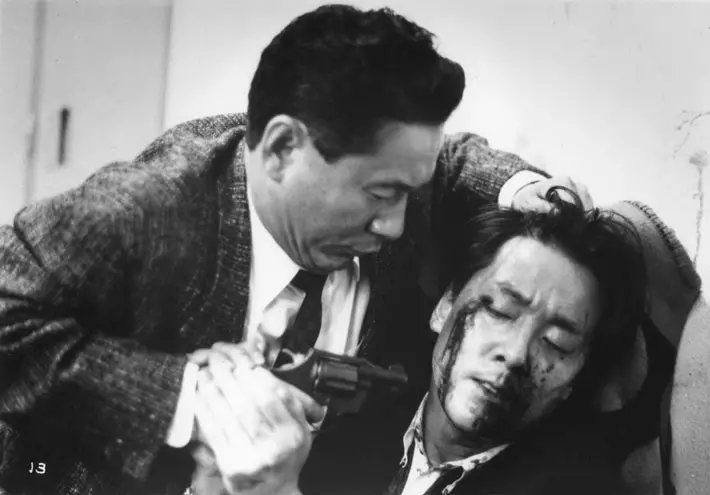 "Gritty realism"
But there's no denying the villain is a nasty piece of work, especially during an obligatory rooftop showdown with one poor soul. Maybe it's the lack of guns that make this so intriguing. Slaps and kicks are reminiscent of feuding kids in a playground, so the fact the villain resorts to such basic attacks make it all the more intriguing. Just watch out for those wince-inducing scenes involving knives.
The Blu-ray transfer looks and sounds terrific. Okay, it not as slick as Ridley Scott's Black Rain, which (in geographic terms) was shot up the road in Osaka around the same time, but the lack of stylistic photography gives it a gritty realism.
Expert Chris D provides a terrific yack track which sheds light on the history of Japanese cinema and a wealth of factoids about the film itself of course.
A fascinating slice of screen history from one of Japan's most interesting film makers and stars.
Special features:
High Definition transfers of all three films
Feature-length audio commentaries on Violent Cop and Sonatine by Chris D, punk poet, singer, actor, film historian and author of Outlaw Masters of Japanese Film
Newly recorded audio commentary on Boiling Point by David Jenkins
That Man is Dangerous: The Birth of Takeshi Kitano (2016, 20 mins): documentary examining the emergence, establishment and popularity of Takeshi Kitano's cinematic image
Okinawa Days: Kitano's Second Debut (2016, 20 mins): a look back at Kitano's Boiling Point, featuring interviews with producer Masayuki Mori and actor Yurei Yanagi
Violent Cop trailer
Boiling Point trailers
Sonatine trailer
Violent Cop is part of the Takeshi Kitano Collection on Blu-ray from BFI which also includes Boiling Point and Sonatine, £39.99