Greenworks Hedgetrimmer 24V 51cm (20″) – Review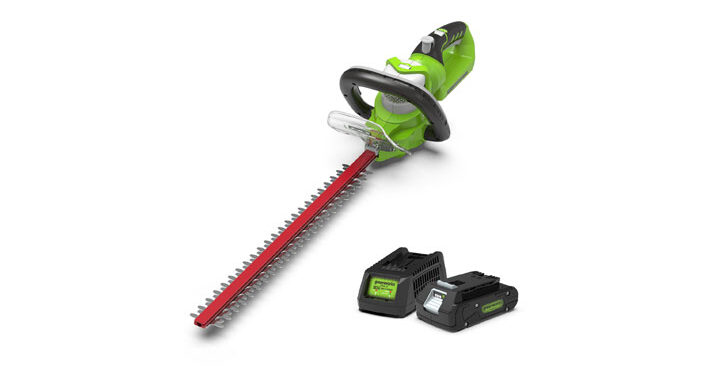 Greenworks Hedgetrimmer
Gadget Review
by Roger Crow / @RogerCrow
Price: From £79.99
Overview: An easy-to-use, labour-saving piece of gardening kit, ideal for those who want neat hedges, beautiful bushes and terrific topiary.
What Greenworks say:
"Greenworks' 24V hedge trimmer allows you to carry out jobs around the garden without being constrained by where the nearest electrical socket is. It features a front pommel grip for strong and comfortable manoeuvring. The polished steel blades give plenty of length and strength for an even cut and the dual action blades reduce vibrations therefore cutting branches evenly from both sides."
Features:
Blade length 51cm
Cutting speed 2800 CPM
Blade opening 19 mm
Dual action blades
24V battery is interchangeable with other Greenworks products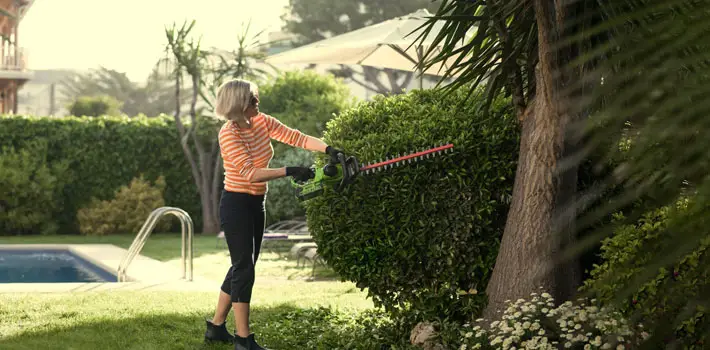 My Experience:
The package, box and all, is relatively light; you can carry the whole thing in one hand. It's also easy to get into the packaging with a few key cuts of the Sellotape. You get a bag of sealed goodies (battery charger and battery) and those all-important instructions/operating manual. It looks great, seems simple enough to use, and there's no complicated wires or switches to set personal alarm bells ringing. The hands-on bit is ergonomic and well designed with a horizontal handle and trigger behind a shield-style area, and a second trigger towards the rear.
The battery slots snugly into its charging compartment, and once you've plugged it in, a green "charging" light flashes away while you go and make a cuppa and read the manual/dream of the perfect garden topiary depicted in one of the illustrations. I left it powering up for a few hours, and once the charge light turned a constant green, it was time for action. Again, the battery clicks neatly into the underside of the trimmer unit, and there's a three-light power gauge to tell you how much juice is left.
For years I've had an unruly Jack Pine which looks like it's been dragged through a hedge backwards. It's long been in need of a decent haircut, and my last attempt with clippers left it looking rather sorry for itself. I remove the blade guard, and wielding the trimmer a tad cautiously, I press both triggers. It starts up and is surprisingly smooth and relatively quiet. (I have a leaf blower/shredder that sounds like a 747 taking off, so this is a welcome surprise by comparison).
The joy is it slices through the foliage like a knife through butter. Within a few minutes (of not very hard work), my beloved tree is looking more orderly and a lot less messy. As is my hedge, which has always been a bit of a nightmare to trim. That long, uniform cut is crucial for an impressively professional finish, and this achieves it easily.
That 15-20 minute trim uses about a third of the battery power, which is pretty good considering the amount of hard work it does without you having to break a sweat. Once finished, I gingerly lay the unit down, remove the battery pack with a press of a lever and after carefully removing green debris, the blade guard slides back on with a minimum of fuss.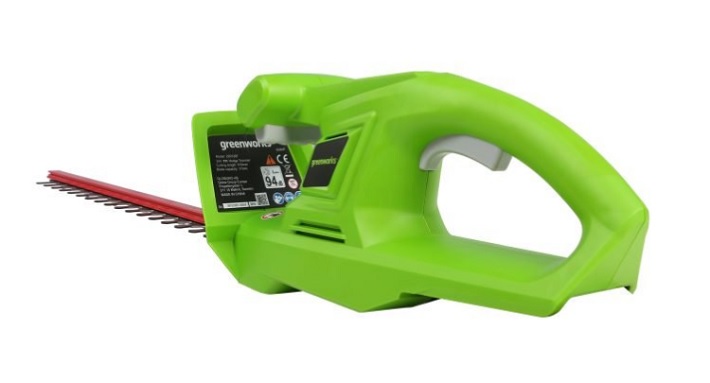 Verdict:
It's genuinely a dream of an experience, and as the manufacturer mentions, THE key factor is there are no leads to get caught up in. Ideal for those who are a constant slave to the nearest available power socket. Safety is obviously paramount, and the dual control activation is very smart. It won't suddenly lurch into life, unless you press both triggers together, so if you're nervous about trimming unruly bushes or trees, this won't be a shock. You're the one in control rather than vice versa.  I've wanted a decent hedge-trimmer for years but could never justify the cost. Given how easy and efficient this is, I wish I'd taken the plunge years ago. Just don't lend it to your neighbours. Chances are they'll be so smitten, you might not get it back.
24V 51cm (20") Greenworks Hedgetrimmer
51cm (20") Dual Action Blades
17mm cutting capacity
Double-trigger operation
2800 SPM
Up to 35 Minutes Runtime (2Ah Battery)
Up to 70 Minutes Runtime (4Ah Battery)
Tool Only: RRP Inc. VAT £79.99
With 1 x Battery & Standard Charger: RRP Inc. VAT £89.99
Promo SSP Inc. VAT £79.99
The Greenworks Hedgetrimmer is available in most retailers that stock Greenworks, including Dobbies garden centres.
For more info visit: greenworkstools.co.uk