Cocaine Bear (2023) – Film Review
Director: Elizabeth Banks
Cast: Keri Russell, Alden Ehrenreich, O'Shea Jackson Jr.
Certificate: 15
By Sarah Morgan
Here's a grisly (or should that be grizzly?) little tale for you.
It involves kilo upon kilo of cocaine, a bear and several humans who make the mistake of getting in the animal's path once it's imbibed some of the infamous nose candy.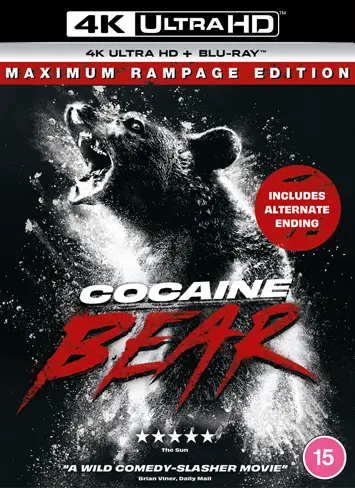 And that, in a nutshell, is Cocaine Bear, one of the most talked about movies of the year. Obviously the title is what initially brings people to it – the trailer has been viewed 23 million times since it was first uploaded five months ago – and I for one was keen to find out whether the finished product would live up to that attention-seeking moniker.
"On the rampage"
I'm pleased to say it does. It whips through its 1hr 35 minute run time, fitting in some genuine laugh-out-loud moments (although you may feel a wee bit guilty about giggling at some of them), a few scares and more gore than your average slasher movie.
Like many of the latter, the story is set in the 1980s (1985, to be exact) and director Elizabeth Banks has filmed the tale in a similar style to those cheap flicks many of us now-forty and fifty-somethings rented from the local video shop during our teens, even though we probably weren't old enough to officially watch them at the time.
It begins as a coked-up drug smuggler (Matthew Rhys, in a memorable cameo as real-life smuggler Andrew C Thornton II) throws bags and bags of the stuff out of a plane travelling over the Appalachian mountains. The idea is that his contacts on the ground will retrieve them later, once he's told them where to look. Unfortunately, an accident means he won't be speaking to anyone ever again.
Instead, it's a female black bear who finds it, ingests it and, frankly, ends up off her face. Black bears aren't known for attacking humans, but this one goes on the rampage, chowing down on anybody who makes the mistake of crossing her path. These include a pair of hikers, a hapless park ranger, the wildlife inspector she lusts after, a group of teenage hoodlums, drug dealers trying to locate the packages before it's too late, a woman searching for her teenage daughter and her friend, a plucky police officer and a pair of medics.
"Memorable set pieces"
Some of them will end up as bear fodder, others will live to tell the tale – and those that do are probably never going to be the same again. I'm not going to spoil anything by revealing who falls in which group, but I will say that there are plenty of twists and turns along the way.
Banks has assembled an impressive cast – Keri Russell (wife of the aforementioned Rhys), O'Shea Jackson Jr, Alden Ehrenreich, Margo Martindale and, in one of his final roles, Ray Liotta (the film is dedicated to his memory) all have leading roles – and are clearly having the time of their lives.
Jimmy Warden's screenplay is loosely based on a real-life incident, but he's embellished it somewhat, adding numerous memorable set pieces which live long in the memory – I'm still cringing over Martindale's fall from the back of an ambulance while strapped to a gurney and the loss of Jackson Jr's two fingers, and probably will be for some time.
As long as you don't go into Cocaine Bear expecting to be intellectually stimulated, you should find it an entertaining and effective horror-comedy – providing you have a strong stomach too. You might not, however, fancy going down to the woods any time soon – you never know what you might find…
BONUS FEATURES:
● Alternate Ending
● Deleted & Extended Scenes
● Gag Reel
● All Roads Lead to Cokey: The Making of COCAINE BEAR - Meet the hilarious ensemble brought together to bring the movie of what is soon to be the world's most famous bear to life.
● UnBEARable Bloodbath: Dissecting the Kills - From rigging to special effects makeup, to some of the actors doing their own stunts, we'll get a bears-eye view into some of COCAINE BEAR's hilarious and gory kill scenes.
● Doing Lines - Cast and filmmakers read lines from the script to COCAINE BEAR, which was a work of art unto itself.
● Feature Commentary with Director/Producer Elizabeth Banks and Producer Max Handelman
Cocaine Bear is available now on 4K Ultra HD, Blu-ray™, DVD and Digital Download