BMW 330e Touring – Review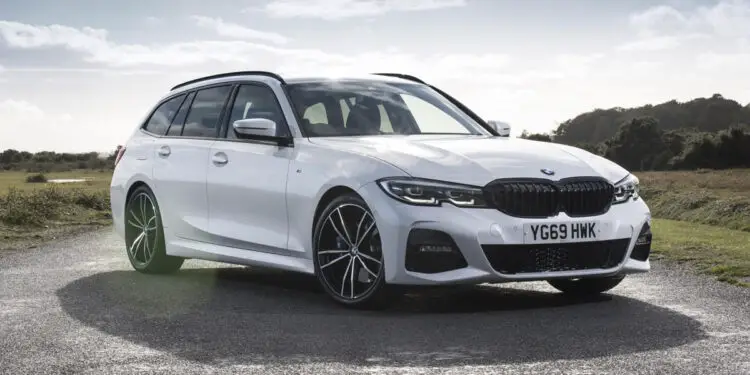 By Liam Bird
If you've taken even just a casual glance at the magazine racks in your local supermarket recently, or you've swiped past a motoring feed while perusing virtually any social media feed you can think of, you'll be more than likely be aware – albeit perhaps only subconsciously – that BMW have recently launched the latest version of their M3. Currently there's a bright green one on the front cover of a very famous Car magazine (if you get my drift?). If your glance on the other hand was even just a tad more lingering, you'll have no doubt noticed that BMW have a new, much larger, grille design too. Automotive column inches have been in short supply, myriad comments have raged on both.
What perhaps you didn't know is that, bulging wheel arches aside, the majority of the M3's muscly looks can be had on a significantly more practical and far more economical BMW 3 Series. The one I'm thinking about also packs a far bigger boot, it's got more bhp than the original M3 could ever dream of, it's possible to have a four-wheel drive one, and you won't have to put up with all the comments about that new much mulled-over grille either. Dare I say it? This one's better looking.
Oh, and it's powered by electricity too.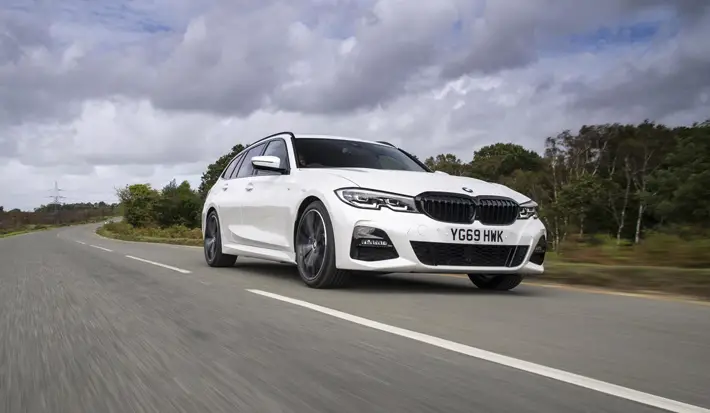 "Short sharp bursts"
Well, it's powered by electricity some of the time. The BMW 330e xDrive M Sport Touring (to give it its full name) is the plug-in hybrid version of BMW's ever-popular 3-Series, and, if my experience of a week in its company is anything to go by, it might-well be all the BMW 3-series you'll ever really need. Incidentally, the 330e will do approximately 30 miles between charges if you choose to run it purely on electrons alone – enough to get across town perhaps, or back and forwards to work. Or it'll go up to 87mph on electric only. Needless to say, it won't do both.
Behind the now-bigger (but not M3 big) BMW kidney grille, the 330e's plug-in hybrid system comprises a 184 bhp 2.0-litre 4-cylinder petrol engine along with an electric motor that's been integrated into the 8-speed Steptronic transmission. The motor alone can generate a peak output of 113hp. Under normal driving conditions, petrol, plus the energy stored in the battery, work together to produce a not-so insubstantial 252hp (with hybrids you can't simply add the two outputs together – for some unfathomable reason).
However, should you press the 300e's discreet little Sport button and also switch the gearbox from auto to manual, the electronics that control everything allow an additional 40bhp to be available for up to 10 seconds. That means that should you need to overtake something, the 330e Touring has, albeit in short sharp bursts, a total of 292bhp. To put that in perspective, the original E30 M3 mustered 197bhp. BMW call that extra little shove Xtraboost. Ask yourself; just how fast do you really need your premium executive family estate to go? Getting a BMW has become even more cost-efficient by paying for one through your employer. You can learn about the best EV salary sacrifice schemes and find a BMW for you!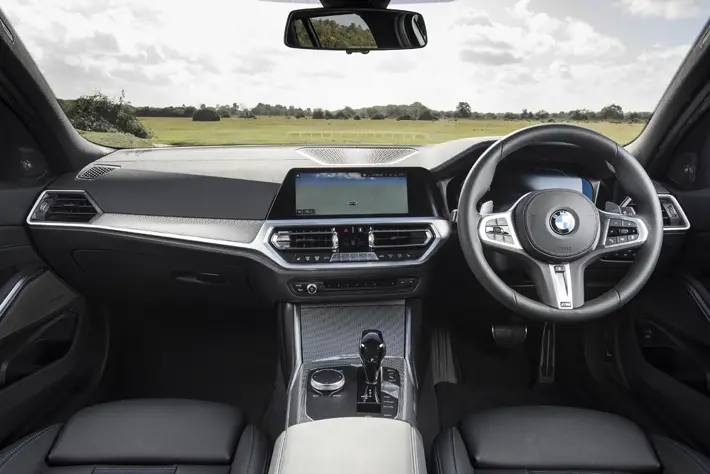 "Built like a bank vault"
I ask that simply because the 330e is exactly what you expect a premium executive family estate to be. OK, it's perhaps not the roomiest of estates – and in fact in hybrid form you do lose a little boot space in order to accommodate the battery. Nevertheless the 330e is still capable of accommodating a family of five and their luggage, there's enough sharp creased styling to get you noticed without screaming 'look at me', and being a product of Bavaria, it's built like a bank vault. It's almost as dark inside too. If that is, you spec the black headlining and forgo the optional panoramic glass sunroof.
Perhaps that last comment is a tad unfair. The 330e's interior is actually a rather lovely place to spend some time, whether you're in the passenger seat playing Book of Ra, or simply enjoying the driving experience. BMW have long been the masters of cabin ergonomics, and there's certainly evidence of that still being the case. Information and entertainment is taken care of by a nicely integrated hi-def. touchscreen, and there's also an optional head-up display system. However, instead of relying solely on a single interface, BMW have also fitted their altogether more tactile I–drive controller (much nicer, and far better than helplessly poking at screen whilst simultaneously steering). And best of all, there are proper buttons for the heating and air-con too. The press demonstrator I sampled also came with gesture control but to me that's perhaps electro-trickery too far.
Fortunately, the driving experience, despite the new-fangled tech, is very much BMW of old. There is tell-tale Germanic tautness to the ride even on the optional adaptive dampers – I blame the big wheel/low-profile tyre combo – and there's also a hint of rear-wheel drive bias, even in the X-drive all-wheel drive equipped version, but neither of which are cause for complaint. The transition between electric motor and petrol engine is all-but imperceptible, road noise is minimal, and in Sport Mode the 330e is a surprisingly swift B-road companion.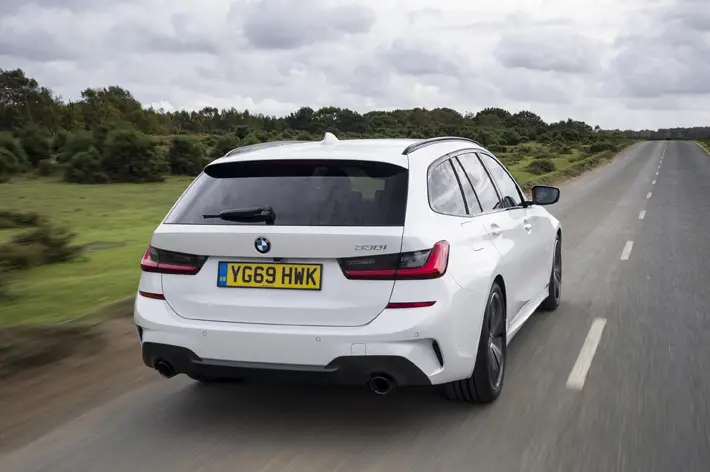 "Very satisfying"
I do wish the steering felt a less artificial though. There's definitely a feeling of extra weight being carried (it'll be those batteries and motor), and why is the infernal lane assist system so damn difficult to switch off? If ever there was a case for fitting just one more of BMW's beautifully engineered switches…
And there's another niggle. BMW say the 330e is capable of somewhere between 128.8 and 156.9 mpg. It isn't! In day-to day use expect somewhere in the mid-50s. How you get more, unless that is you live somewhere perfectly flat and windless, never drive further than 30 miles, and spend every evening charging your car up, I really do not know.
What I do know though is that exaggerated lab-test fuel consumption figures aside, the 330e is very satisfying car to live with. I must be getting older; it's an estate car, it's a plug-in hybrid, and yet I think I'd rather have one than an M3.
BMW 330e xDrive M Sport Touring
Engine: 1,995cc 4Cyl, 16V Turbo Petrol. + Electric motor
Transmission: 8 speed auto with manual mode, with 83kW (111bhp) electric motor, four -wheel drive.
Power: 252 bhp @ 4,500 rpm (+ another 40bhp Xtraboost)
Torque: 310 lbft @ 1,350 rpm
0-62MPH: 5.9 Sec
Max Speed: 143 mph
CO2: 41 g/km
MPG: 128.8-156.9 (WLTP combined)
Electric only range: 30 Miles
Price: from £44,265 otr (as tested £54,090)