Range Rover Evoque (2019) – Review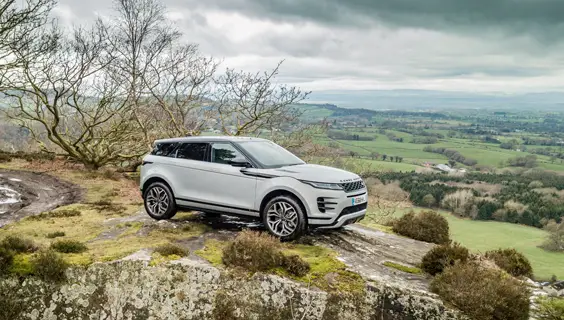 By Liam Bird
It's hard to believe that it's eight years since I was first invited to drive Land Rover's then new Range Rover Evoque. The Evoque was an unknown, a concept car – its design was based heavily on Land Rover's LRX show car – that made it into everyday reality. It was an instant hit and in becoming so took Land Rover, a brand that since its inception has been synonymous with off-roading and rambling country estates, right into the heart of suburbia. A whole new and altogether more urbanised customer found their way into Land Rover ownership. The premium SUV was born. An Evoque now rolls off the production line in Halewood, Merseyside, every 94 seconds.
Clearly then, replacing such a success story was not going to be easy – talk about difficult second album syndrome. Nevertheless that's exactly what Land Rover have done. Although, at first glance at least, you have be pretty eagle-eyed to notice.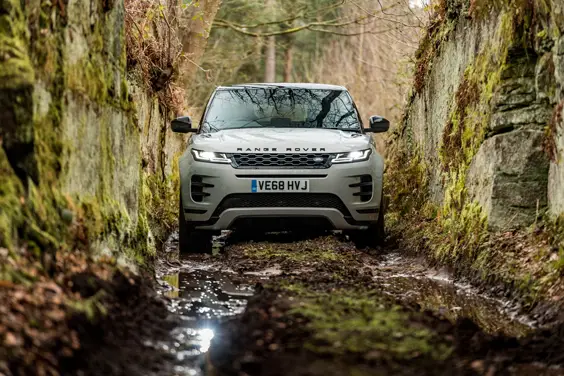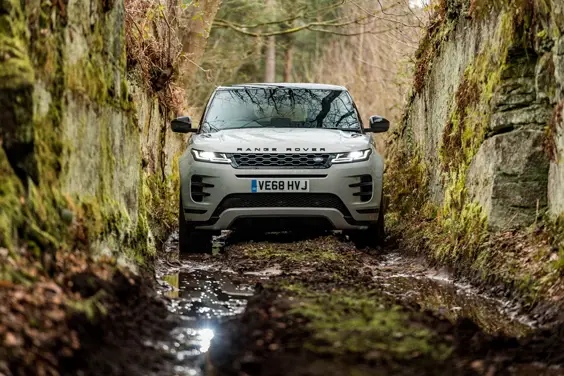 "Bits you can't see that make all the difference"
Think evolution rather than revolution. Whereas once the Evoque inspired the looks of all the Land Rover products that followed it; Discovery, Discover Sport and Velar, it could now be argued that the new Evoque's styling actually now follows them – the Velar especially. It's now sleeker and gains its larger siblings wrap-around head and tail-lamps, as well as its flush-fit door handles. There's no plastic wheel-arch cladding either. It's also now a five door only; no coupe or convertible this time. And, well, to the casual observer, style-wise, that's about it.
Those in the know though say that apart from the door hinges this is in fact a whole new car. The Series 2 Evoque, as no-doubt Land Rover diehards will eventually call it (maybe?) is actually a whole 4mm wider, 1mm longer, and 11mm lower than the car it replaces. The wheelbase is longer too which frees up more rear legroom and allows for a bigger boot – both of which will be no doubt welcomed by existing and prospective Evoque customers alike.
As is usually the case in these matters it's actually the bits you can't see that really make all the difference. This is the first JLR product to use Premium Transverse Architecture: underpinnings that permit lightweight mixed-metal construction, and also MHEV – that's mild hybrid electrification – for all but the entry-level, 6 speed manual and front-wheel drive only Evoque. The 48-volt system stores energy reclaimed during braking, in a battery mounted next to the fuel tank. It's later re-deployed during low speed driving or during more, shall we say, spirited acceleration. A plug-in hybrid is planned for 2020.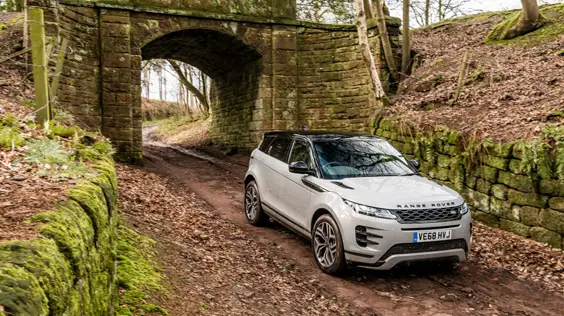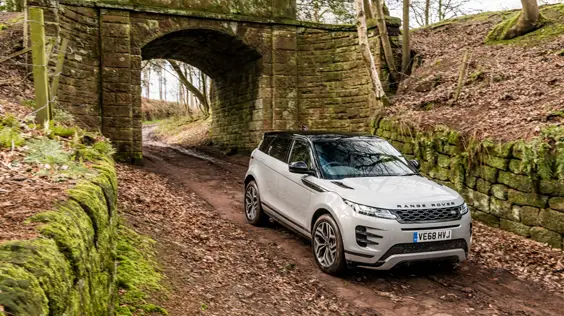 "Very clever"
Engine-wise, for now at least, it's a choice of either petrol or diesel Ingenium units, the majority of which are coupled to a new very smooth 9-speed automatic gearbox.
For the drive through some very familiar parts of Cheshire and North Wales (What d'you mean "You've never been to The Ponderosa"?) we chose an Evoque P200 SE which at £42,600 on the road before options represents mid-range Evoque territory. "Our" car gained privacy glass (£400) and the very clever ClearSight interior mirror which uses a roof mounted camera to project real-time images of what's going on behind you onto the rear view mirror. It's very clever, once you get used to it. Rear visibility was always an Evoque niggle – now it no longer feels as if you're looking through a letterbox.
Another camera based innovation is the Land Rover's "invisible bonnet". Called Clearsight Ground View it allows the driver to see what's going on directly beneath the front of car, literally as if the bonnet and engine weren't there. Like the interior mirror system it requires acclimatisation; it feels a bit video game-like at first. Land Rover demonstrated it by getting us to drive around the inner bailey of Peckforton Castle with the windscreen blacked out. No alloys, perfectly manicured turf, or unsuspecting pedestrians were harmed in the process.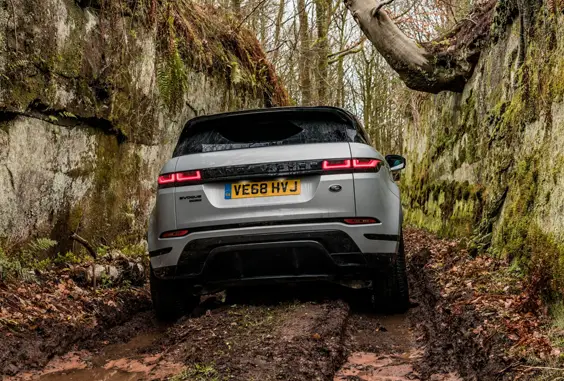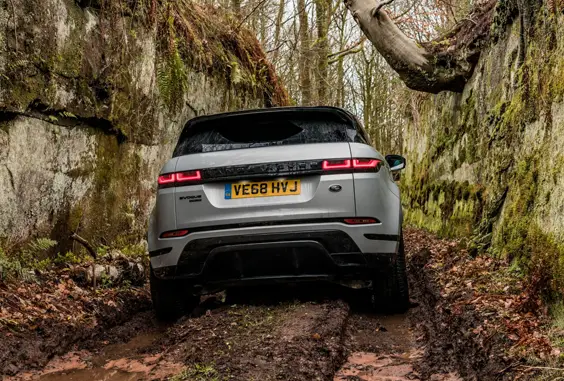 "Rakish looks"
As for the real driving experience, the Evoque is much improved. It's smoother, quieter, and rides with a newfound compliance and comfort that's more befitting of the Range Rover badge. It's not the most of engaging of things to punt along a Welsh mountain pass, the steering lacks feels and the engine can feel a bit strained at times, but it could be argued it was never meant to be. Rakish looks aside this is an SUV not a sports car.
However, off-road the Evoque excels. Once you selected the right setting for the terrain response mode via one of the Evoque's now many touchscreens – surely a chunky button would be easier – it'll traverse the kind of ground many an urban SUV driver would fear to tread. A 600mm wading depth, hill descent control, and some very short overhangs are of course all standard fit.
Eight years is a long time in the life of any car, and to be fair the Evoque was beginning to feel its age. Now it's ready once again to take on the competition once more. Except, now there's far more of it. The Evoque's original success inspired a whole range of premium SUVS: Audi's Q3, Volvo's XC40, VW's Tiguan… and that's to name but a few. Quite whether Land Rover have done as much to impress the neighbours as much as they did last time – that's still all-important in certain parts of suburbia remember – remains to be seen.
Range Rover Evoque P200 SE
Engine: 1,997cc, Four Cylinder, Ingenium Turbocharged Petrol
Transmission: 9 speed auto, All-wheel drive.
Power: 200 bhp @ 5,500rpm
Torque: 236 lbft @ 1,300 – 4,500 rpm
0-62MPH: 8.0 sec
Max Speed: 134 mph
CO2: 176 g/km
MPG: 30.7 (combined)
Price: £42,600 (as driven £44,015)