Lamb and Flag, Leeds – Restaurant Review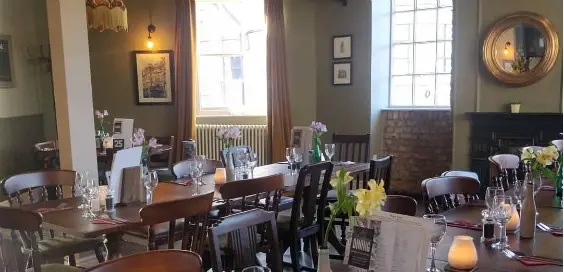 After an exciting new refurb, Leeds pub Lamb & Flag re-opened recently with a bit of a fanfare. So I decided I'd pop over after work one tea-time, and check the place out.
Just on the inside edge of the city centre, the Lamb & Flag really does carry a gorgeous fresh look, with the root of the traditional British pub running right through it.
"Drinks until the sun goes down"
One thing that's glaringly obvious when you look at the place is how popular this place is going to be in the summer months.  With a fabulous courtyard-cum-beergarden, it'll be a destination point for people wanting after-work drinks until the sun goes down. Excitingly, they'll be hosting regular barbecues, and the relaxed feel about the Lamb & Flag will attract many who want to keep out of the hustle and bustle of town, and those who'll want to end up there a little later.
When we arrived, my friend and I were immediately impressed by the staff. We were taken care of by two people who were obviously beaming with pride about the place they worked in, and the offering that they've got.  And that rubbed off on us. Although the atmosphere and surroundings were already good, the feeling from them bolted the feel-good factor about this place together.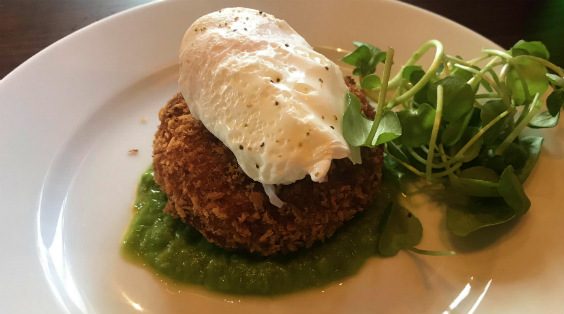 "Fantastic value for money"
We were given time to browse the menu, which is a nice size. Not too much, not too little. I decided to grab the Chicken Liver Pâté with Pink Peppercorn Butter, Sea Salt and Rosemary Focaccia Toast for my starter at a cost of £5.50. And my eyes kept going back to the main of Supreme of Chicken for only £11.95.
My friend took the two recommended dishes. The Ham Hock hHash with Pea Purée and poached hens egg at £6.50, and the Pan-Fried Sea-Bass at £12.95.
We both thought that the menu seemed fantastic value for money, and we had a chat about the new-look interior.
The Lamb & Flag hasn't gone overboard with its makeover. It's been very tastefully done, and has kept its feet firmly cemented in its traditional pub feel, with a nice splash of modern.  It looks invitingly fresh from the outside, so you step inside the place. And it's here you're welcomed with this special look. It's a British pub, with a twist of up-to-date detail with the two mixing together well.  This will keep your pub goers happy, and will welcome the more trendy town style bar fans inside too.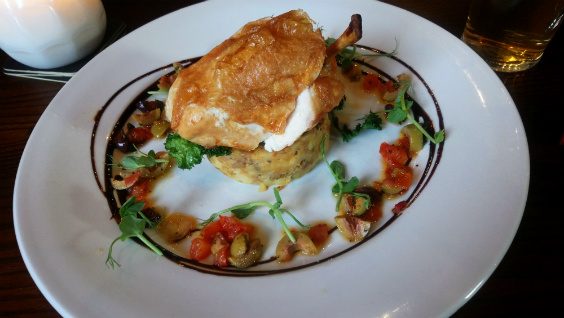 "The menu reflects what the pub is looking to achieve"
And whilst we were gooing over the place, our attentions turned to our starters that had duly arrived. The menu reflects what the pub is looking to achieve: a modern fusion of pub-grub. And they've done it seriously well.
Now, my Chicken Liver Pate was a fantastic choice and I really enjoyed it. Presented nicely, it was a smoother kind of pate than I've had elsewhere. And although usually a simple starter, this had something else.
But my friend eulogised about Ham Hock Hash.  So much so, I had to remind him where he was before he delivered a full on 'When Harry Met Sally' moment!  But he wasn't the only one on the verge of doing that – a number of tables had ordered the same and there was quite a conversation going round about it.  I didn't even accept his offer of trying a bit and that now greatly disappoints me… but then, it's an excuse to go back!
"Looked the part"
We chatted with the manager of the pub between courses. He was really happy with the new look and new menu. We felt that personal touch with a pub-landlord down your local feel, but you don't necessarily get that in the town centre. So again, there's a lot going right here at Lamb & Flag.
We treated ourselves to another couple of pints of lager before our main dishes came out, and as they landed on the table, both dishes looked the part.
My Supreme Chicken came complete with with garlic and basil cream cheese, wilted spinach and olive dressing. It was beautifully presented, and the chicken was nicely cooked. A crisp skin and a succulent bite. But the show-stealer for me was the bed of pesto crushed new potatoes.  A perfect, tasty accompaniment but with a flavour that really added an extra dimension to the dish.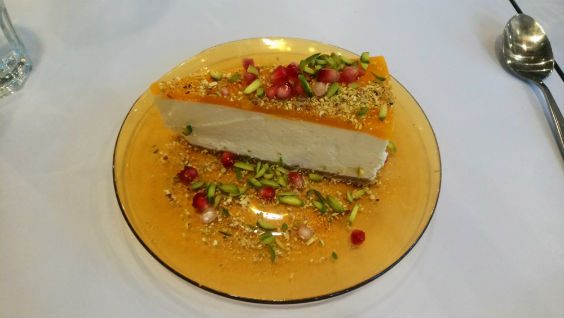 "A huge hit"
The seabass was a hit too. On a plate with crushed new potatoes, wilted greens and lemon caper butter, it was also a good looking dish and my friend and I finished the lot.  They were both presented looking something of a small plate, but that was just a clever bit of food building by the chef.  This hit the spot in the same way traditional pub-grub does.
We both wanted to end the night on something sweet, so I plumped for the Chocolate and orange tart with vanilla ice cream and berries. My friend went for the Creme Brulee (both £5.50).  A nice touch to end our evening at a fab new-look pub that is going to be a huge hit. Especially if that Ham Hock dish is anything to go by!
The Lamb & Flag is well worth heading to on your next trip in to Leeds.  It's a fuss-free and friendly place, and gives you everything you could want from a foodie trip to the pub.
Lamb & Flag, 1 Church Row, Leeds LS2 7HD
Opening Times:
Mon – Wed: 11:00 – 23:00
Thurs – Sat: 11:00 – 00:00 
Sun: 11:00 – 22:30
0113 243 1255
lambandflagleeds.co.uk