Volvo XC40 T5 Inscription Plug-in Hybrid – Review
By Liam Bird
Pick your engines and options carefully. In certain specs the XC40 could prove both thirsty and expensive – our car was £40K plus, and never bettered 30mpg – but with a smaller engine (a 3 cylinder is on the way, apparently) and with fewer sparkly bits the XC40 might just be the safest, coolest, and most satisfying medium sized SUV currently available.
Hmm… That's how I summed-up my review of the then-new Volvo XC40 T5 all-wheel drive after I'd spent a week with it in June 2018. Those First Edition XC40s came in at over £40,000, so it's no wonder I said it could prove expensive. I did look good though – maybe those sparkly bits helped – but then the XC40 still does, and being a Volvo of course means it retains that premium air of sophistication without simultaneously being Germanic. There is definitely something cool about Volvo's recent design.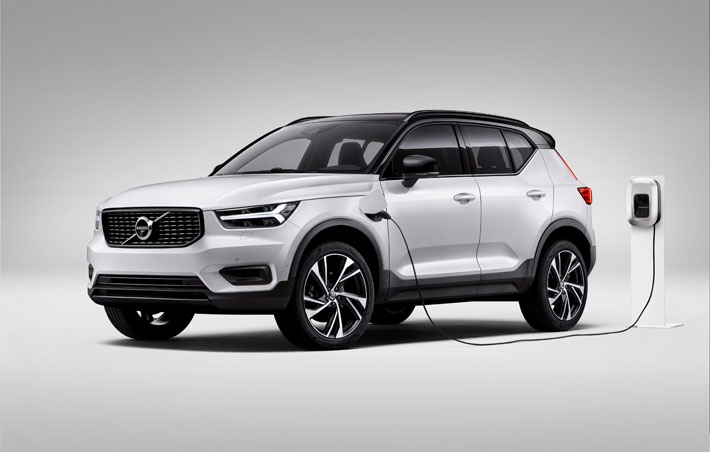 "Chunky looks"
What I hadn't accounted for was that that 3-cylinder engine was going to be part of the new hybrid, (or should I say plug-in hybrid?) system that's now available on Volvo's smallest SUV. Such things shouldn't perhaps be such a surprise, the XC40's Compact Modular Architecture (CMA) platform was designed to allow for both part and full electrification right from its conception, and Volvo do also currently offer a plug-in hybrid version of every model they currently make.
What Volvo don't offer any more however is a diesel XC40 – that's been dropped to make way for… you've guessed it, a fully electric one.
Needless to say, then, the 3-pot mill beneath the bonnet of the plug-in hybrid XC40 is petrol powered. It's also turbocharged. Accompanying it, there's an electric motor, and beneath the floor, a rechargeable 10.7 kWh battery. The engine is said to provide 178bhp, the motor a further 81; that's a not unsubstantial 258bhp in total. Drive goes to the front wheels via a seven-speed automatic gearbox – despite its chunky looks the plug-in hybrid XC40 is not four-wheel-drive.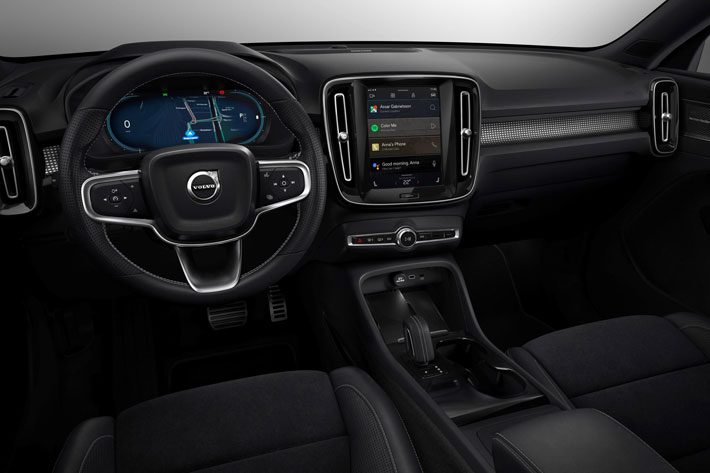 Nevertheless, it is rather clever. In an ideal world, if you've the facility to charge the battery, which you can do from either a charging point or a domestic 3-pin socket, you just might be able to eke out the XC40's full, claimed, 28.6 mile electric only range. That might be enough to get you to work, where you might be able to charge-up again. It might even get you to work and back. If that's the case you could commute on electrons alone, only ever having to trouble the engine when you need to stray further from home. Do so, and Volvo say you'll potentially get anywhere between 119-139.4mpg.
Did you notice I said "Might" and "In an ideal world"? The reality is somewhat different.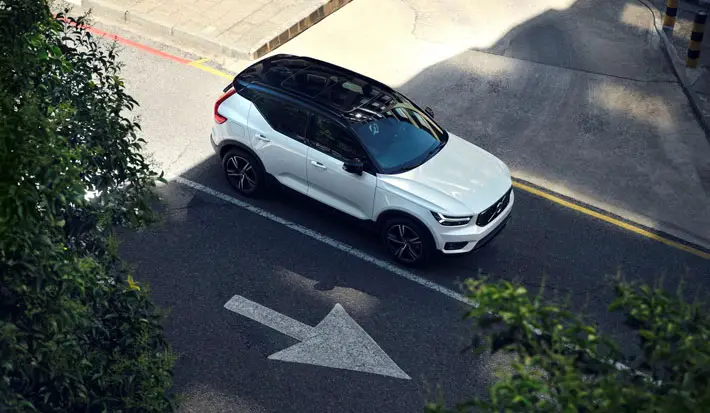 "Built to last"
That's because at some point, you'll need to go up a hill, you'll want to overtake someone, you'll need to accelerate in order to join traffic, or, you'll be driving into a headwind. Any combination of the aforementioned will make the engine kick-in – and that'll effect that theoretical mpg. In order to maximise efficiency Volvo say it's best if you set your destination in the sat-nav, even if you already know where you're going, the software will then calculate how and when to utilise each power plant to best effect; battery in town, engine on the open road sections. In the real world you'll more likely get low 50s mpg. Still, at least the Benefit-in-Kind tax breaks are good.
Apart from a lack of any engine noise on start-up, on the road you're unlikely to notice any transition between petrol or electric, and overall things feel much as they would in a "regular" XC40. You sit high, the ride is a little taut – those big wheel and skinny tyres thump over man-hole covers and such like – and, everything around you feels built to last, and works with well-oiled precision.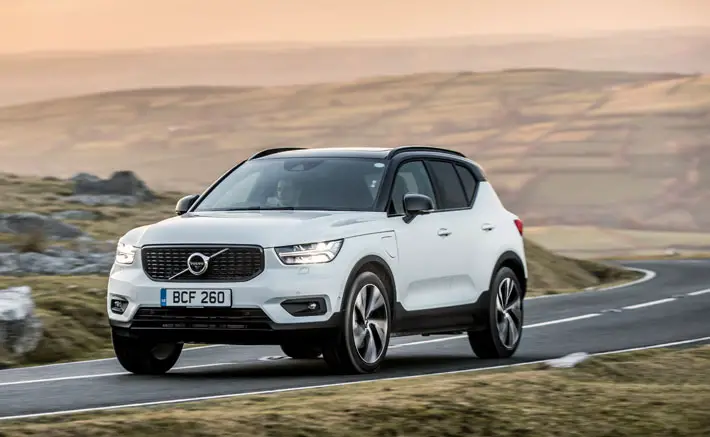 Keener drivers will no doubt comment on the lightness of the steering and its lack of any "feel", but then this is Volvo – they've always leaned towards comfort and relaxation rather than sports and recreation; it's what they do best. Besides, keener drivers, I'd argue, are unlikely to be swayed towards a plug-in hybrid Volvo SUV in the first place.
Ah yes, but what you want to know is should you be swayed towards the XC40 Plug-in hybrid?
If you've access to a charger, your commute is a short one, and you can afford it, then I'd say yes. Just like a non-hybrid XC40, this plug version looks and drives like a quality family SUV should. In fact, I'd go as far as to say that as well as being one of the easiest to live with plug-in hybrids I've sampled so-far; it might just be the safest, coolest, and most satisfying one too.
Volvo XC40 T5 Inscription Plug-in Hybrid
Engine: 1,477cc 3Cyl 12V turbo diesel plus electric motor. PHEV
Battery: 10.7 kwh
Transmission: 7 speed Auto, Front wheel drive.
Power: 258 bhp @ 5,800 rpm
Torque: 196 lbft @ 1,500 rpm
0-62 MPH: 7.3 Sec
Max Speed: 127 mph
CO2: 47-55 g/km 9WLTP combined)
MPG: 119-139.4 mpg (WLTP combined)
Electric Only Range: 28.6 miles
Weight: 1,812 kg.
Price: £42,307