Say Your Prayers (2020) – Film Review
Director: Harry Michell
Cast: Tom Brooke, Harry Melling, Anna Maxwell Martin
Certificate: 15
by Roger Crow / @RogerCrow
Orphaned brothers and Christian radicals Tim and Vic arrive in Ilkley with the task of assassinating controversial Professor John Huxley.
However, after a case of mistaken identity, they have murdered the wrong man. Now stuck in the town during Ilkley's busiest weekend, they wait for the arrival of a foreboding mentor to give them instruction.
The mission must still be completed – that's providing Vic's rage, Tim's doubts or the efforts of foul-mouthed Detective Inspector Brough don't get in the way first.
There's so much about this locally shot comedy drama which appeals. The casting is perfect, especially a scene-stealing Anna Maxwell Martin, whose turn as the potty mouthed Brough is sublime. I could quite happily watch a series with her and absurdly engaging sidekick TI Hodge (Flora Spencer-Longhurst).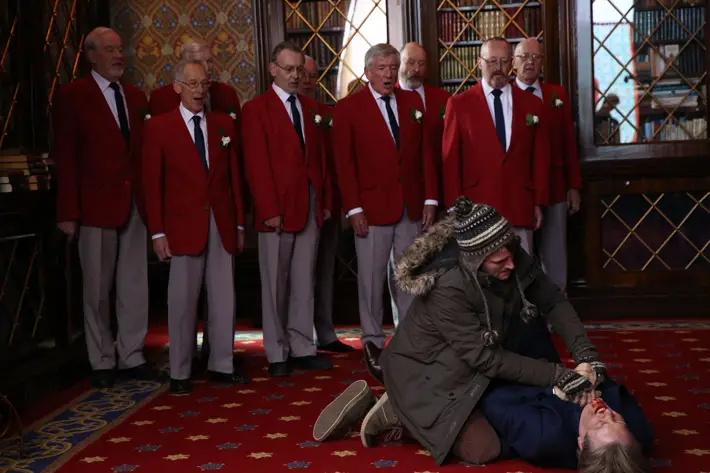 "Ticks over nicely"
Roger Allam is also perfect as the writer in the line of fire – that mellifluous voice is a treat for the ears.
Derek Jacobi can do no wrong in a key role as Father Enoch. Tom Brooke and Harry Melling are great as the troubled brothers, and Vinette Robinson is splendid in support. There's a nice running gag with a male voice choir who stitch the scenes together and aptly act as a chorus to accentuate the more dramatic moments.
The Ilkley locations are super, and it ticks over nicely, with some snappy editing.
Though reminiscent of In Bruges and Sightseers, it treads its own path.
Say Your Prayers could have been tighter, and the epilogue will annoy many, but this is well worth a look, even if the debate about the rights and wrongs of religion could have taken more of a back seat. More Brough and Hodge though please, even if it's just them on a stakeout for an hour eating doughnuts and discussing the weather.
Say Your Prayers is on demand now via iTunes