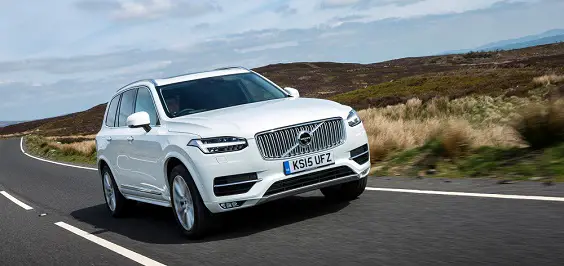 By Liam Bird
One hundred-and-thirty-four-and-a-half-miles, per gallon. That's the exact figure the Volvo XC90 T8 Twin Engine SUV is capable of doing on one gallon of regular unleaded, and a fully charged battery – the T8 Twin Engine is a plug-in hybrid. Or at least that's how I understood it. That is what it said on the spec sheet.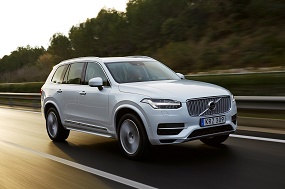 Based on those figures, petrol prices of £1.11 a litre, and my somewhat dubious mathematical skills I calculated that the 388-mile round trip to Lord March's annual mid-summer garden party – otherwise known as The Goodwood Festival of Speed – plus a few extra miles for the odd errand here and there (say 50), and a rounding error or two, should cost me somewhere in the region of, err… hang on… carry the 5… about £16.50.
Incredible. That would be pretty spectacular for a super-mini, never mind a 2.3 tonne all-wheel drive seven seat Volvo SUV. It wouldn't be the first time my maths has been wrong. So before I set off to West Sussex I brimmed the Volvo XC90's 50-litre fuel tank and topped-up the batteries that occupy the area the prop-shaft would normally be in a more conventional four-wheel drive XC90, overnight, with the charger, via a standard 13 Amp socket. With the rear-most seats folded and the resultant gargantuan boot-space loaded, I selected B to make the most of the regenerative braking function – it's hilly out here. I pointed XC90's Thor Hammer headlamps south east.
"Sophisticated interior"
I've driven XC90s before, but I'm still in awe of how sophisticated their interiors look, and how good they feel. Award winning attention to detail, premium feeling materials – the gear selector is made from Oresfor Crystal – and seven individually adjustable and superbly comfortable seats (even the third row is capable of accommodating adults up to the height of 5' 7") are all present and correct.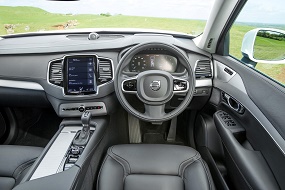 There are few buttons, just eight in fact. The dials, speedo, rev-counter, fuel and battery are all electronic. The very iPad-esque Senus touchscreen handles all the major functions. With a left or right swipe you control the heater, DAB radio navigation, phone and apps. Operation soon becomes pretty intuitive and Volvo say you can even use the system to book your XC90 in for a service – with your gloves on! Handy (if you'll pardon the pun) in a bitter Swedish winter.
It's quiet too, very quiet. Especially so when you pull-off using electric powered rear-wheels alone (the engine drives the front axle). Push the accelerator a little harder and the four-cylinder 2.0 petrol engine seamlessly joins in. Working together with the motor it gives XC90 T8 surprising pace: 0-62 takes just 5.6 seconds and there's enough torque, should you wish, to tow up to 2.4 tonnes (braked).
The XC90 though promotes a more relaxed driving style. Better then to just sit back, soak up the miles, and let the 8-speed gearbox and elec-trickery controlling what power source does what, do their thing.
"Safe and secure"
Overall the handling is safe and secure, but due to its size the XC90, is no sports car. I also maintain my opinion that if your budget stretches to it, the optional air-suspension is a must. The standard-fit steel springs make for a ride that's not as smooth as you'd expect from a £60k super-safe Scandinavian.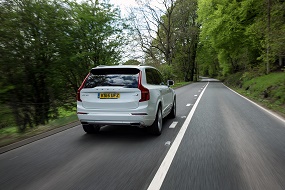 But this Scandinavian isn't as frugal as you might expect.
If you have the facility to charge the XC90 at work and home you may be able to commute on battery power alone. You can then be smug in the knowledge that you're producing (so Volvo claim) just 49g CO2/km. You're also paying zero road tax and no congestion charges. Drive like a maiden aunt in socks and there's even a slim chance that you may not need to trouble a forecourt attendant for a week or two. However…
After just 30-miles into my cross country trip the Volvo XC90's batteries were all-but flat. The car reverted to being a petrol-powered SUV that carried a big battery and an electric motor.
After four and half hours of steady-paced mixed-road driving I checked both the trip computer and fuel gauge: three quarters of a tank gone, and an average of 32.4 Mpg. Even my maths tells me that's over 100 short.
"All-wheel drive"
After what was yet another spectacular if somewhat soggy Festival of Speed – the muddy car parks gave me the chance to try the Volvo XC90's all-wheel drive function, and very useful and effective on the combination of wet grass and devilishly slippery chalk downs it was too – I put £60 of unleaded in the XC90's tank, in anticipation of the journey home.
With no facility in rural Sussex to recharge its batteries, except by running the engine whilst stuck in the inevitable traffic queues, there was no way for me maximize what I found to be the XC90's questionable efficiency any further.
After sampling the XC90 D5 last year I concluded by saying that it is one of the finest works of Volvo to date. I think that still. If you don't have regular access to a 13A socket and, like me, you're the kind of driver that likes to rack up the miles, the diesel-engined Volvo XC90 (preferably with an air-suspended chassis) is, long-term, the equally plush yet cheaper and more efficient option.
Volvo XC90 2.0 T8 Twin Engine Momentum
Engine: 1,969cc 4Cyl 16V Petrol
Transmission: 8 speed Auto, All wheel drive.
Power: 320 bhp @ 5,700 rpm
Torque: 295 lbft @ 2,200 – 5,400 rpm
Electric Motor: 87 hp
0-62MPH: 5.6 Sec
Max Speed: 140 mph
CO2: 49 g/km
MPG: 134.5 (combined)
Price: from £60,455 (as driven £63,880)