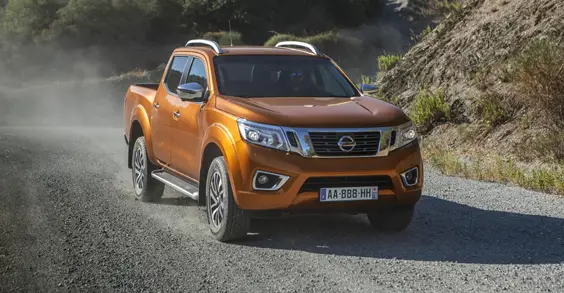 By Liam Bird
The one-tonne pick-up market is about to get seriously competitive. A month or so ago Toyota launched their new hi-lux, Fiat have just unveiled their new fullback, Mercedes-Benz will get in on the act in 2019 with their GLT, and Renault will have one too. Their's is called the Alaskan. Then there are the well-established favourites: Mitsubishi's L200, Ford's Ranger, Isuzu's D-Max, the plush Volkswagen Amarok and the Nissan Navara. Your choice of load-lugger is becoming ever wider as we speak.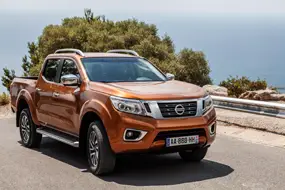 Ok, so you can't actually walk in to a showroom and err… pick up, either the GLT or the Alaskan yet. But, I'll let you into a secret. Due to an alliance between Mercedes, Renault and Nissan you can buy virtually the same thing: both the French offering and the Bavarian are based on the Navara. And if that's anything to go by, very good they're going to be too.
Nissan have been making pick-ups for the last 80 years and more recently, with their X-Trail and Qashqai, they also seem to have cornered the SUV market. The new NP300, that's Nissan pick-up three-tonne gross vehicle weight, Navara utilises their expertise of both, bringing a similar level of car-like refinement and comfort, as well as first in class technologies, to an altogether more traditionally rugged clientele.
"Refined"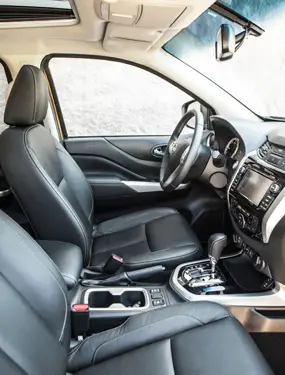 In a sector that has traditionally been slow to adapt the Nissan Navara NP300 sets a new benchmark. 'Around View' Monitor and Forward Emergency Braking (FEB) are, for now at least, unique and provide customers with technology levels never before seen in this marketplace. Cruise Control, Hill Descent Control (HDC) and Hill Start Assist (HSA), all specifically developed for the NP300 Navara also put in an appearance, as do keyless entry, a rear-view camera, parking sensors, electric everything – seats, mirrors, etc. And perhaps most reassuringly of all, a 100,000 mile warranty.
Further road-going refinement comes from Nissan's decision, on the double cab Navara NP300s that is, to ditch the traditional rear leaf-springs and instead fit a new five-link coil system which provides a much more refined ride.
The sheer size of this wagon and it's balloon-like tyres means body-roll hasn't be totally eliminated. It's best to adopt a slow-in-slightly-faster-out cornering technique due to steering that will happily take a quarter-turn input before reacting. But the bouncy bone-shaking ride that's usually associated with pick-up trucks is all but banished. Working class the Navara NP300 may be, but its road manners, sometimes notchy gear-shift aside, are second to none.
"New class standard"
It promises to be well behaved off-road too. A twist of a knob is all that's required to engage 4-wheel Hi or Low. If you've ticked the options list accordingly, a button press is all that's needed to lock the rear differential. Factor in the 2.3 litre twin-turbo motor's wide spread and generous torque levels and there should be no reason for you, or your (up to) 1045kg payload, to ever get stuck in the gooey stuff ever again. That oomph helps with the Navara's 3.5 tonne towing capacity too.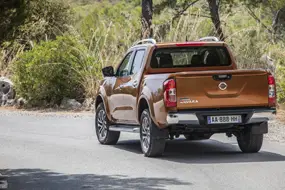 Not that I strayed off-road, or for that matter loaded the Navara up. Like a whole new generation of pick-up drivers I chose to simply use it for day-to-driving and family transportation duties. It feels enormous in a supermarket car-park. Height limiters leave you gasping. But near 40mpg when un-laden, parking sensors all-round, plus the ability to see all four corners from its elevated driver's seat go a long way to help calm the nerves.
Both capable and comfortable, the Nissan Navara sets a new class standard. How the competition react should prove rather interesting.
Nissan NP300 Navara Tekna Double Cab
Engine: 2,298 cc 4Cyl dCi twin-turbo Diesel
Transmission: 6 Speed Manual, part-time four wheel drive.
Power: 187 bhp @ 3,750 rpm
Torque: 332 lbft @ 1,500 – 2,500 rpm
0-62MPH: 10.8 Sec
Max Speed: 114 mph
CO2: 169 g/km
MPG: 44.1 combined
Price: £24,792.50 (car driven £25,796.50)