Isuzu D-Max Arctic Trucks AT35 – Review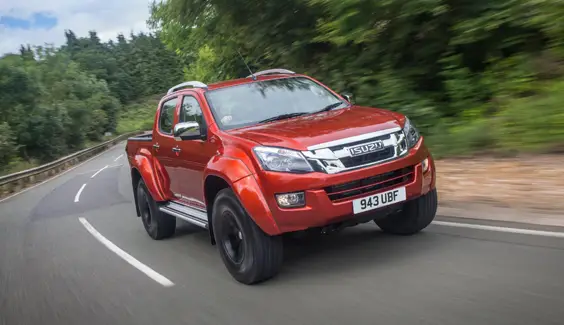 By Liam Bird
The coldest place on Earth is, according to Mrs B, not amongst the frozen waste lands of the Arctic Tundra. Oh no! It is in fact Liverpool. And, on a particularly bleak Saturday afternoon in November with the prelude to hurricane Angus whipping up from The River Mersey I'm not entirely sure I don't agree. Where better then to take Isuzu's latest, and appropriately named pick-up truck: the D-Max Arctic Trucks AT35?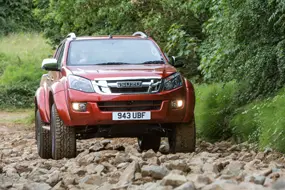 Standing well over six-feet tall and on specialist 35in Nokian Rotiiva AT off-road tyres, fitted to 17 x 10-inch alloy wheels, the Artic Trucks AT35 is probably not the first thing that springs to mind when it comes to urban adventures. But, as more and more people these days are buying pick-ups as a recreational choice rather than a business or a commercial one, we simply ask ourselves why not? Then we head north.
Based on the already rugged Isuzu D-Max, the Arctic Trucks AT35 is the result of a collaboration between Isuzu UK and the Icelandic off-road specialists that are Artic Trucks. If you've ever Googled how to drive up a glacier or a volcano the chances you've seen someone driving an Artic Trucks product. But, whereas once you had to take your own pick-up to them and have it modified, you can now walk in to one of Isuzu's 36 UK main dealers and buy either an extended-cab or double-cab version of one straight off the shelf. Well, the showroom floor at least; The D-Max does weigh two-tonnes.
"Visibility needess to say is excellent"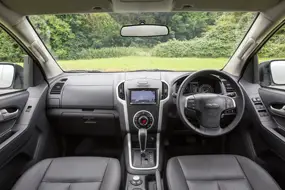 For around £40K you get those aforementioned wheels and tyres and some seriously flared wheel-arches to cover them. Plus, there are Fox Series Performance dampers together with a 125mm suspension lift, a very meaty receiver type tow-bar both front and rear, and more underbody protection than you can throw a substantially-sized boulder at. You can also add extras such as winches, high intensity LED lighting and even an on-board tyre inflation and deflation system should the going get seriously tough. You'll need to fork out extra if you want sat-nav though and, strangely for something so obviously intended for harsh weather, there are no heated washer jets either. An iced-up windscreen is a pain whether you're Aigburth or in the Artic.
Thankfully the AT35 does come with heated seats and air-conditioning, both of which, in an interior that's clearly been designed for work rather than luxury, make for welcome additions.
That's not say the AT35 is uncomfortable. Far from it, in fact. Visibility needless to say is excellent, so plotting your course across the city or the great wide open is easy. There's space enough too, in the double-cab at least, for four adults to stretch out, store their valuables, and charge their phones. Nevertheless, there's no denying that when compared to the likes of VW's Amarok, or Nissan's Navara, this interior feels decidedly low-rent. Durable though it is, hard plastics abound. And Isuzu's decision to cover the rather flat seats in the most slippery of leatherettes known to man definitely won't please everybody. Until the heater kicks in everything inside the AT35 feels very cold to the touch.
"This leviathan can cruise quite happily at motorway speeds"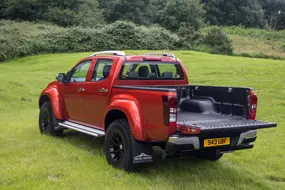 It might come as a surprise then to say that on the road things are actually rather well mannered. If you prepare to slip and slide a little, and bounce too – those big dampers struggle to iron out all of the bumps – this leviathan can cruise quite happily at motorway speeds. That's down to, in part, a very high sixth gear – we drove the manual, an auto is also available – so 70mph equates to little more than 1,500 rpm from the 2.5 litre diesel engine. Low 30s mpg is also attainable. It does take a while to get there, of course. The lower gears have been selected to aid towing (up to 3½ tonnes, braked), so acceleration is steady to say the least and things are a bit industrial sounding if you're in a hurry.
But at least there's plenty of grip. Once you've got used to the width it's surprisingly easy to manoeuvre your way through tight spaces, traffic gaps, or in our case the cobbles of The Georgian Quarter.
Or were people just getting out of the way?
Wherever you drive the D-Max Artic Trucks AT35, be it the frozen tundra or the Mersey Tunnel, you're sure to be noticed. Honestly, I've driven Aston Martins that have garnered less attention. And that's part of the appeal. Could you use one every day? That depends entirely on what you're using it for. But, as something for the weekend… Well, there's little to rival it.
Isuzu D-Max Arctic Trucks AT35
Engine: 2,499cc 4Cyl 16 valve, turbo-diesel
Transmission: 6 speed manual 4×4
Power: 163 bhp @ 3,600 rpm
Torque: 295 lbft at 1,400 rpm
Max Speed: 112 mph
CO2: 192 g/km
MPG: 38.7 (combined)
Price: from 40,741.80 on the road