Suzuki S-Cross AllGrip – Review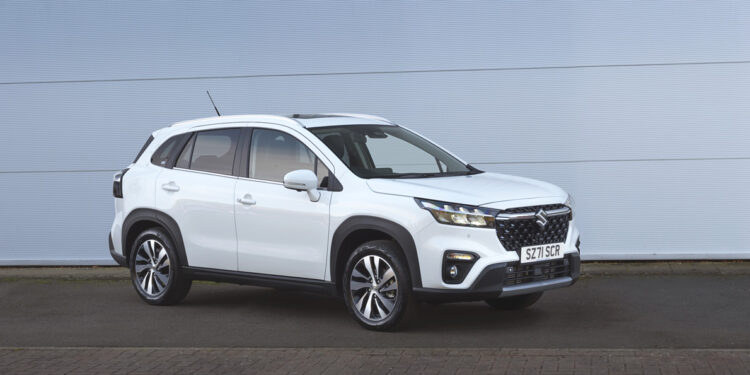 By Liam Bird
At a recent event held by Suzuki's always lovely press department it was evident they're incredibly proud of the fact that the entirety of their passenger car range now come with Hybrid technology as standard. (Note: the now near-iconic Jimny, only available as a Light Commercial Vehicle thus doesn't classify). From Ignis to Vitara, all are now fitted with some form of electrical assistance.
As yet there's no plug-in hybrid available, and no fully electric Suzuki passenger car either, but I have it on good authority their respective times will come.
So then, for now, your Suzuki hybrid choices range from mild to full. I know… Don't get too excited, eh?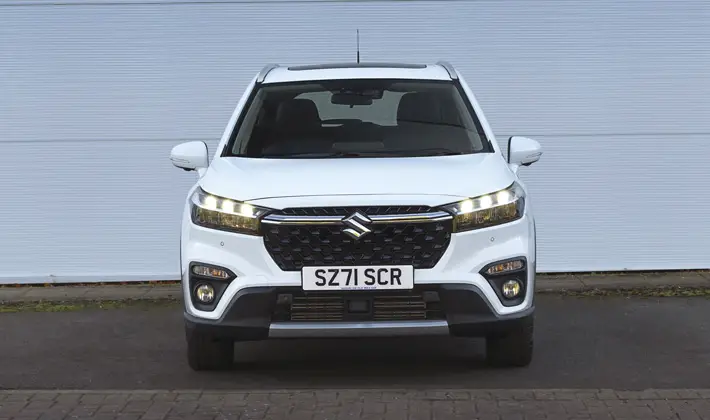 "Reputation for reliability"
That's perhaps a little unfair. If you happen to be in the market for a practical family car (read SUV/Crossover) that also has the ability – rather than just looking as if it does – to tackle broken roads, rugged terrain, or come winter, snowy country lanes, then perhaps Suzuki's new mild hybrid S-Cross should be on your radar. It may not break the bank cost or economy-wise either. And of course there's Suzuki's enviable reputation for reliability to consider too.
Full credit must be given to Suzuki for their efforts in making the new S-Cross significantly less anonymous looking than its forebears. It's by no means as distinctive as the new Hyundai Tucson with its headlamps hidden behind its grille, or Peugeot's feline 3008 – Peugeot, lion, get it? Nevertheless, the new raised bonnet line, piano black grille, LED headlamps, and a now more muscular stance overall means the S-Cross – ok so not perhaps the outright "looker" of the bunch – is no longer the wallflower of the compact SUV class.
Power comes from Suzuki's K14D 1.4 litre turbocharged Boosterjet engine which incorporates Variable Valve Timing and higher pressure fuel pump which together with other various forms of electrickery "combine to increase fuel economy whist simultaneously lowering CO2 emissions". Well, that's what Suzuki say at least. Although to be fair, we did achieve fuel economy figures very close to the 47.8 mpg Suzuki claim for the Allgrip (ie four-wheel drive) S-Cross during our 200 mile-or-so circuitous tour of mid-Wales's lesser known lakes and mountains.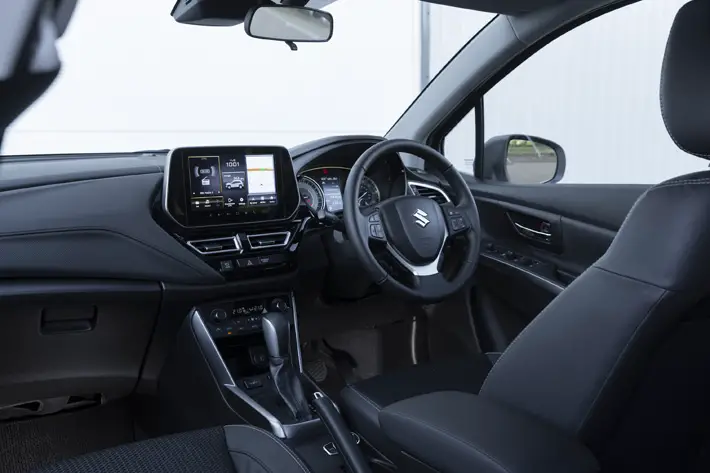 "Smooth shifting"
In a car the S-Cross's size you might expect a displacement of just 1,373cc to feel somewhat overwhelmed by such a journey; that's not the case. The 48V mild hybrid system – similar to the one as Suzuki use on the Swift – fills the gaps in the engine's torque curve, thus very nearly, eliminating any turbo lag. You do still have to make sure you've selected the correct ratio gear amongst the six Suzuki stuff into the smooth shifting manual 'box (an auto is also available) and performance: 0-62mph in 9.5 seconds; 118mph top speed, is adequate rather than abundant, however at no point does the S-Cross feel as if it's struggling to keep up. Road noise isn't too intrusive either.
Neither does the S-Cross feel spartan or underequipped inside. Regardless of spec (there's only two; Motion or Ultra), you get seven airbags, adaptive cruise, lane departure warning, traffic sign recognition, roof rails, parking sensors, and 17 inch alloy wheels. Not to mention heated front seats, and a 7.0in touchscreen with Apple CarPlay and Android Auto to keep you informed and entertained. Stretch the budget to Ultra spec (Motion starts at £24,995; Ultra at £29,799) and the touchscreen swells to 9 inches, the seats get part-leather trim, there's a panoramic sunroof the size of a pair of patio windows, and (for some) the all-important aforementioned Allgrip system which affectively turns the S-Cross into an automotive mountain goat.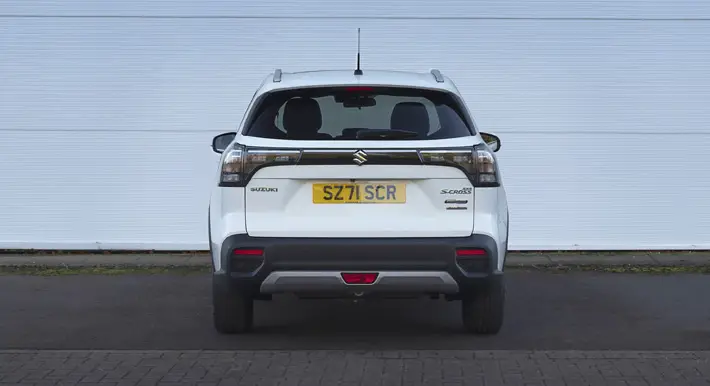 "Value for money"
Honestly, Suzuki's little four-wheel drive cars will go almost anywhere you point them. You also get a brilliantly clear 360-degree parking camera should your pointing or parallel parking not be quite as accurate as you'd like them to be. Yes, you could argue that some of the plastics all that equipment is wrapped-up in are a tad hard and scratchy, but on a car that will cost around £200 on PCP perhaps that's just being picky.
And there lies the S-Cross's appeal. It's fair to say that it's not going to offer you the last word in driving dynamics; the steering is far too rubbery feeling for such things, and the suspension has definitely been set-up for comfort rather than cornering but, find me another 5-seater SUV (crossover?) that offers the kind of kit the S-Cross can for under £30K. And let's not forget it won't get stuck in winter or on a festival carpark either. If value for money, practicality, and reliability are your thing, perhaps you should be getting excited about the Suzuki S-Cross hybrid after all.
Suzuki S-Cross 1.4 Boosterjet Mild Hybrid Ultra Allgrip
Engine: 1,373 cc 4-Cyl turbo-charged petrol
Power: 127 bhp @ 5,500 rpm
Torque: 173 lbft @ 2,000-3,000 rpm
Transmission: 6-speed manual with selectable ALLGrip four-wheel drive
Performance: 0-62mph: 10.2 sec
Max Speed: 121 mph
MPG: 47.8 Combined (WLTP)
CO2: 133 g/km (WLTP)
Price: £29,799 otr. (As tested £30,349)