Suzuki Swift Sport 1.4 – Review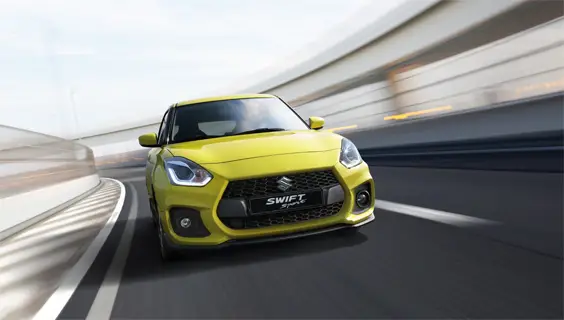 By Liam Bird
When it comes to driving the Suzuki Swift Sport I'll admit, I've been spoilt. The first time was as part of its European launch, in and around Barcelona and during a warm, late October of 2011. I returned singing its praises. About a year later I got to drive one again, and an un-seasonably warm weekend in north Wales spent sampling some of Snowdonia's greatest roads made me fall for the second generation Swift Sport all-over again.
But, I wondered: Did the sunshine affect my judgement? Was my relationship with the Swift Sport based on little more than holiday romance? Or, was there more to it?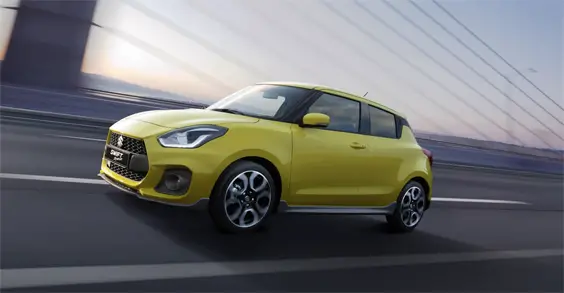 "Good as I'd remembered"
A third much longer encounter during which I genuinely lived with the Swift Sport – using it as a daily driver, for the regular commute, the supermarket run, and for all other things day-to day driving wise, and in distinctly more inclement weather I might add – only served to cement my opinion. The range-topping Swift really was as good I'd remembered.
It's no wonder then, that I was so eager to sample this: The new third generation Suzuki Swift Sport, and as soon as I was able. Fortunately Suzuki recently invited me to Ireland to do just that.
The roads of County Kildare and over the Wicklow mountains plus a few… ahem… swift (sorry!) laps of the Mondello Park circuit would provide ample opportunity for me to get acquainted with what is now a both a larger, and a lighter (by 80kg in fact) car. I packed my bag and headed for the airport.
Now before we go on, perhaps we should deal with the Swift Sport's price. It's £17,999. On first impressions I'll grant you that might sound a bit steep for something Fiesta-sized. However, bear with me.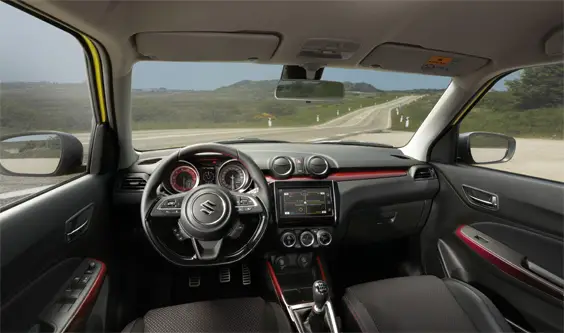 "Agility"
Not only does the new Swift Sport get a raft of extra kit to make it look far more sporty, and handle with altogether more agility, than a standard Swift; there's completely different grille for starters, plus a rear diffuser with twin exhausts, an upper rear spoiler, LED headlamps, polished 17" alloys, reworked suspension with Monroe shock absorbers front and rear, and vented front brake discs. You also get some seriously comfy high-backed sports seats that hug you in the right places, a chunkier steering wheel wrapped in dimpled leather, alloy pedals, and a smattering of carbon-fibre look trim with red highlights on the inside too.
Then there's the safety equipment. All Swift Sports come with Lane Departure Prevention, Adaptive Cruise Control, six airbags, ISOFIX, ESP, Advanced Forward Detection System and Dual Sensor Brake Support (DSBS) which, if there's high risk of a collision, will apply fully braking force, automatically, in an effort to reduce any damage. You also get DAB, a touch screen sat-nav, Android Auto/Apple Carplay, a reversing camera, auto air-con, and Bluetooth.
And remember, that's all as standard. You'll be hard-pushed to find another hot-hatch that offers all that without the aid of some well-placed ticks on its options list, and no doubt a degree of haggling to go with them. Suzuki don't even charge extra for metallic paint.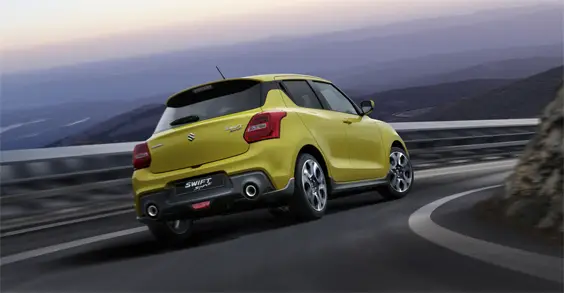 "Wider appeal"
And what of the engine? It's under the bonnet where the biggest change to this little car has been made. The naturally aspirated 1.6 litre engine that powered the previous generation Swift Sport has been replaced by Suzuki's turbo-charged 1.4 Boosterjet unit that's also seen service in their Vitara and the S-Cross. The new motor gives you more torque – 44% more in fact – and 138bhp.
Progress therefore, should the need arise, can still be brisk: 0-62mph in 8.1 seconds and 130 mph where allowed. And, as I found out around Mondello, it will still cock its inner rear wheel in the air should cornering ventured with "conviction". But, whereas once the Swift Sport positively encouraged you to rev it all the way to the red-line, the new smaller turbo-charged motor packs most of its punch between 2,500 rpm and 3,500 rpm, so there's now no need to work it, the six-speed gearbox, or yourself quite as hard.
Certain drivers I suspect might find that a little disappointing, a little less involving maybe? Conversely it might also now give the Swift Sport wider appeal.
I know it's always been more of a warm hatch than a bona fide hot one, and yes, it does feel slightly more mature than it once did too. I also know it's also more expensive than it once was… But if you ask me, come rain or shine, the Suzuki Swift Sport still remains a favourite.
Suzuki Swift Sport 1.4 Boosterjet manual
Engine: 1,373 4Cyl 16V Petrol turbo
Power: 138 bhp @ 5,500 rpm
Torque: 170 lbft @ 2,500 – 3,500 rpm
Transmission: 6 speed manual. Front-wheel drive.
Performance: 0-62 mph in 8.1 sec
Max Speed: 130 mph
MPG: 50.4 Combined.
CO2: 125 g/km
Price: From £17,999