How Comics Work by Dave Gibbons and Tim Pilcher – Review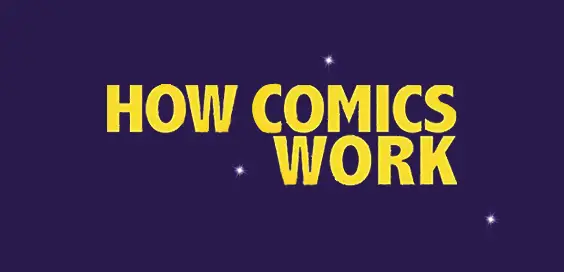 By Roger Crow
I wanted to do two things for a living at the age of 16: create comics, and make films. In an age when the latter was financially impossible, I opted for the cheaper alternative.
My dream was to work for 2000AD, like Dave Gibbons. So, with what little cash I had, I spent on books like How to Draw Comics the Marvel Way, in the hope that some of that magic would seep from the pages and I'd land a dream job.
However, despite slaving long hours over comic book film adaptations and my own creations, it was not to be (though I did get a tenner for a 2000AD cartoon in 1987).
Which is not to say I no longer find the medium fascinating, and as Gibbons created the look and feel of Watchmen, the Citizen Kane of the medium more than 30 years ago, his new book How Comics Work is both a trip down memory lane and a handy guide for the digital artwork I now create.
"A feast of info"
Whether you're an aspiring artist keen to follow in Dave's footsteps, or more of a (now) casual observer like me, his tome is a fascinating study of the medium with just about every tip and guide you need to get great comic art and stories out to the masses. And of course these days it's easier than ever to reach an audience.
One minor problem is the cover. I've never been a fan of the Green Lantern, and the generic art cheapens the rich content within. Okay, it's worth reiterating that well-worn phrase, 'Never judge a book by its cover'. Some great offerings have awful covers, and this is a case in point.
That aside, there's such a feast of info here, you definitely get your money's worth for £16.99.
Gibbons has spent so long in the industry, he's done a terrific job of covering all the bases, including prepping comic books for a digital medium.
"Pretty peerless"
I did learn an important lesson from him years ago: the more complex the story the simpler the page layout, which is why his masterpiece with Alan Moore, Watchmen, has a standard nine-panel page.
And Gibbons' attention to detail is phenomenal, as proved by a detailed fax he sent to a colleague in America illustrating a key point in a building's construction.
The previous comparison to Welles' work is coincidentally referenced by Kingsman creator Mark Millar. 'This is Orson Welles giving you a movie tutorial,' he enthuses on the back.
Not quite, but as comic book guides go, it's pretty peerless.
'How Comics Work' by Dave Gibbons and Tim Pilcher is published by Wellfleet Press, £16.99